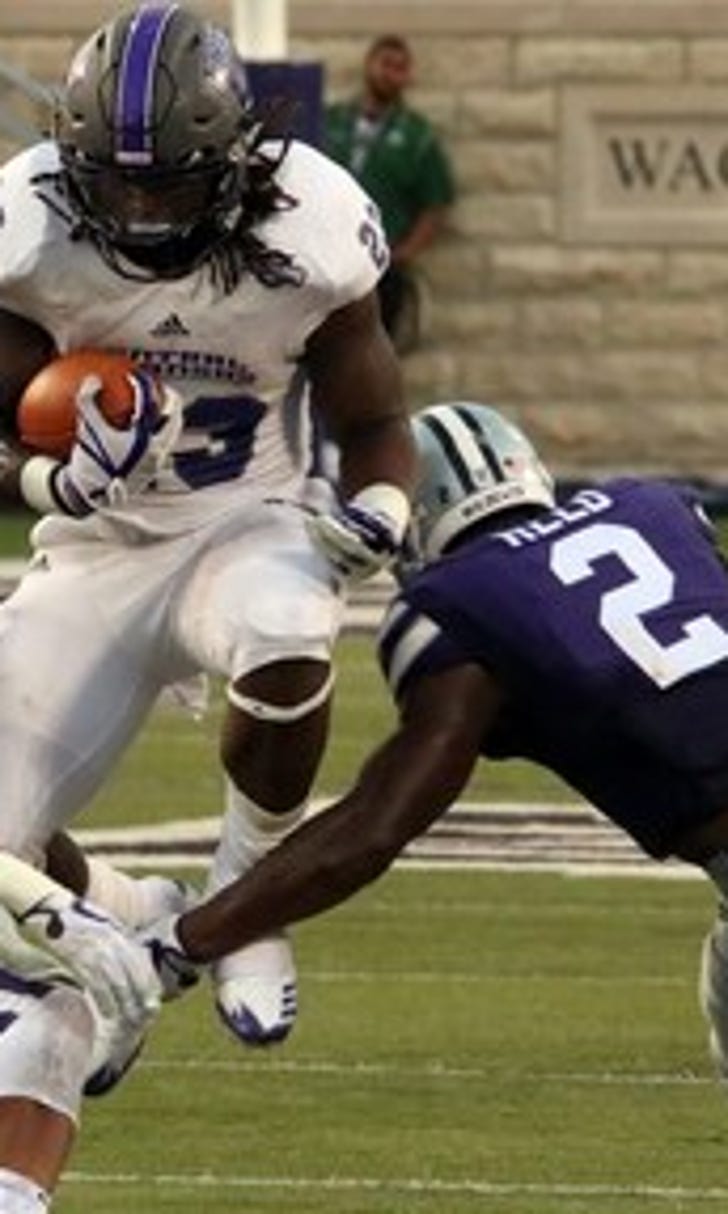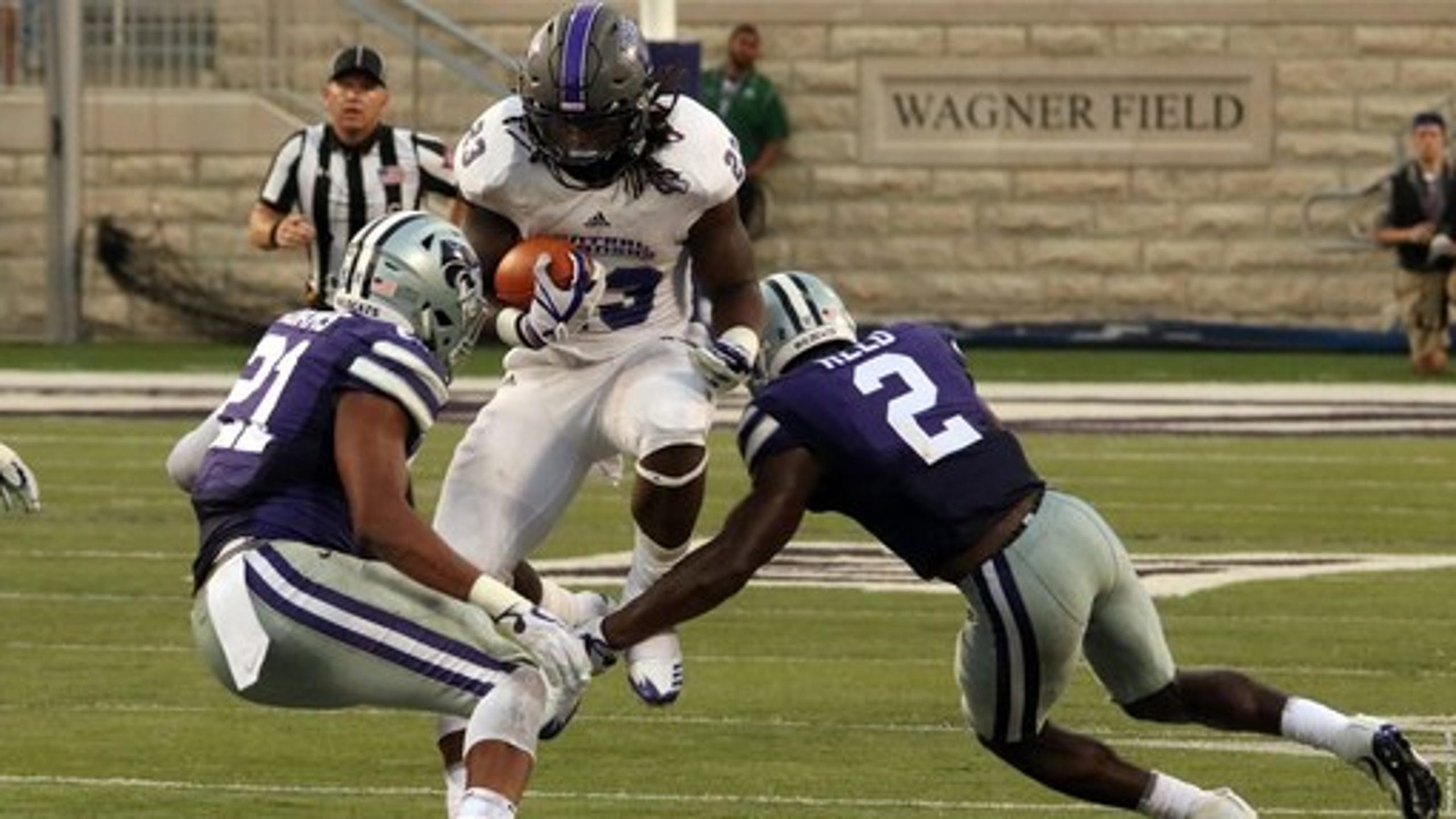 FCS predictions: Not a lot to lose versus FBS
BY AP • September 7, 2017
(STATS) - Sorry, Al Davis, but FCS teams playing FBS opponents can go in thinking, "Just play well, baby."
Some of last week's results were better than the "L."
North Dakota earned Utah's respect despite losing by three touchdowns. Stony Brook's two-touchdown loss to South Florida was closer than it looked. Southeastern Louisiana took Louisiana to the wire before falling by three points.
Coaches and players are thrilled to face teams from the upper half of Division I and play before bigger crowds and on television. If they play well, yet lose, it can only build confidence going forward.
Come late November, the Division I selection committee will favor teams that play a challenging schedule when they select the 24-team field. Strength of schedule goes a long way when determining seeding (Sam Houston State was 11-0 and seeded fifth because of a weaker schedule last year) and differentiating the final teams because there are plenty with six or seven Division I wins (a 6-5 team has made each of the last two fields because of a strong schedule).
Richard Johnson, the Wofford athletic director and chair of this year's selection committee, says a win over the FBS is a big boost and even a close result can help a team's playoff resume. He adds a lopsided defeated - say, a 45-0 or 56-10 loss - aren't necessarily counted against an FCS team, so it's hard to quantify how bad a loss has to be for it to be considered a negative.
"Because you have 10 different people (on the committee) putting all that (information) into it." Johnson said.
So it's great that on Saturday, Jacksonville State is taking on Georgia Tech, Villanova is facing Temple, Weber State has a date at Cal and that 23 other FCS teams are facing FBS opponents this week. There's just so many positives with it.
---=
WEEK 2 FCS TOP 25 PICKS=
All Times ET
X - Predicted Winner
Week 1 Record: 21-0 (1.000); Season Record: 21-0 (1.000)
Thursday, Sept. 7
West Alabama (1-0) at X-No. 17 Samford (1-0), 7 p.m. - Gaining a win over up-and-coming Kennesaw State was excellent, but the Bulldogs still need to improve their run game (35 carries, 70 yards).
X-No. 3 Sam Houston State (1-0) at Prairie View A&M (0-0), 7:30 p.m. - This will be Sam Houston's 200th win since joining the Division I ranks.
Saturday, Sept. 9
X-No. 14 The Citadel (1-0) at Presbyterian (0-1), noon - This game was moved from The Citadel because of Hurricane Irma. The one thing the two-time defending Southern Conference champ doesn't have is a strong nonconference schedule.
No. 5 Jacksonville State (1-0) at X-Georgia Tech (0-1), 12:30 p.m. - The Gamecocks not only have had two weeks to prepare for Georgia Tech, but the Yellow Jackets played Monday night.
X-No. 9 Richmond (0-1) at Colgate (1-0), 1 p.m. - With Brian Brown off to the NFL, Temple-transfer Cortrelle Simpson quickly became Richmond quarterback Kyle Lauletta's favorite target last week, catching seven passes for 204 yards and a touchdown against Sam Houston State. Colgate All-America defensive Pat Afriyie is sidelined with a right leg injury.
X-No. 19 Lehigh (0-1) at Monmouth (1-0), 1 p.m. - Monmouth will show off its renovated Kessler Stadium, but the Mountain Hawks will counter with their terrific-looking offense.
Robert Morris (1-0) at X-No. 8 Youngstown State (0-1), 2 p.m. - Sack masters Derek Rivers and Avery Moss are gone, but Youngstown State defensive linemen Fazson Chapman, Justin Reed and Wesley Thompson had their first career sacks in the overtime loss at Pittsburgh.
No. 6 Villanova (1-0) at X-Temple (0-1), 3:30 p.m. - Villanova clings to a 16-15-2 lead in this Philadelphia rivalry. For the first time, each team will be led by a first-year head coach (Villanova's Mark Ferrante and Temple's Geoff Collins).
X-No. 10 Wofford (1-0, 1-0 Southern) at Mercer (1-0, 0-0), 4 p.m. - The Terriers just escaped in a season-opening SoCon game and now they have a tougher one on the road.
X-No. 2 North Dakota State at No. 7 Eastern Washington (0-1), 4:05 p.m. - The FCS Game of the Week hasn't disappointed the first two times around: EWU won 38-31 in Cheney in the 2010 national quarterfinals and NDSU escaped 50-44 in overtime at the Fargodome last year.
No. 25 Weber State (1-0) at X-California (1-0), 5 p.m. - It's a good thing Weber State led the Big Sky in passing defense last season. Cal's first-year offensive coordinator is former Eastern Washington coach Beau Baldwin.
Missouri State (0-1) at X-No. 11 North Dakota (0-1), 5 p.m. - With three field goals at Utah, UND senior Reid Taubenheim is up to 48 in his career - the active high in the FCS.
Cal Poly (0-2) at X-No. 21 Northern Iowa (0-1), 5 p.m. - Come Saturday night, one of these teams might be rethinking its difficult nonconference schedule.
No. 12 New Hampshire (1-0) at X-Georgia Southern (0-1) in Birmingham, Alabama, 4 p.m. - This game was moved from Georgia Southern to Legion Field because of Hurricane Irma. UNH coach Sean McDonnell calls his program's 27-23 playoff win at Georgia Southern in 2004 one of its biggest.
East Tennessee State (0-1) at X-No. 1 James Madison (1-0), 6 p.m. - None of the Dukes from last year's national championship squad made an NFL roster.
Morehead State at X-No. 20 Liberty (1-0), 6 p.m. - Liberty had a 2 a.m. student rally on Sunday to greet the football team as it returned from the upset of Baylor. University president Jerry Falwell proceeded to cancel all Labor Day classes much to the delight of the students.
Northwestern State (0-1) at X-No. 24 Grambling State (0-1), 7 p.m. - Grambling quarterback DeVante Kincade threw an interception against Tulane last week. He wasn't picked off last season until Oct. 22.
X-No. 23 Tennessee State (1-0) vs. Jackson State (0-1) in Memphis, Tennessee, 7 p.m. - Tennessee State's guarantee for playing in the Southern Heritage Classic ($350,000) is higher than last week's Georgia State payout ($325,000).
X-No. 15 Central Arkansas (0-1) at Murray State (1-0), 7 p.m. - With Old Dominion transfer Shuler Bentley settling in, Murray State could be dangerous against the Bears.
X-No. 22 Western Illinois (1-0) at Northern Arizona (0-1), 7 p.m. - Sure NAU has quarterback Case Cookus back, but the Lumberjacks had two 100-yard rushers - Cory Young (115) and Joe Logan (101) - against Arizona.
No. 13 Chattanooga (0-1) at X-LSU (1-0), 7:30 p.m. - Coach Tom Arth is opening his Chattanooga career against Jacksonville State and LSU. Last year, the Mocs faced Shorter and Presbyterian in their first two games, winning both by a combined 100-0.
X-No. 4 South Dakota State (1-0) at Montana State (0-1), 8 p.m. - How about a snow storm? In their most recent meeting in the 2014 playoffs, SDSU won 47-40 at snowy Bobcat Stadium as current Detroit Lions running back Zach Zenner accounted for 324 all-purpose yards and five touchdowns.
---
---