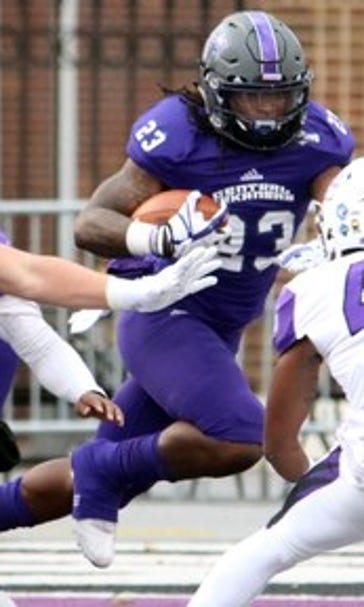 FCS Playoffs: New Hampshire at Central Arkansas
November 29, 2017

FCS Playoffs Second Round
The Matchup - New Hampshire (8-4) at No. 4 seed Central Arkansas (10-1)
Kickoff - 3 p.m. ET at Estes Stadium (10,000) in Conway, Arkansas
Coverage - ESPN3
Series - First meeting
Players to Watch - New Hampshire: QB Trevor Knight (265 of 423, 3,150 yards, 24 TDs, 7 INTs), WR Neil O'Connor (91 receptions, 1,341 yards, 10 TDs), DT Rick Holt (63 TT, 6 1/2 Sacks, 2 FF), LB Quinlen Dean (113 TT, 11 TFL, 2 INTs), CB Prince Smith Jr. (48 TT, 8 PBU); Central Arkansas: QB Hayden Hildebrand (180 of 269, 2,768 yards, 27 TDs, 7 INTs), RB Kierre Crossley (146 carries, 770 yards, 4 TDs), RB Carlos Blackman (162 carries, 702 yards, 9 TDs), LB George Odum (106 TT, 8 TFL, 4 Sacks), CB/PR Tremon Smith (34 TT, 5 INTs, 10 PBU)
The Skinny - New Hampshire traveled down to the Southland Conference four years ago to win a playoff game at Southeastern Louisiana, but this is a tougher assignment against a Central Arkansas team that has won 10 straight games since an opening loss at Kansas State. The visiting Wildcats have raised their play defensively, allowing only 11.6 points per game in their last five outings, and they're coming off their first shutout win in over seven years, 14-0 over Central Connecticut State in the first round. But they've become one-dimensional offensively with Knight passing the ball, and he's often under pressure because the offensive line has allowed 48 sacks. Adding to that problem is Central Arkansas' defense has totaled 37 sacks, led by DE Chris Terrell (11) and DT Eric Jackson (10). Hildenbrand is the Southland's player of the year, but the Bears, who average 207.8 rushing yards, want to pound the ball on the ground with Blackman and Crossley. This is the Bears' seventh season playing on their purple-and-gray-striped turf, and they're 10-1 over the last two years and 33-6 overall.
Up Next - The winner will play Northern Iowa or No. 5 seed South Dakota State in the quarterfinals on Dec. 8 or 9.
Prediction - UNH coach Sean McDonnell has the Wildcats in the playoffs for the 14th year, but they're 2-4 away from Durham, and the road ends here. Central Arkansas 27-17.
---
---