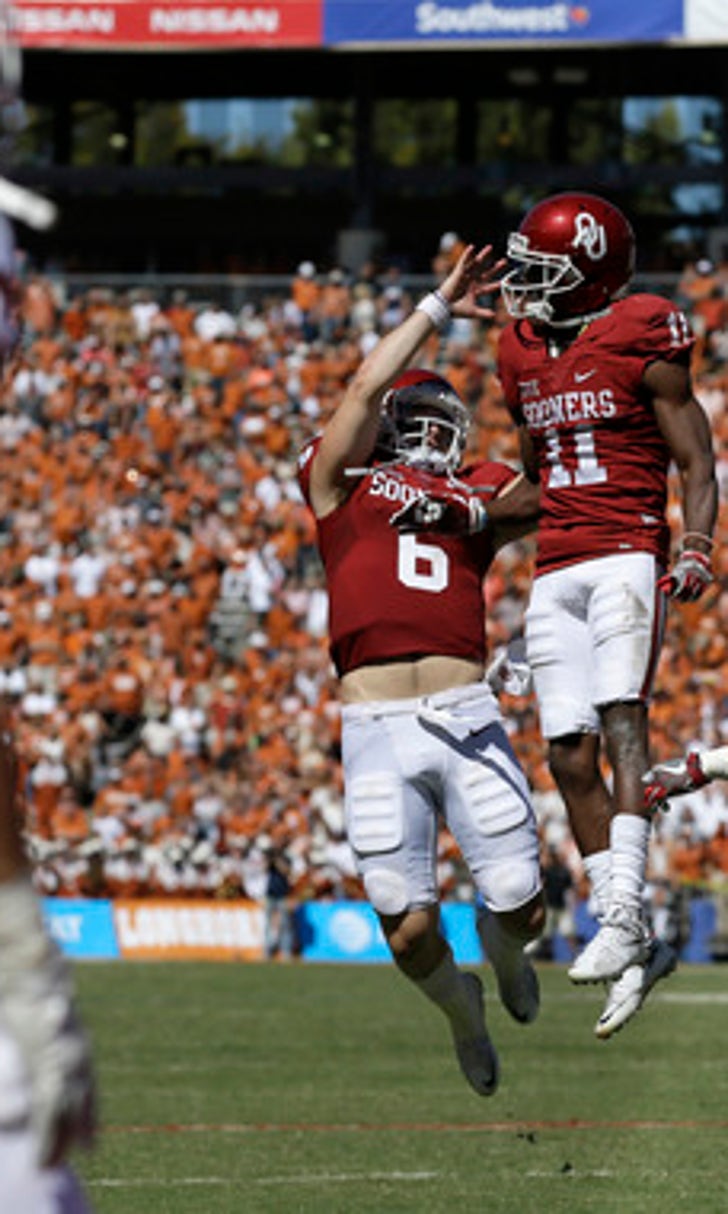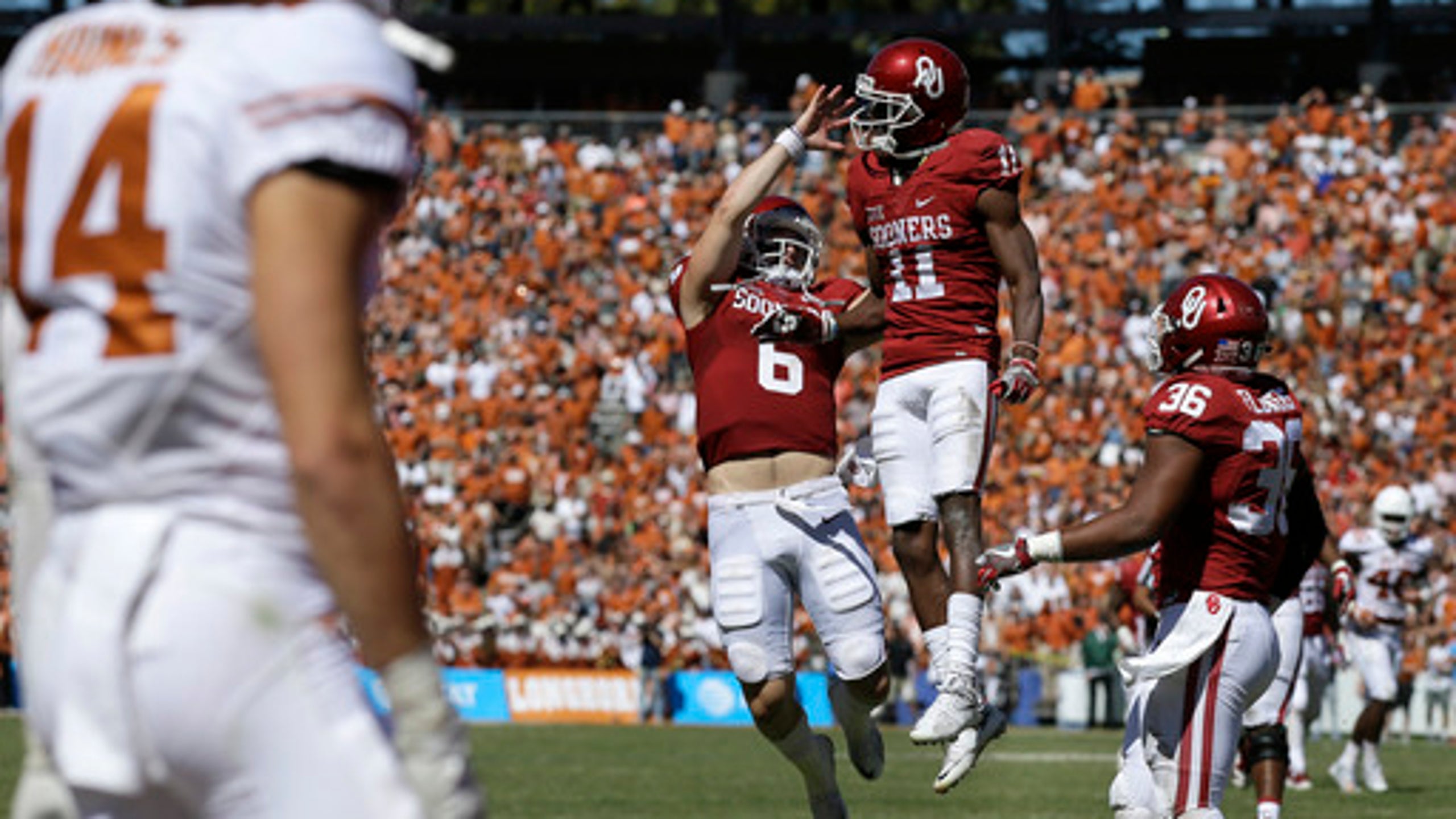 Deep with Dede: Oklahoma QB Mayfield has new deep threat
BY foxsports • October 9, 2016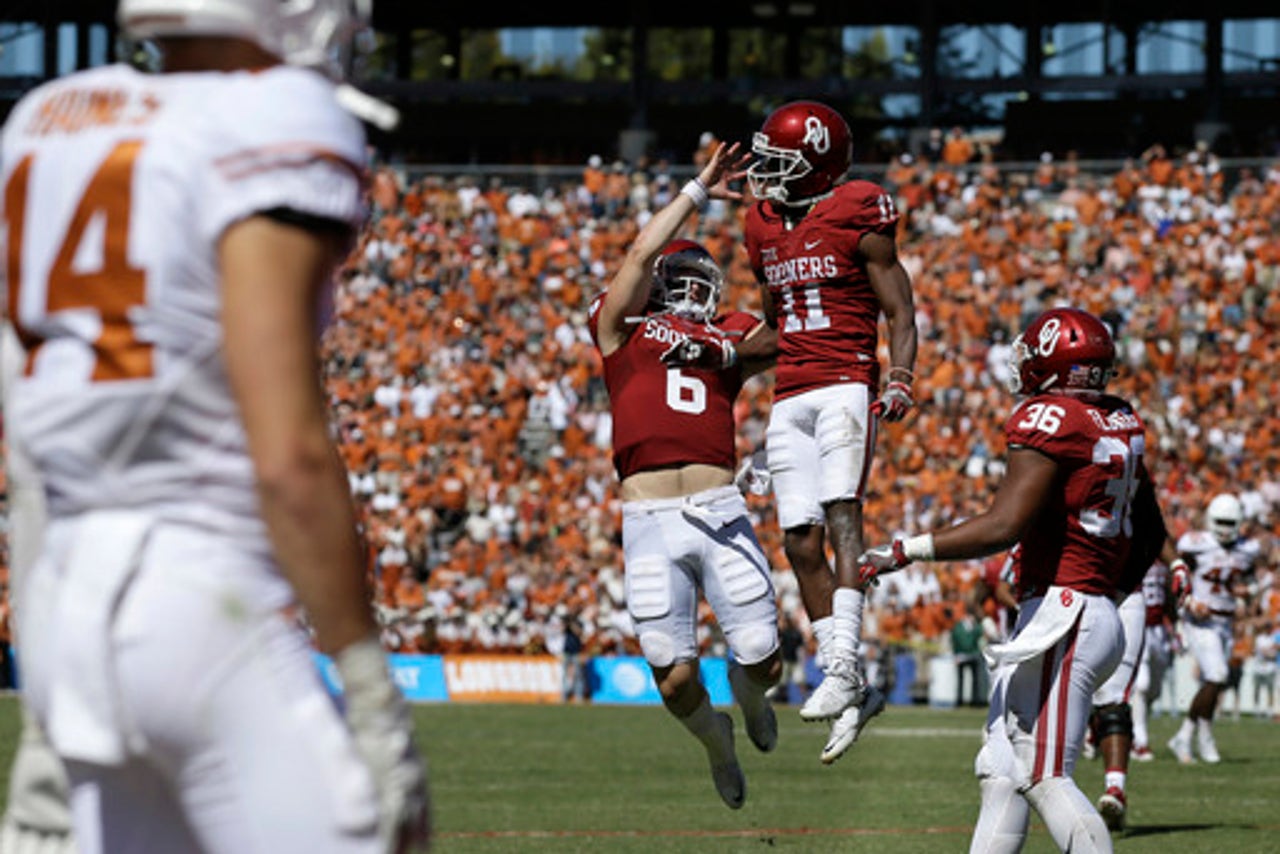 DALLAS (AP) Baker Mayfield rolled left, set his feet and threw deep. Dede Westbrook was already behind the defenders with his track-type speed when he caught another long touchdown pass for No. 20 Oklahoma.
With Sterling Shepard now an NFL rookie, and Westbrook finally recovered from a lingering pulled leg muscle that bothered him throughout preseason practice and early in the season, Mayfield has a new go-to deep threat. The Sooners quarterback has hooked up with Westbrook for five touchdowns of at least 40 yards in the first two Big 12 games.
''That just goes to show, when he's healthy, nobody can beat this speed,'' Mayfield said. ''That's the thing that I've always loved to exploit, the fact that he can outrun people.''
The 71-yarder in the first half of the Red River rivalry Saturday was the longest touchdown pass ever by Oklahoma in 111 games against Texas. Westbrook caught all 10 passes thrown his way, including scoring plays of 42 and 47 yards, for 232 yards - a Sooners record for any game.
''It means a lot to me. Coming from a small town, it's really not possible for many of us to make it out,'' said Westbrook, a senior from Cameron, Texas, a town of about 5,400 people just more than a two-hour drive south of the State Fair of Texas, where the Red River matchup is played each year.
After an open date that gave some extra time to heal, Westbrook had seven catches for 158 yards in the Big 12 opener at TCU on Oct. 1. He had TD catches of 67 and 40 yards in that game.
Westbrook's 17 catches for 390 yards in the first two Big 12 games shattered the school record for the most receiving yards in consecutive games (Ryan Broyles had 339 yards in a two-game stretch five years ago). That was after 17 catches for 134 yards without a score in the Sooners' three non-conference games in September.
''It's been good the last two weeks to get him healthy,'' offensive coordinator Lincoln Riley said. ''He's a big part of what we're doing.''
While two non-conference losses ended any realistic chance of a second consecutive College Football Playoff appearance for the Sooners, they're off to a good start in pursuit of their 10th Big 12 title. They host Kansas State on Saturday.
Shepard had 86 catches for 1,288 yards and 11 touchdowns as a senior last season before being a second-round draft pick by the New York Giants. That left Westbrook the top returning receiver with 46 catches for 743 yards.
Westbrook got to Oklahoma as a transfer from Blinn College in Texas, where as a sophomore he led all junior college players with 1,487 yards and 13 touchdowns while playing only eight games. His 76 catches ranked second.
That was after a freak injury in high school when he got hurt while playing defense, and ended up tangled with a receiver.
''As he came down, he put his knee up to break his fall, and I kind of landed on top of him. Me being on top of him, his knee kind of went up into my stomach and he ruptured my small intestines,'' Westbrook said. ''The doctor told me there was a huge possibility that I wouldn't play football again, but I overcame those thoughts and here I am now.''
---