Oklahoma State Cowboys
Oklahoma State Cowboys
DE Ogbah most dominant player for unbeaten Oklahoma St.
Published
Nov. 18, 2015 4:49 p.m. ET

STILLWATER, Okla. (AP) Emmanuel Ogbah spent his early years in Nigeria with little knowledge of American football.
Oklahoma State's star defensive end grew up playing soccer and basketball before moving to the United States at age nine. Once he came across the ocean, some friends got him to play football, and he was hooked.
''I feel like it's the fact that I get to hit people and get away with it,'' he said. ''I don't get in trouble for it. That's one of the factors that made me really love football. The hitting.''
Ogbah was a quick learner. He's the NCAA's active career sack leader with 26, despite being just a junior, and he's one of the main reasons the fourth-ranked Cowboys (10-0, 7-0 Big 12, No. 6 CFP) are unbeaten and in position to compete for a national title.
Oklahoma State coach Mike Gundy said Ogbah should make it in the NFL.
''Someday, whenever that may be, this year or next year, somebody's going to get a big-time player,'' Gundy said. ''They're going to be glad they have him on the roster.''
Ogbah leads the Big 12 and ranks third nationally with 11 sacks this season. His 17 quarterback hurries are a single-season school record. He has been named Big 12 defensive player of the week three times and has won two national awards along the way.
Oklahoma State defensive coordinator Glenn Spencer still can't believe Ogbah was left off the list of Lombardi Award semifinalists. The honor goes to the nation's best lineman or linebacker. The voting panel is made up of all FBS head coaches, past Lombardi finalists and selected college football writers.
''I think that the Houston Rotary or whoever does that and makes that list, they need to call the Lombardi family and apologize, because they made a mockery of that award,'' Spencer said. ''It's my opinion.''
Ogbah is more concerned about team goals. If the Cowboys beat Baylor (8-1, 5-1, No. 10 CFP) on Saturday and Oklahoma the following week, they'll strengthen their case for a spot in the College Football Playoff.
''People have their opinion of who should be on the lists and who should be ranked (in the top four) or not,'' he said. ''We just have to do our part and keep winning games.''
Baylor coach Art Briles knows a key to Saturday's showdown will be keeping Ogbah away from his quarterback.
''He's physically very gifted,'' Briles said. ''He's long. He's 6-4, 275 - he's big to be on the edge, and plays with this tremendous amount of effort and attitude.''
Kansas coach David Beaty said Ogbah is fun to watch if you're not playing against him.
''God blessed him with the height and size you need to be an elite guy at that position, but he also possesses speed and explosion to go with it,'' Beaty said.
Ogbah had six tackles, two sacks and 2.5 tackles for loss in the win at Texas. He had a sack and two hurries against Texas Tech. Last week against Iowa State, he had two more sacks.
His best game was against West Virginia. He scored a touchdown, forced two fumbles, recovered a fumble and had a sack, a tackle for loss and a quarterback hurry in the overtime win.
Gundy said Ogbah isn't just good on Saturday.
''Never had any issues with him,'' he said. ''Yes sir, no sir. Tremendous practice player. Doesn't abuse his body. He's intelligent. Plays with great effort.''
Ogbah said defenses started paying extra attention to him late last season, while he was on his way to being named Big 12 Defensive Lineman of the Year and All-Big 12 first team. He said he focused in the offseason on perfecting his pass rush moves, staying low and prepping for even more attention from opponents.
''I knew it was going to come, so I was ready for it,'' he said. ''Double teams and chip blocks and all that. If two guys are on me, that means somebody else is open, so that's actually great for my teammates making plays.''
---
Follow Cliff Brunt on Twitter: www.twitter.com/CliffBruntAP
---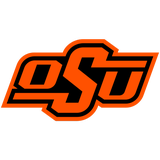 Get more from Oklahoma State Cowboys
Follow your favorites to get information about games, news and more
---