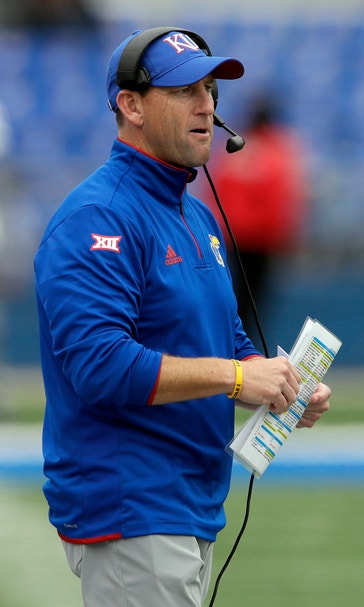 Cornelius leads Oklahoma State to 48-28 rout of Kansas
September 29, 2018
LAWRENCE, Kan. (AP) — Taylor Cornelius passed for 312 yards and four touchdowns, Justice Hill ran for 189 yards and Oklahoma State cruised to a 48-28 victory over Kansas on Saturday.
The Cowboys (4-1, 1-1 Big 12 Conference) came out rolling, finding the end zone on each of their first three possessions and scoring on their first four. Cornelius got things going early, throwing to Tylan Wallace on a slant route for the touchdown before hitting Landon Wolf for a score on a deep ball the next drive.
Cornelius' first incompletion didn't come until the third drive, when he overthrew a wide-open Braydon Johnson streaking down the field. Kansas would not learn from that lucky break, though, as Tyron Johnson got open on almost an identical route on the next play on his way to a 64-yard score.
Hill was a steady counterweight to the passing game, averaging 6.1 yards per carry on 31 rushes. He scored in the third quarter, running in from 10 yards out after a pair of big passes got the Cowboys in the red zone.
Kansas turned to Carter Stanley for his first start under center all year, benching Peyton Bender who had previously started all four games. Stanley responded well, throwing for 247 yards on 24-of-32 passing and three touchdowns.
True freshman Pooka Williams shined once again, picking up 97 yards rushing and 60 yards in the passing game. This included a 60-yard ground burst for a score in the Jayhawks' first drive of the second half, his fourth touchdown on the year.
THE TAKEAWAY
Oklahoma State grabs a much-needed first Big 12 win after taking a 24-point drubbing last week at the hands of Texas Tech. Big victories like these will help the Cowboys make it back into the Top 25.
Kansas slides to 2-3 and 0-2 in the Big 12. After a promising start to the year, one has to think David Beaty's leash is growing shorter with every loss.
UP NEXT
Oklahoma State returns home to face Iowa State on Saturday.
Kansas hits the road Saturday to take on No. 12 West Virginia.
---
---