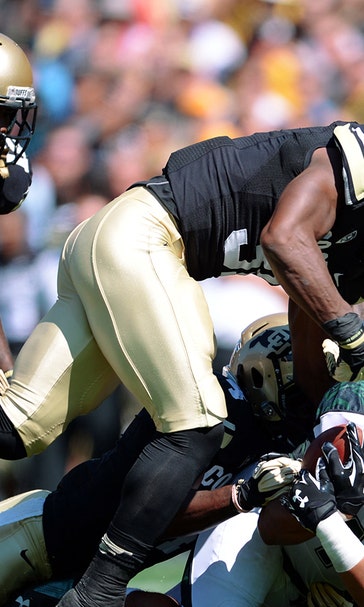 Colorado's Kenneth Olugbode recovers from serious leg injury
November 4, 2015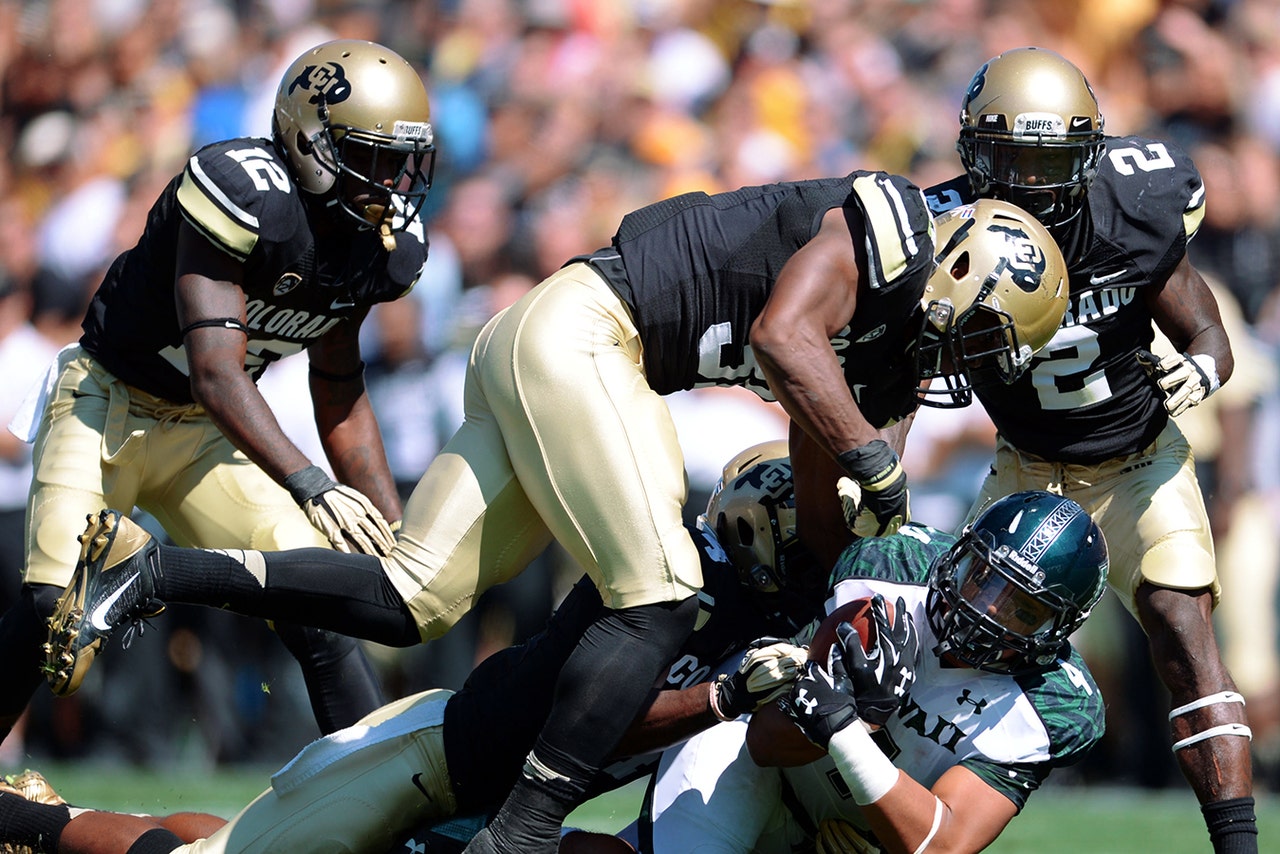 BOULDER, Colo. (AP) Colorado linebacker Kenneth Olugbode hiked up the right leg of his sweatpants to the knee and revealed a pair of three-inch scars that could've ended his season, possibly even his career.
On the fifth play against Oregon a month ago, the junior was hit in the calf while making a tackle. Olugbode played until the third quarter even though his leg began doubling in size due to swelling.
A few hours later, he underwent emergency surgery for acute compartment syndrome, a painful condition where blood flow to a muscle is restricted and results in tissue trauma.
Fully healed, Olugbode leads the Buffaloes (4-5, 1-4 Pac-12) against No. 9 Stanford (7-1, 6-0) this weekend. It's his kind of game, too, bound to be physical and feature a steady dose of Stanford's talented tailback Christian McCaffrey, the son of former Denver Broncos receiver Ed McCaffrey.
''Always a fun game when you get to hit the linemen all of the time,'' said Olugbode, who missed two games as his leg mended before returning against Oregon State on Oct. 24.
Olugbode knows quite a bit about Stanford even without watching film. After all, his older brother, Kyle, played free safety for the Cardinal before finishing up last season.
No good-natured trash talking, though. Not yet, anyway.
''He's given me more advice than grief,'' said Olugbode, an economics major from San Jose, California, who led the team in tackles last season. ''He still knows a lot of those guys on that team.''
At 6-foot-1, 220 pounds, Olugbode is the heart of the Buffaloes defense, turning in one big play after another this season. Against Colorado State on Sept. 19, he had a career-high 17 tackles and returned his first career interception for a score. Quite a 20th birthday present to himself.
But his year was derailed after taking a knee to the calf against Oregon. That night in surgery, doctors cut open the skin and fascia covering the affected compartment, which are groupings of muscles, nerves and blood vessels, to relieve the pressure.
Then, they waited for the wound to heal. And waited.
This sort of injury is difficult to pinpoint an exact return, especially since it can potentially cost patients a limb or even their life. This injury was similar to what safety Rahim Moore experienced in 2013 when he was with the Denver Broncos. Moore had surgery that November and couldn't make it back to the field in time to join the Broncos in the Super Bowl.
Right after surgery, Olugbode was confident he would be playing in no time.
''Because once I could walk, I wasn't in any pain,'' he explained. ''So I knew it would be fast before I would be able to start running and cutting.''
He didn't play in losses to Arizona State and Arizona, but was given the green light to take the field at Oregon State as long as he wore a shin guard to protect the wound. The defense rose to the occasion with three big stops late in the game to preserve a 17-13 win and end Colorado's 14-game conference skid.
Olugbode had six tackles against the Beavers, and two more in a close loss at UCLA last weekend.
Stanford, though, is a different sort of team - big and physical. And the Cardinal have a different kind of running back in McCaffrey - elusive and explosive. Olugbode and the defense are ready for the challenge.
''Christian McCaffrey, if we let him get loose, he'll hurt us,'' Olugbode said. ''We have to play strong and play stout and hit them in the mouth. That's the best thing we can do.''
---
Online:
AP College Football Website: http://www.collegefootball.ap.org
---
---