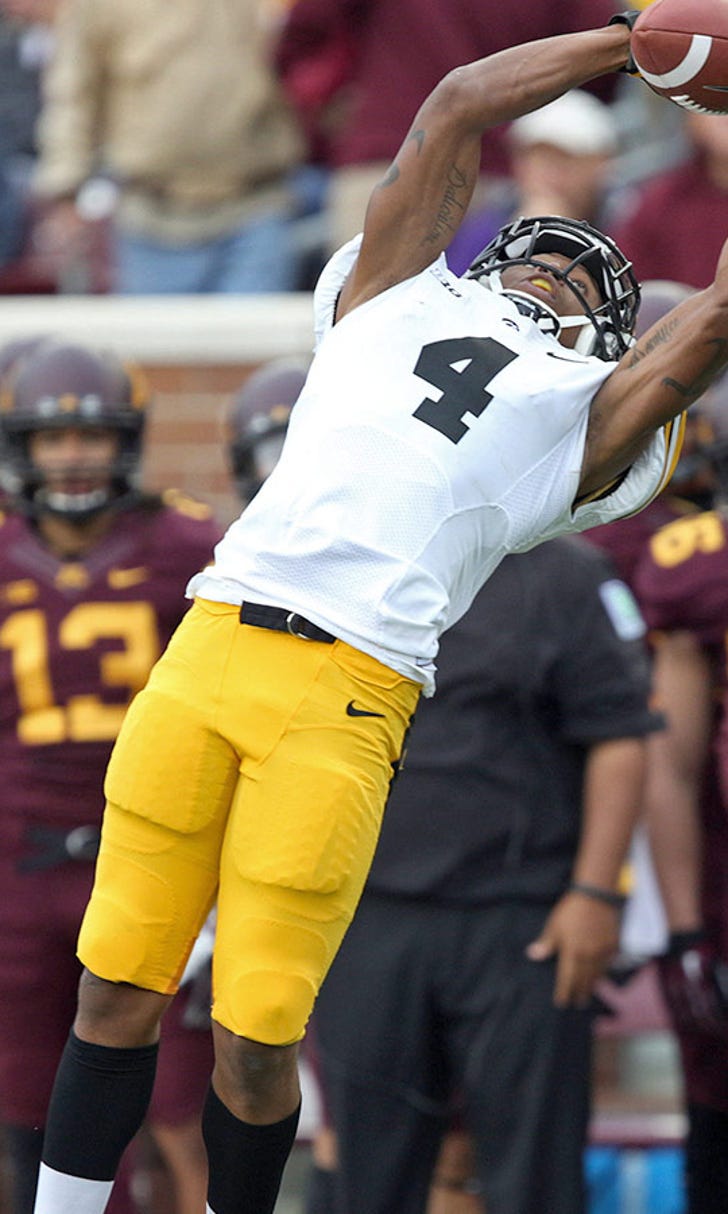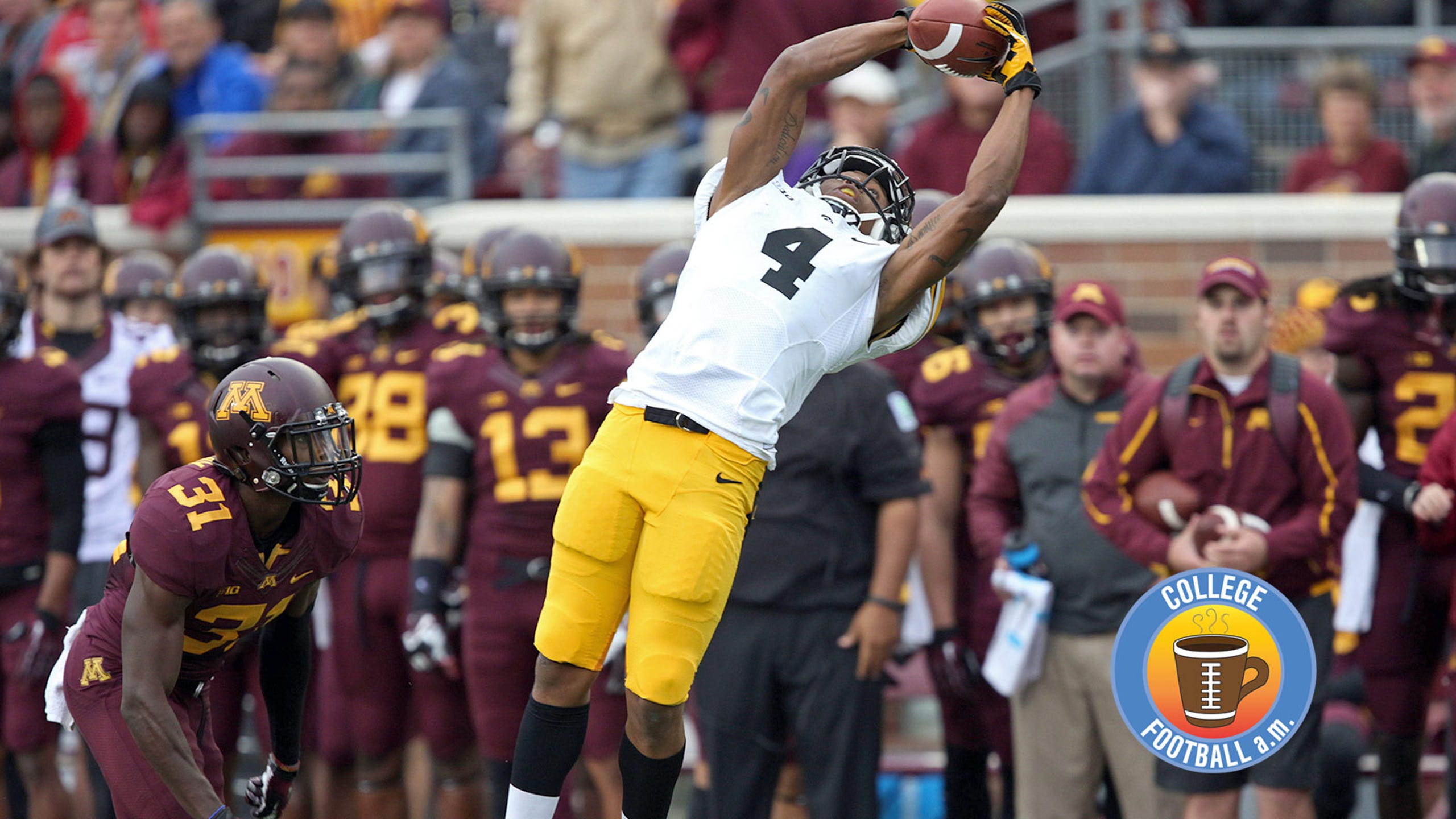 CFB AM: Iowa WR smashes Odell Beckham Jr.'s one-handed catch record
BY Teddy Mitrosilis • February 2, 2015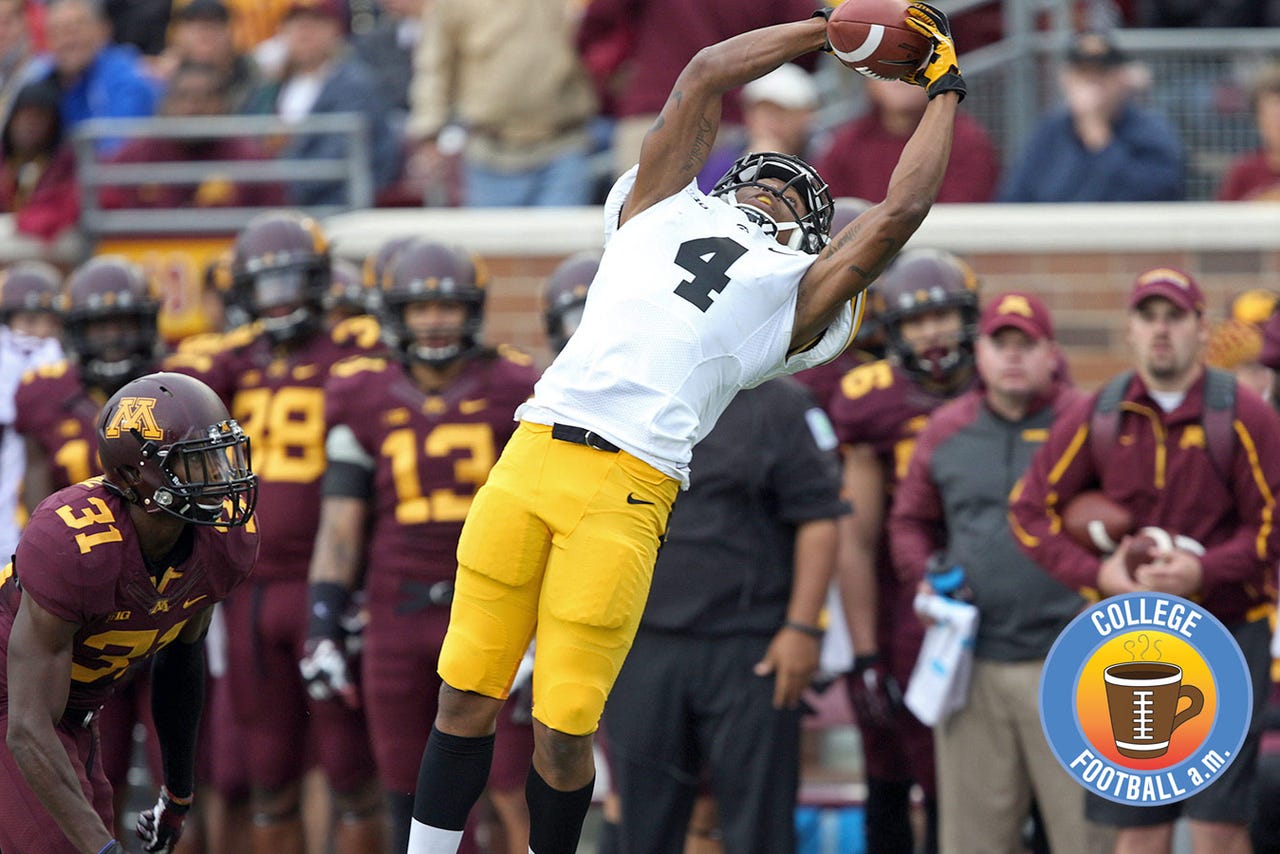 A number of you probably missed this over the last few days of Super Bowl mania, as I did, but it's pretty incredible.
Iowa senior wide receiver Tevaun Smith went after Odell Beckham Jr.'s world record for one-handed catches in one minute.
Beckham, the New York Giants WR, set the record at 33 last week before Smith took his shot.
Not only did Smith beat Beckham Jr.'s record, he smashed it, recording 41 one-handed catches in 60 seconds without a drop. Here's the video of all 41.
THREE THINGS YOU NEED TO KNOW
1. Interesting move by Jim Harbaugh here: The Michigan coach has reportedly hired a New Jersey high school coach to be the Wolverines' new recruiting coordinator. Paramus Catholic's Chris Partridge is moving to Ann Arbor where two of his former players, Jabrill Peppers and Juwann Bushell-Peaty, are currently playing college ball. Paramus also has a top 2016 prospect in defensive tackle Rashan Gray, who has a scholarship offer from Michigan.
2. Former TCU star Devonte Fields is getting a second shot at big-time college ball, this time with Louisville. Fields was the 2012 Defensive Player of the Year in the Big 12 as a true freshman with 18.5 tackles for loss and 10 sacks, but he was dismissed from TCU last summer amid allegations that he assaulted an ex-girlfriend. He spent the 2014 season at Trinity Valley Community College before getting this opportunity with the Cardinals. Hopefully he makes good on it, on and off the field.
3. With National Signing Day closing in, Penn State assistant Herb Hand stopped by The Audible to chat with Bruce Feldman about recruiting with social media, the pros and cons of recruiting visits (hint: all that food and all that weight) and more. You can listen below.
THREE THINGS YOU SHOULD KNOW
1. Cool stat: The 2015 ACC schedules are out, and as a byproduct Notre Dame won't have any Big Ten opponents for the first time since 1916. That comes with the end of the Michigan rivalry and Notre Dame's confusing new partnership with the ACC that forces the Irish to play a lot of ACC games but doesn't make them an official, full-fledged member of the conference in football.
2. Ohio State stud running back Ezekiel Elliott celebrated the Buckeyes' national championship like anyone would: by getting a massive tattoo. Check it out.
3. Speaking of Elliott and Ohio State, Bovada released its early 2015 Heisman Trophy odds recently and the Buckeyes have four of the top 12 favorites on the list – Elliott and three QBs. That's obviously before any games are played, because only one QB can really become a Heisman candidate on a single team.
THREE THINGS YOU MAY WANT TO KNOW
1. Auburn has a plan to in place to upgrade Jordan-Hare Stadium that includes building the largest video board in college football at approximately 200 feet wide and 55-57 feet tall, which would surpass Texas A&M's video board. If the Board of Trustees approves the plan this week, the video board will be ready by the fall.
2. Example No. 93,456 that people have way too much free time on the Internet: Someone made a Chip Kelly "I'm in love with Marcus Mariota" video amid speculation that the Philadelphia Eagles coach may try to trade up in the draft to get his former Oregon QB. It's pretty funny.
3. Baylor showed off some sweet smoke gray uniforms for recruits.
LASTLY
Today is Groundhog Day, and apparently Punxsutawney Phil has seen his shadow and predicts six more weeks of winter -- whatever that means. I always judged the winter calendar by pitchers and catchers reporting, which means spring is close, and then spring training games beginning, which means it's here. But if you prefer a groundhog, I won't stop you.
Have a great Monday, everybody.
Teddy Mitrosilis is an editor and writer for FOXSports.com. Follow him on Twitter @TMitrosilis and email him at tmitrosilis@gmail.com.
---