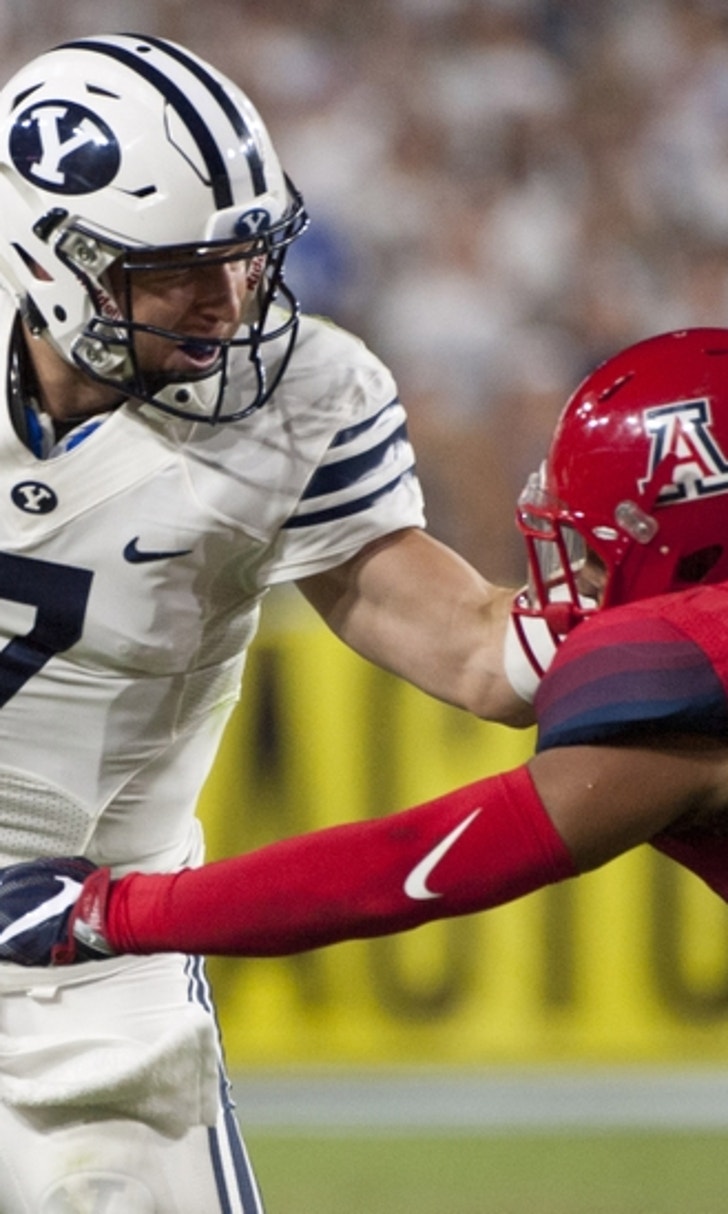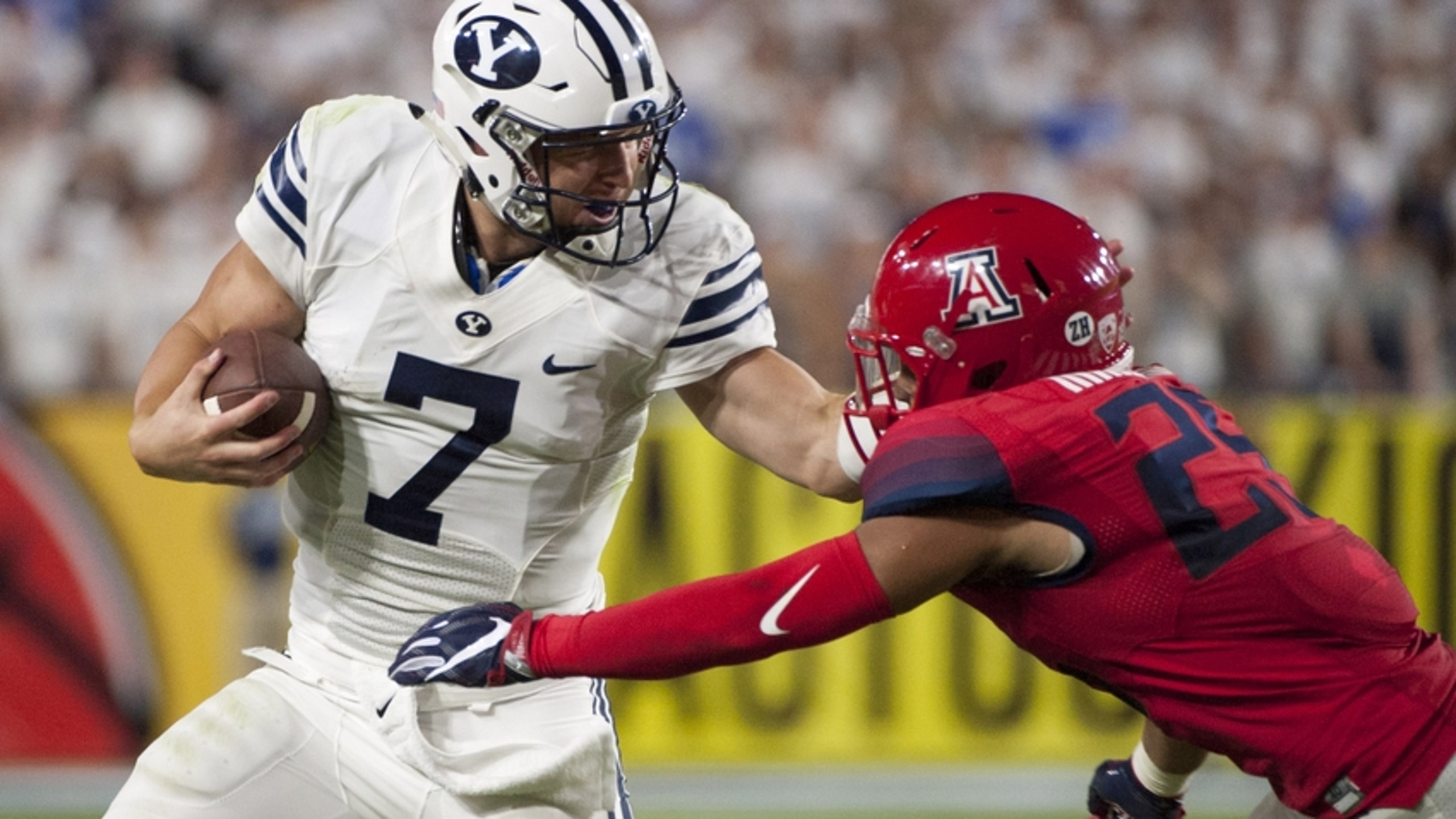 BYU football: 3 things to know for Toledo
BY foxsports • September 27, 2016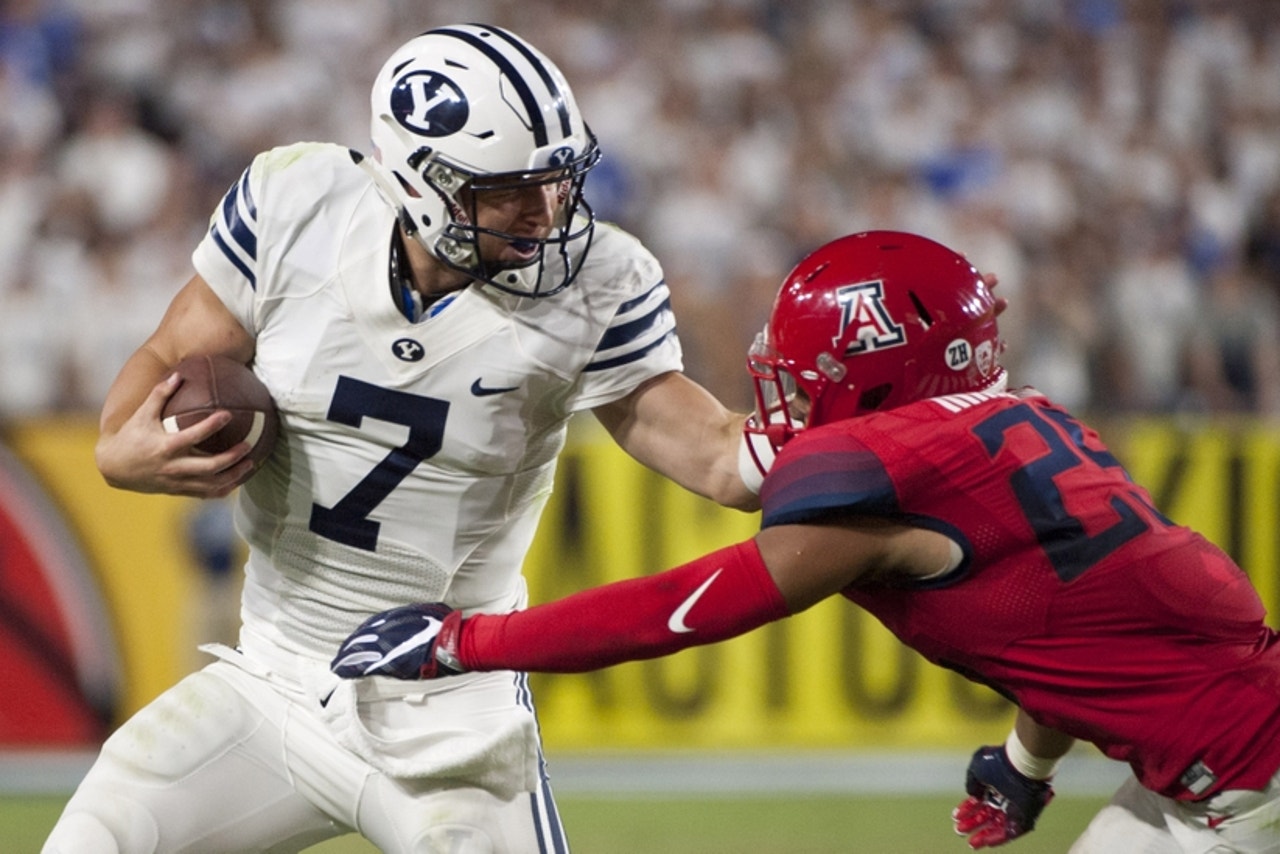 No In-Editor Preview for 120 Sports Videos
Video DetailsID: Source: 120 Sports
The BYU football team returns to Provo on Friday with a 1-3 record as it hosts the undefeated Toledo Rockets. Here are three things to know for Cougars vs Rockets.
Don't overlook Toledo
Dec 22, 2015; Boca Raton, FL, USA;Toledo Rockets running back Kareem Hunt (3) runs the ball against the Temple Owls in the 2015 Boca Raton Bowl at FAU Stadium. Mandatory Credit: Robert Duyos-USA TODAY Sports
The Rockets come into Provo with an unblemished 3-0 record and an explosive offense. Toledo is averaging 41.5 points per contest, but they haven't faced the stiffest competition. Their three opponents – Arkansas State, Maine and Fresno State – have a combined record of just 1-10 on the season. However, the Rockets offense is no joke.
The Rockets went 10-2 last season, including wins against two ranked opponents (Arkansas and Temple). While quarterback Phillip Ely was denied a sixth season of eligibility from the NCAA, Toledo hasn't taken a step back.
New quarterback Logan Woodside has thrown 11 touchdowns to just one interception and Toledo returns running back Kareem Hunt and wide receivers Cody Thompson and Corey Jones. Hunt is averaging more than five yards per carry and  Thompson and Jones have combined for 24 receptions through three weeks.
The Rockets have has at least 516 yards in each game  thus far and stomped Fresno State last week to the tune of 619 total yards.
I think Toledo has the edge offensively in this matchup. You have to give the Rockets credit for what they've accomplished thus far, and the Cougars are currently turnover prone. But, now Toledo will have to do it against a tough, gritty, aggressive and effective BYU defense.
Can Taysom Hill protect the football?
(Jeff Swinger-USA TODAY Sports)
BYU quarterback Taysom Hill has been a bit of an enigma this season, but it's the same enigma he's always been. Hill's been fairly effective as  a game manager, at his best when he can run with reckless abandon, and a pretty poor passer.
Still, he can only be as effective as the players around him, and most of those have been hit and miss.
The wide receivers have done a good job finding soft spots in zone coverage and against West Virginia they largely got by the drops that were plaguing them. Still, they struggle mightily to get open against press man coverage.
The offensively line couldn't win the point of attack against the talented defensive lines of Utah and UCLA. The Cougars never won the line of scrimmage and the offense just kept stalling. Against the three man fronts of Arizona and West Virginia, the Cougars got off the ball well and took care of business.
Toledo utilizes a 4-2-5 defense and their starting linemen have an average weight of 277 lbs. The Cougars have struggled against four-man fronts, but the talent drop from Utah and UCLA's defensive lines to Toledo's is a significant one.
The protection should be able to hold up for the Cougars, but Toledo has 10 team sacks on the season (albeit against some poor competition). If the offensive line can protect Hill, then there's no excuse for another poor performance.
The Rockets have yet to intercept a pass, which bodes well for the turnover-prone Hill. Through four games Hill has thrown seven interceptions, including three apiece against Utah and WVU. He will need to be more accurate if the Cougars want to avoid an upset at home and their fourth-straight loss.
The BYU football defense needs to rebound fundamentally
I've said on here before that I don't see a team hanging more than 28 points on BYU this season. The Mountaineers mustered 28 on the nose (Hill's pick-six shouldn't count against the defense) and I think Toledo is talented enough to score on the Cougars.
The trick for BYU football will be cleaning things up fundamentally.
WVU had such great lateral speed that the BYU defenders struggled to break down and tackle effectively. The Mountaineer receivers put them on skates. Even BYU's most sure tackler, Butch Pau'u, missed some tackles.
While Toledo certainly isn't WVU, the Rockets have solid athletes in their skill positions. So the Cougars will need to return to the fundamentals and be better tacklers.
Some of the struggle against WVU came in the scheme the Cougars used. Fearing getting beat deep meant playing off receivers by eight or so yards. Doing that opened things up for quick screens and passes to the flat. Once the Mountaineer receivers were in space, it was tough for the Cougars to make plays. Take the following fourth down conversion, for example.
Toledo's wide outs don't have the same top end speed as WVU's did. So it's safe to say there won't be such a massive cushion given come Friday. That should help Ilaisa Tuiaki's defense keep everything in front of them and get more swarm to the football.
Want your voice heard? Join the Lawless Republic team!
BYU football hosts Toledo on Friday, September 30 at 8:15 MDT. The game can be viewed on ESPN 2.
More from Lawless Republic
This article originally appeared on
---