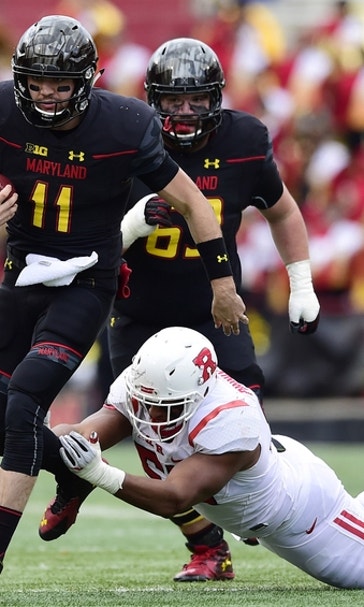 Big Ten Bowl Preview: Quick Lane Bowl
December 26, 2016

Fansided, Marty Leap/FanSided via Victory Bell Rings
On December 26, the Big Ten bowl season will get started when the Maryland Terrapins battle the Boston College Eagles in the Quick Lane Bowl.
A former ACC rivalry will be reignited in the Quick Lane Bowl when the Maryland Terrapins and Boston College Eagles do battle. The Terrapins are in their third season in the Big Ten after previously playing in the ACC. When in the ACC, they played Boston College every season.
Game: Quick Lane Bowl
Teams: Maryland Terrapins (6-6, 3-6 Big Ten) vs. Boston College (6-6, 2-6 ACC)
Time: December 26th, 2:30 PM
Location: Ford Field, Detroit, Michigan
TV: ESPN
Both the Terrapins and Eagles will be looking to avoid finishing the season with a losing record. Since both teams enter this game with a 6-6 record, the winner will finish with a winning record while the loser will finish below .500 at 6-7.
More from Victory Bell Rings
In their first season under head coach DJ Durkin the Terrapins got off to a great 4-0 start. However, they finished the season by losing six of their final eight games. As for Boston College, they have been very inconsistent owning a pair of two game winning streaks as well as a pair of two game losing streaks.
Just like the team in general, Maryland's offense has really gone off a cliff their past eight games. After averaging 43.3 points per game in their first four games, they have averaged just 16.5 points per game the previous eight.
Despite DJ Durkin being a defensive-minded coach, the Terrapin defense has been abysmal this season. Maryland ranks 80th in the FBS in total defense (434 yards allowed per game), 71st in points allowed per game (29.0), and 101st in rushing defense (217.9 yards per game). It does not help that their best defensive player, Will Likely, is out for the season due to an injury he suffered against Penn State.
Boston College head coach Steve Addazio is a former offensive coordinator. However, similar to Durkin and his defense, the Eagles offense has struggled this season. The Eagles rank 127th in the FBS in total offense (288 yards per game), 123rd in points per game (19.1), 121st in passing offense (141.5 yards per game) and 101st in rushing offense (146.8 yards per game).
Maryland's offense goes through redshirt senior quarterback Perry Hills. The dual threat quarterback has completed 66 percent of his passes for 1,235 yards, 10 touchdowns, and just three interceptions this season. He has also rushed for 134 yards and four touchdowns.
Their leading rusher is Ty Johnson. In 2016 Johnson has rushed for 845 yards and four touchdowns. Overall, he has 1,036 yards from scrimmage and five total touchdowns. They will, however, be missing electric true freshman play maker Lo Lo Harrison due to a suspension.
Boston College will trot out senior quarterback Patrick Towles. This season the Kentucky transfer has completed just 51 percent of his passes for a measly 1,579 yards. Jon Hilliman is the team's leading rusher. Hilliman's name may sound familiar as he went for over 100 yards against Penn State in the 2014 Pinstripe Bowl. Despite being the team's leading rusher, Hilliman has just 463 yards this season.
Unlike the Terrapins, the Eagles are a great defensive team. Boston College ranks 8th in the FBS is total defense (311 yards allowed per game), 7th in rush defense (106.9 yards per game), 33rd in passing defense (203.7 yards per game), and 44th in scoring defense (24.6 points per game).
The Quick Lane Bowl features two teams that are bad on offense, with Boston College being arguably the worst power five conference offense in the FBS. The big difference is that while Maryland's defense is among the worst in the FBS, Boston College's is among best. That could be the deciding factor in this game.
Both Maryland and Boston College are bad football teams. Honestly, neither has much business being in a bowl game but are due to the fact there are so many bowl games anymore. Odds are this will be a close, ugly football game.
---
---