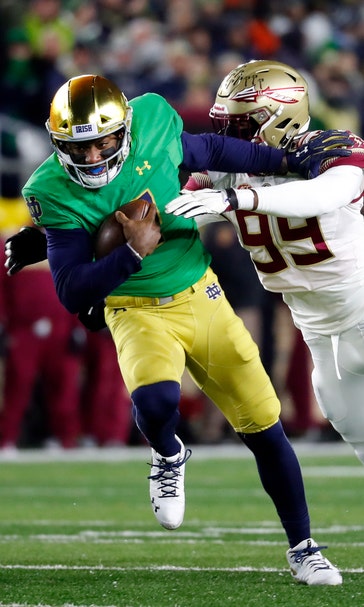 Backup QB Wimbush, defense help No. 3 Irish dominate FSU
November 11, 2018
SOUTH BEND, Ind. (AP) — On Senior Night at frosty Notre Dame Stadium, coach Brian Kelly couldn't have been happier for senior quarterback Brandon Wimbush in No. 3 Notre Dame's 42-13 victory over Florida State.
"Brandon wants to win for Notre Dame, for his teammates," Kelly said after the senior backup threw three first-half touchdowns and fellow senior Dexter Williams ran for a career-high 202 yards while the Irish (10-0, No. 3 CFP) took advantage of two first-quarter turnovers by the Seminoles
"Brandon has been that way whether in a starting role or as a backup," Kelly said. "He led our football team when we needed him. It's not an individual game but he had a big hand in it."
Wimbush, who led the Irish to their first three victories, got the start in place of injured junior Ian Book, who suffered a rib injury last week against Northwestern.
Wimbush finished 12 of 25 for 130 yards with the scoring passes to fellow seniors - a 3-yarder to wide receiver Miles Boykin and 6- and 15-yard tosses to tight end Alize Mack.
"It was really emotional," Wimbush said. "The six weeks were tough, but they were inspiring. The first half was one of the best I think the team has had. It felt natural. We got off to a great start."
With the temperature at 27 degrees — the third-coldest game at Notre Dame Stadium since the 1980 season — the Irish wore green jerseys for the fourth time in Kelly's nine-year tenure at Notre Dame to honor their seniors.
Williams, who sat out the first four games of his senior season because of a university-imposed suspension, piled up the 202 yards on 20 carries, including TD runs of 58 and 32 yards, as Notre Dame outgained Florida State, 495-322, including 365 on the ground.
"The offensive line came out with the fight," Williams said. "I told them to keep pushing and I'm going to do what I have to do. I just told them to give me a crease and I would make a couple runs for them."
Wimbush, however, did throw a pair of second-half interceptions that allowed coach Willie Taggart's Seminoles (4-6) to stay around after the Irish had taken a 32-6 halftime lead.
"We wanted to start fast," Taggart said. "We made mistakes. Against a good football team, you can't do that. We're not stopping the run. It hurts you mentally."
Cam Akers had two touchdown runs for Florida State, his second on a 7-yard run following Stanford Samuels' interception early in the third quarter.
But Notre Dame's defense denied points after Dontavious Jackson's third-quarter theft when senior Drue Tranquill and junior Khalid Kareem made stops after the Seminoles had reached the Irish 1. On fourth down, quarterback Deondre Francois (23-47, 216 yards) threw incomplete.
The Seminoles, who practiced in summer-like conditions in Tallahassee before flying into wintry South Bend, saw Francois' second pass of the game intercepted by senior Nick Coleman and Akers' fumble recovered by junior Daelin Hayes. The Irish converted them into 10 points while taking a 17-0 first-quarter lead.
TAKEAWAYS
Florida State: The Seminoles were their own worst enemy in the first half, surrendering 10 points after a pair of turnovers in the first quarter and another two points on Julian Love's return of a blocked conversion attempt in the second quarter. FSU's defense, which entered the game allowing just 111.1 yards per game (17th nationally), surrendered 141 yards in the first 30 minutes, 58 on Williams' touchdown run.
"Mental toughness, discipline and execution," Taggart said. "We didn't execute when we had the chance. On defense, we gave up too many explosive plays."
Notre Dame: Notre Dame's tall senior receivers dominated the banged-up Florida State secondary with three acrobatic TD catches in the first half. First, the 6-foot-4 Boykin outleaped his defender on a nicely thrown Wimbush pass. Later, the 6-foot-4¾ Mack kept one foot inbounds to give the Irish a 14-0 lead and then outleaped an FSU defender for a 15-yard TD in the second quarter that sent the Irish in at halftime up 32-6.
WIMBUSH SALUTED BY TEAMMATES
Wimbush threw just one touchdown pass and had four interceptions while leading the Irish to a 3-0 start before Kelly and offensive coordinator Chip Long opted to change to Book, who has thrown for 1,811 yards and 14 TDs since.
"If any of you guys know Brandon, he's a high quality guy," defensive end Daelin Hayes said. "We as a defense wanted to emphasize that we had his back."
Book is expected to be back at No. 1 for next Saturday afternoon's visit to Yankee Stadium and a showdown with No. 13 Syracuse.
IN THE RUNNING
With Williams running for a career-high of 202 yards on 20 carries and touchdown runs of 58 and 32, the Irish exploded for a season-high 365. Their previous high was 272 against Stanford.
Notre Dame, which entered the game averaging 181.0 yards rushing (53rd nationally, did not lose yardage on any of its 50 carries and it helped the Irish win the time of possession, 32-28 minutes. Notre Dame was also 9 of 16 on third-down conversions.
Wimbush's quick feet accounted for 68 yards on 12 carries, while Jafar Armstrong added 44 on seven rushes and Tony Jones Jr. scooted for 39 on six.
IRISH 4-0 IN GREEN
It was Senior Night for the Irish, who came out in Kelly (pun intended) Green tops with blue numbers outlined in gold.
It's the fourth time during Kelly's nine seasons that the team has been in a shade of green. The Irish wore hunter-green jerseys against Army in Yankee Stadium during Kelly's inaugural season in 2010 (and won 27-3); wore all-green uniforms with blue and gold stripes against Boston College at Fenway Park in 2015 (and won 16-13); and wore an olive-green jersey against Army at the Alamodome in 2016 (and won 44-6).
Prior to 1964, Notre Dame often wore green jerseys. Coach Dan Devine's 1977 team, quarterbacked by Joe Montana, came out in green jerseys after wearing blue tops in pregame warmups and then routed USC, 49-19. Notre Dame stayed in green afterward in its march to the national championship that season.
UP NEXT
Florida State: Saturday at home against No. 17 Boston College.
Notre Dame: Saturday at Yankee Stadium as the home team against No. 13 Syracuse.
---
---