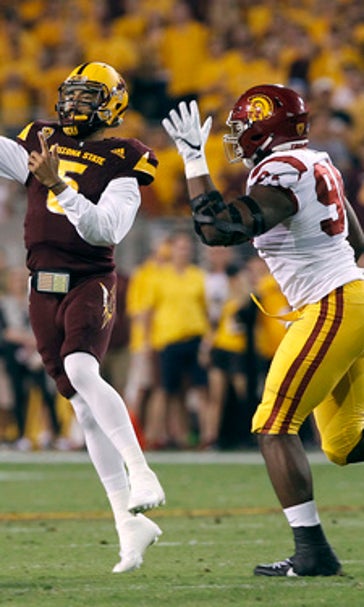 Arizona State kicks PAT at halftime after call overturned
October 29, 2017

TEMPE, Ariz. (AP) Players from No. 21 Southern California and Arizona State had to return to the field for an extra-point attempt at halftime after a lengthy video review determined the Sun Devils scored on a Hail Mary.
The officials originally ruled Manny Wilkins' pass to Kyle Williams came up a yard short of the goal line on the final play of the half Saturday night.
USC's players trotted off and a few Arizona State players remained on the field after the officials decided to review the play. Following a review of nearly five minutes, the officials ruled Williams caught the ball in the end zone before falling out to the 1-yard line.
Arizona State's PAT team went out for the extra point, but had to wait for USC's special-teams unit to return from the locker room.
A penalty was called on Brandon Ruiz's kick, but it turned out to be on the Trojans. The extra point counted, cutting USC's lead to 31-10.
---
---