Air Force Falcons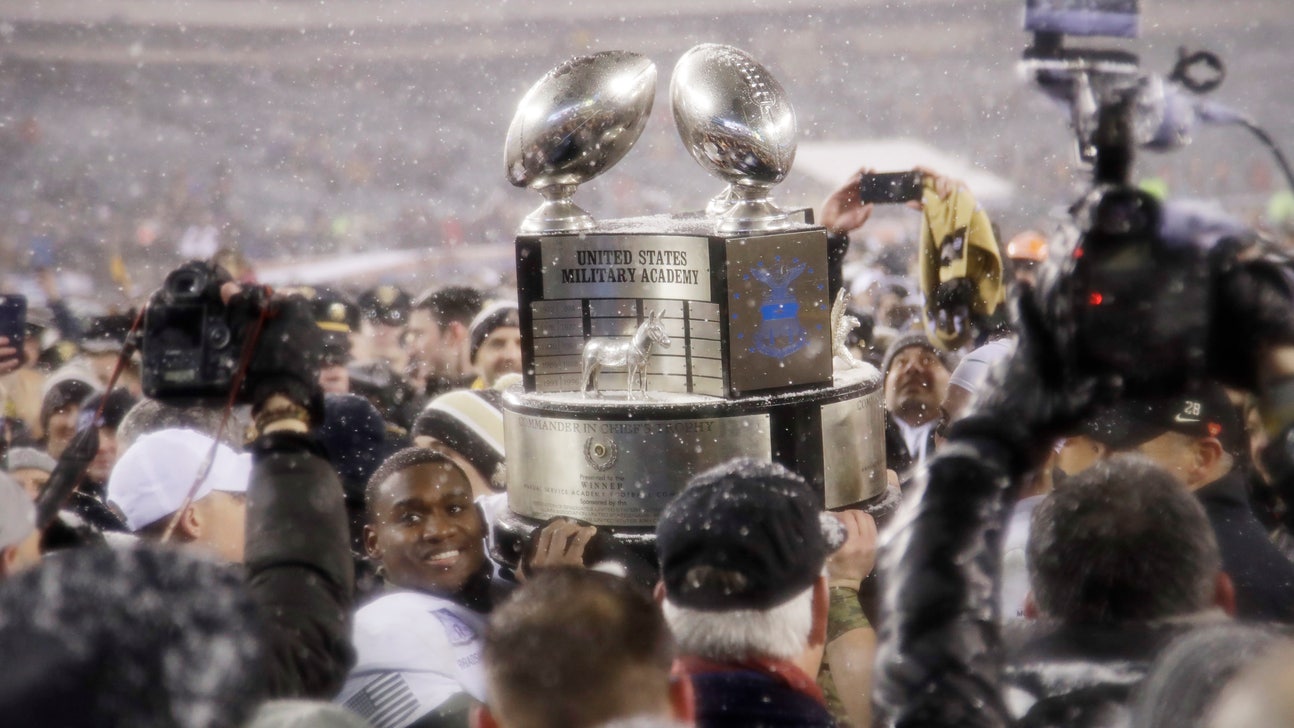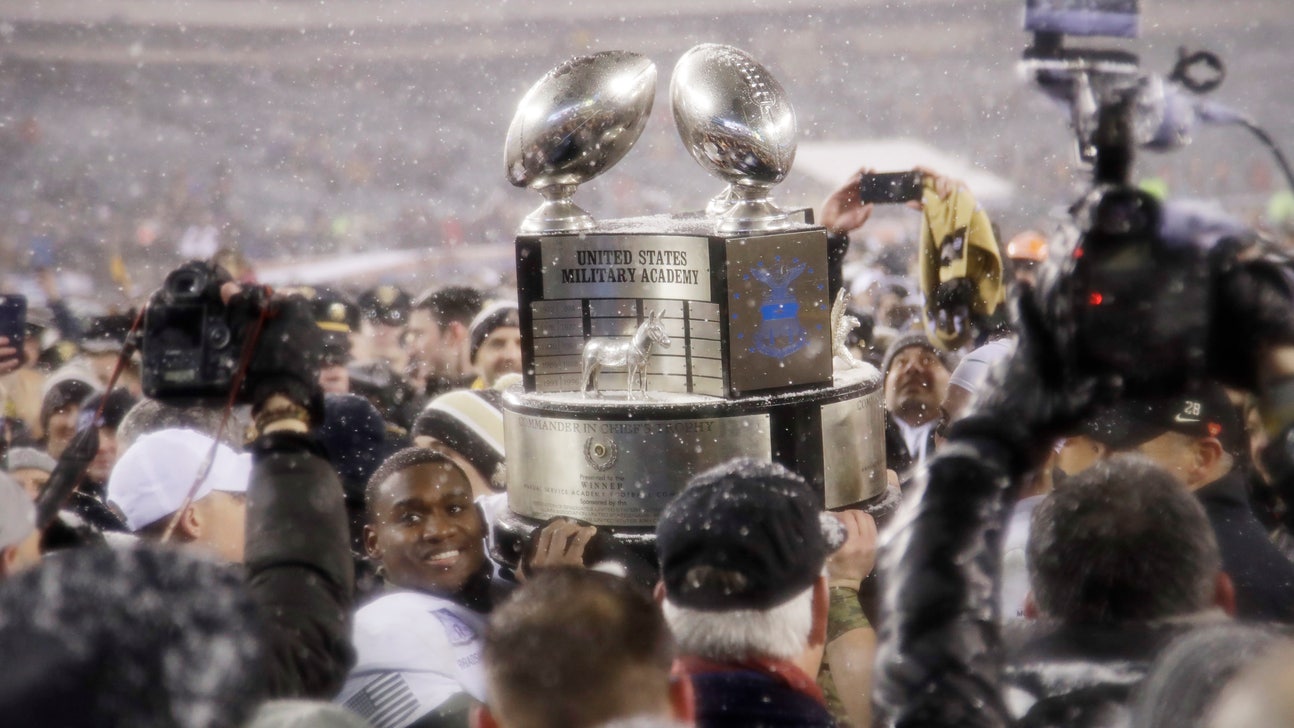 Air Force Falcons
Air Force travels to Army; revenge on the mind
Updated
Mar. 4, 2020 9:04 p.m. ET
WEST POINT, N.Y. (AP) — It's been a year since Air Force lost its grasp on the Commander in Chief's Trophy, and the Falcons want it back.
"The CIC always means a lot, but especially this year after what happened last year," Falcons senior offensive guard Griffin Landrum said. "That would be huge for this football team to get that trophy back."
Air Force has won the coveted hardware, which goes to the champion of the annual series among the three service academies, a record 20 times. Army finally broke through for the seventh time last year, first stunning Air Force 21-0 at Falcon Stadium, an embarrassing home loss that snapped a school-record, 306-game scoring streak dating to 1992. The Black Knights then beat Navy by one point to win the trophy for the first time since 1996.
Today, the hardware rests inside the Kimsey Athletic Center at West Point alongside statues of four of the academy's most renowned football figures: Hall of Fame coach Earl "Red" Blaik and his three Heisman Trophy winners — Glenn Davis, Felix "Doc" Blanchard and Pete Dawkins.
Air Force (3-5) visits on Saturday, and the Black Knights (6-2) are intent on keeping the trophy right where it is.
"We're excited," Army quarterback Kelvin Hopkins Jr. said. "Last year's game was a great game and a great effort by us, but they're a really good team. However it plays out is how it plays out."
The Falcons sit on a precarious perch as the season winds down. They need to win three of their final four games to qualify for the postseason, and Michie Stadium has become a difficult place to play — Army has won 10 straight at home , the last a double-overtime victory over Miami of Ohio two weeks ago. At least the Falcons can take solace in knowing that not only were they the last visitor to win at Michie (31-12 two years ago), they've also won 18 of the past 21 games between the teams and are 14-10 on Army's home turf.
"This is a championship game for us," Air Force senior linebacker Brody Bagnall said. "It kind of brings some life to the meeting rooms. We've been in some close games this year, but once we got to Navy week we were fired-up. Once you get to a service-academy week, it's a whole 'nother level."
Atoning for last year is foremost on the mind. Led by quarterback Ahmad Bradshaw's 265 yards rushing, the Black Knights dominated without throwing one pass against the flummoxed Falcons.
"I don't think anybody really completely understood what they were doing in the scheme last year when we were playing these guys," Bagnall said. "This year I actually know what I'm doing, and I think the defense feels the same way. We've just got to stop the run."
That's a tall task. Army's triple option ranks second nationally at 314.6 yards a game, averaging 4.6 yards a carry. Air Force, which throws the ball more, is averaging 255.5 and 4.26 on the ground and has outgained Army 1,100-731 passing, though both teams rank near the bottom of FBS in that category.
"At the end of the day, it's just about how physical we come to play and how locked-in we are and how we execute our assignments," Army senior center Bryce Holland said. "If we come out there and do that, we'll be pretty happy with the results."
Other things to know when Air Force visits Army on Saturday:
QUARTERBACK SHUFFLE
Air Force has three quarterbacks on its depth chart — junior Isaiah Sanders, senior Arion Worthman, and sophomore Donald Hammond III. Hammond has played in five games with two starts but has missed the past two games with an injury. His first career start was against Navy, and he led Air Force to a 35-7 victory a month ago, rushing for three TDs and throwing for 142 yards and another score, so a victory over Army will again give the Falcons possession of the Commander in Chief's Trophy.
"It's the No. 1 priority," Air Force wide receiver Marcus Bennett said. "It's bigger than us."
NO TURNOVERS, PLEASE
Air Force has lost seven fumbles and suffered two interceptions while Army hasn't lost a fumble since having two in the season-opener at Duke and has thrown three interceptions. In the last three years, the Black Knights are 12-0 under coach Jeff Monken when they don't lose the football.
"Coach preaches to us to take care of the ball, keep the offense on the field and the defense off as much as possible," Hopkins said.
DEFENSE RULES
Since both offenses use variations of the option, both defenses are all-too-familiar with the nuances of the ground-oriented attack. Army ranks eighth nationally in rushing defense (96.9 yards per game and 3.97 per carry) while Air Force sits at No. 16 (108.4 and 3.36).
GO FOR IT
Army leads the nation in converting fourth-down plays, having failed only three times in 29 tries (89.7 percent). Air Force has converted 19 of 30 (63.3).
---
---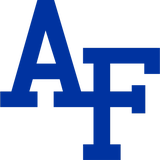 Get more from Air Force Falcons
Follow your favorites to get information about games, news and more
---