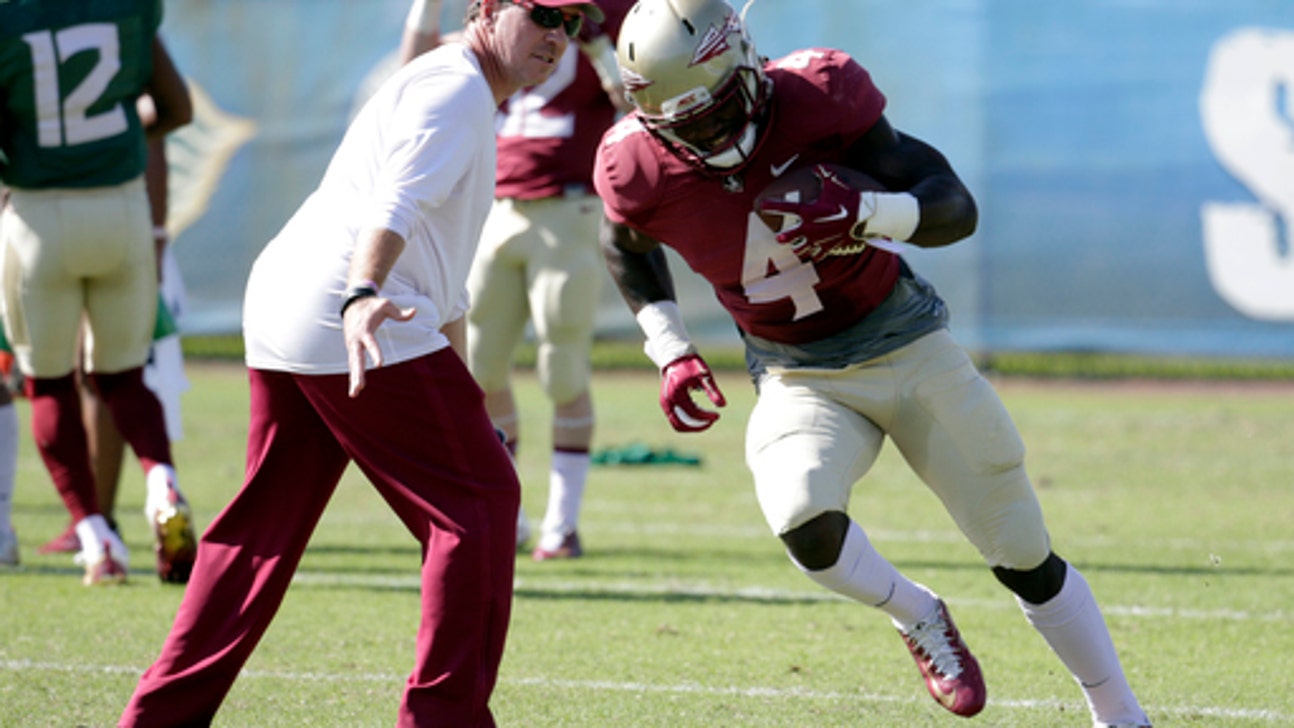 A home Orange Bowl is a perk for FSU's Dalvin Cook
Updated
Mar. 4, 2020 12:48 p.m. ET

FORT LAUDERDALE, Fla. (AP) Dalvin Cook got an extra day at home before Christmas, a perk of playing a bowl game in his backyard. He rode a jet-ski for the first time in a while, then basked in the sun and on the sand.
It only sounds like vacation.
The Orange Bowl is a home game for Cook, the dynamic Florida State running back whose college finale is most likely going to be Friday night when the 10th-ranked Seminoles meet No. 6 Michigan. The bowl game is only about 9 miles north of where the Miami native went to high school, and plenty of his family and friends will be the seats at Hard Rock Stadium.
''It's a dream come true,'' Cook said. ''Going out there, it'll be a moment to remember.''
When Cook plays, such moments usually happen.
In less than three full seasons - he's eligible to play at Florida State again in 2017, though it's widely expected he'll be performing on Sundays instead of Saturdays next fall - he became the Seminoles' career leader in rushing yards. He's 72 yards shy of breaking the Florida State single-season rushing record, one he set last year. And he's the FSU career leader with 45 rushing touchdowns.
''I'd venture to say he's probably the best running back I've watched on film in college,'' said Michigan defensive lineman Ryan Glasgow, who put Cook in the same breath as he put former Ohio State runner Ezekiel Elliott - now a rookie star with the Dallas Cowboys. ''Just kind of everything about his game, the way he sets up his blocks, the way he can make a man miss in space, his breakaway speed. It's pretty amazing to see.''
Cook started the season slowly by some standards, averaging 76 yards in the first three games. Since then, he's averaged 154.7 yards per outing.
''Unbelievable,'' Michigan coach Jim Harbaugh said when describing Cook, pausing between some syllables for emphasis. ''What a great player. A true slashing-type of back.''
This isn't Cook's first trip home, of course. He's played in the stadium that hosts the Orange Bowl twice before as a collegian, since it's also the home field of Florida State's rival Miami.
Cook had 150 yards rushing and a 59-yard touchdown catch in the Seminoles' 20-19 win over Miami earlier this season. And as a freshman playing on the road against Miami, his second TD run of the night put Florida State ahead for good late in what became a 30-26 victory. There was 3:05 left when he scored the winner in that game - the significance there not lost on Cook, since 305 also is the primary area code for Miami.
It's not a burden, being at home. Cook said it helps bring out his best.
''It's another football game to be played,'' Cook said. ''It shouldn't be any more pressure added. I'm home. Relax. Play football. It's what I came to do, play football, and I'm going to treat this game like another game, like another opportunity for me to get better at the game of football that I love. I'm going to go out there and compete my tail off for my team.''
Cook has a history of going to the next level early.
Back when he played in his very first youth program, Cook was moved up to face kids who were two years older - reason being, none of the other peers his own age could give him any competition. Then in high school, he was putting up big numbers as a sophomore. And at Florida State, he was a star before his freshman year was over.
If he knows this is the end of his time with the Seminoles, he's not yet saying.
''I still haven't made my decision yet,'' Cook said.
---
More AP college football: www.collegefootball.ap.org and https://twitter.com/AP-Top25
---