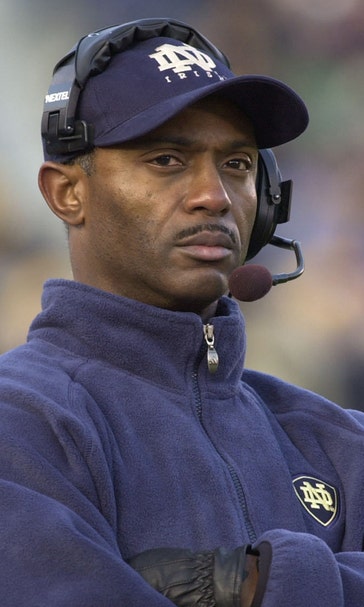 5 for Friday: Tyrone Willingham, Playoff Selection Committee member
September 5, 2014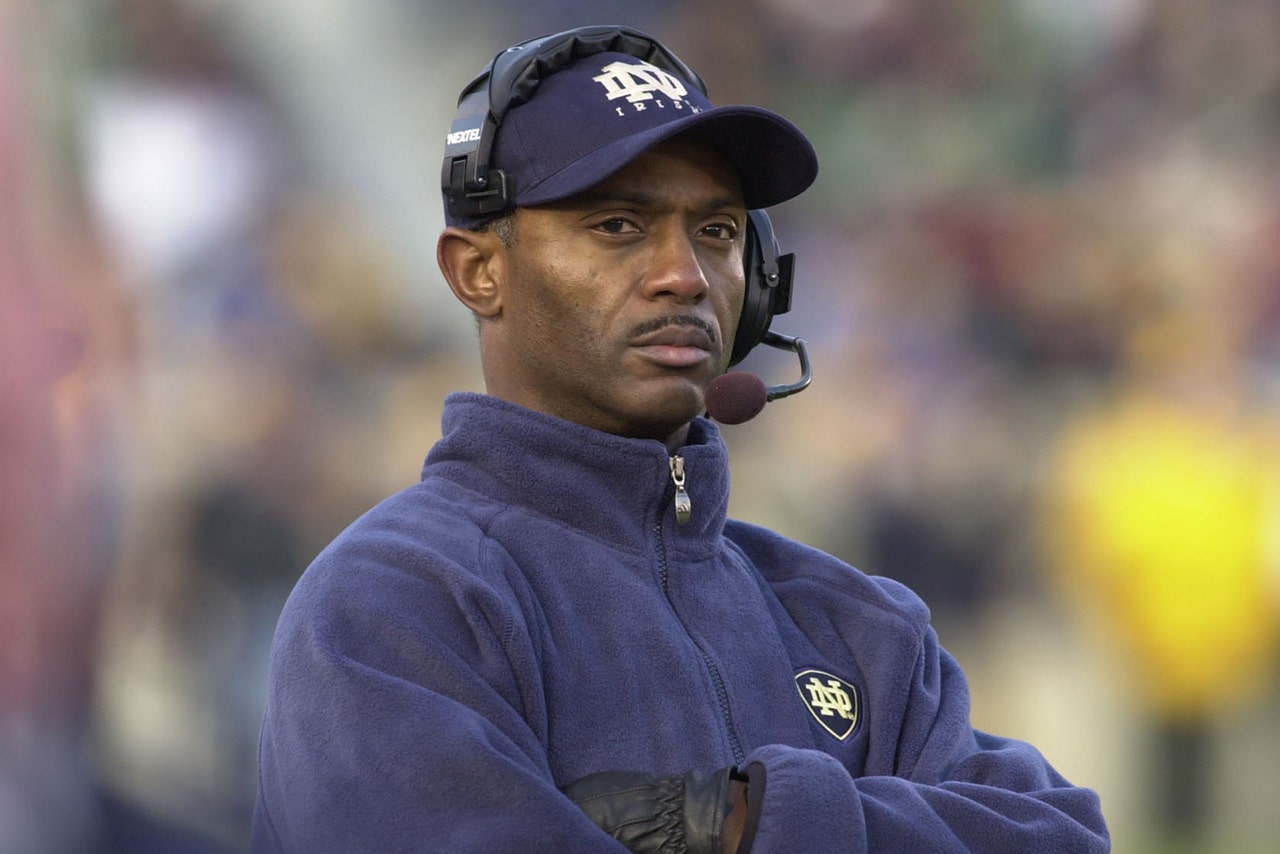 It's hard to believe that Tyrone Willingham, who once took Stanford to a Rose Bowl and became not only the first African-American head coach at Notre Dame but the first in school history to win 10 games in his first season, hasn't walked a Saturday afternoon sideline in more than five years, since his tenure at Washington ended with an 0-12 season in 2008.
The 60-year-old Willingham makes his official return to college football this season, not as a coach or commentator but as one of the 13 people selected for the first College Football Playoff Selection Committee.
Along with such high-profile figures as former Secretary of State Condoleezza Rice and well-known faces of college football — former Nebraska coach Tom Osborne, former Ole Miss quarterback Archie Manning and former Wisconsin coach Barry Alvarez, to name a few — Willingham will be tasked with helping to select the four best teams in the country come season's end. One of those four schools will then become the first College Football Playoff national champion.
With the weight of such a historic decision-making process still months away from fruition, Willingham spoke to FOXSports.com by phone Friday from his home in Los Gatos, Calif., and covered a wide range of topics for this week's 5 for Friday, including the NCAA's continuing inability to improve the hiring of minority football coaches, his greatest coaching influences and why his brief tenure at Notre Dame, which started with such promise, ended so quickly.
1. MALINOWSKI: You were able to be an assistant coach at a lot of places early in your career. And before becoming head coach at Stanford in 1995, you were in the NFL for three seasons as running backs coach for the Minnesota Vikings. Who were your main coaching influences as a young man, and when did you know that coaching was what you wanted to do?
WILLINGHAM: Wel,l it was interesting. We had a legendary coach in our community, a man by the name of Gid Johnson, and my mother was a school teacher and she taught in the same school that he coached in. So I had a chance to be around him as a young kid and his athletic and social development. I knew that I looked up to and admired him, but I was also blessed that the best coaches I've ever been around have been my parents, my mother and my father.
But from an athletic standpoint, Gid Johnson was the first person that made me say, 'You know what? Gosh, if I could inspire people, if I could do what he did to mold men, that would be great.' So I went off to college at Michigan State, not thinking I really wanted to be a coach, because I'd also seen some of the negative influences — and unfortunately in high school sports, sometimes the coaches can give you a real negative impression, because sometimes all they do is throw out balls and let kids participate without really educating them — so I bounced back and forth as to whether I wanted to be a coach. Finally, the coaches at Michigan State — Darryl Rogers and his staff, Sherman Lewis and et cetera — said you might want to consider being a college or professional coach. At that moment, the light kind of hit, because the challenge was tremendous. First of all, you're coaching highly skilled athletes. You've got the dynamics of the community. You had parents. You had media. You had alumni. And all those things are just so challenging. So that, for me, was the answer. That's what I wanted to do. and I got a wonderful break. In 1977, the staff asked me if I would be a graduate assistant and from there I jumped into college coaching and never looked back.
With Dennis Green, the first thing is that he comes from the Bill Walsh family. And when I was an assistant at Rice University, Bill Walsh and his staff (Denny Green, Sherman Lewis) really worked hard to start an internship in the NFL, which was the first one, for minority coaches. And that would have been 1987. And what they did was they started a program where you came in and got a total education — not just on the field but all the things that go around the business of professional football. So myself and Jerry Brown were the first two members of that program.
So I had a chance to spend time with, obviously, Bill Walsh, but also (49ers running backs coach) Denny Green directly. And that relationship blossomed into, well, when he got the head job at Stanford in 1989, he asked me if I would be a part of the staff. And that was one of those rare occasions where I've described as, usually, most husbands, when they get an opportunity for a new job, they'll at least ask their wife what they think. My wife got no part of the process. As soon as he asked, I was gone. We were there. That was it.
That was a wonderful break for me, because Denny is one of those people where we don't think completely alike — because they tell me if you think like another person, another one of you is not needed — but we did share a lot of common ground, and he is obviously the coach I've spent the most time around. And I've had wonderful coaches from Jerry Burns to Tom Reed and on and on. I've had great coaches to be around, but Denny was probably the one that I spent the most time with and was probably the most influential.
And then I was with the Vikings as running backs coach for three seasons, and we had such a great staff -— Ron Turner, Brian Billick, Willie Shaw, Tony Dungy. It was just a great staff that Denny had put together. But that's the kind of person he is.
Going back to Stanford in 1995 as the head coach, the great thing was that Denny had laid the foundation for all that we did. This is part of that "common ground." We treated the collegiate players no different than we treated the pro players. There was a high level of expectation and we treated them as men. And I think that type of approach, people will respond to at almost any level.
2. MALINOWSKI: Your tenure at Notre Dame could not have begun any better. You started off 8-0 and you were the first, first-year Notre Dame coach to win 10 games, but it was all downhill after that. I went back and read the transcript from the press conference you gave on that day you were let go. You deflected, naturally, when someone asked about your legacy and also how you would look back on that tenure years from now. But it's now been 10 years. What do you think of your time there and all you accomplished, and also how it ended so poorly?
WILLINGHAM: Well, I kind of . . . beg to differ with that. Quite naturally, the goal at Notre Dame, as it is an independent, is to win the national championship. There is no conference title. I didn't do that. I didn't win enough games in three seasons. That's point, point, point. But at the same time, I think that some people believe that was a losing record, and that was not a losing record.
Life has ups and downs. That's what life is. So no, we didn't reach the goal. I didn't reach the goal. We didn't do the things that we wanted to do. And I've said very simply: If you don't win enough, then you allow other people's opinions and goals to step in. I didn't do that.
3. MALINOWSKI: There have been some high-profile and much-lauded hires with black coaches in FBS football, particularly Charlie Strong being hired at Texas. Kevin Sumlin has had great success at Texas A&M. But every year, the Institute for Diversity and Ethics in Sport releases its Racial and Gender Report for college sports, and it found that the number of minority coaches in FBS actually decreased from 18 at the start of the 2012 season to 15 at the start of 2013. Also, non-white players now account for 58 percent of FBS players. What is the NCAA doing wrong with regards to promoting diversity among coaching ranks, and what should the schools be doing to avoid such a wildly disproportionate ratio?
WILLINGHAM: Well, I don't really look at the numbers, because for me, it's very simple: If a man has the talent, let him do the job. That's it. And unfortunately, when you have a lot of owners as you have in — well, stakeholders, as I believe they're called in collegiate athletics — then you have more voices that you have to appeal to. Whereas the NFL, for comparison, maybe only deal with one voice, the team owner. And if you meet his needs by showing him how this coach can make him more money and make his team successful, that's very much a bottom line thing. And you would think that the colleges would act along the same manner but when you have that many stakeholders, it's very difficult to have that bottom line thought process.
I think you just have to make a conscious effort to bring those people to the table that are talented. And to me, it's a win-win. if I have the best teacher teaching my kids, then they'll have the best opportunity to learn. It's the same thing with coaching athletics. If we bring the best coaches to the table — and regardless of color, bring the best coaches to the table — they'll do well. They'll speak well for themselves. They'll interview well. They'll get the jobs.
But when you close the door and don't let them into the process, then you don't have an opportunity to make everybody better.
4. MALINOWSKI: So, you're one of 13 charter members of the College Football Playoff Selection Committee. How did that come about, and how do you view your responsibility in this, the playoff's first year and with so much hype?
WILLINGHAM: First of all, it's a real honor to be a part of this committee. When you start naming the people that are a part of this community — a former Secretary of State (Condoleezza Rice), gosh, a lieutenant general (Mike Gould) — it's an impressive group, so to be a part of that, to be nominated for that — that wasn't something that I politicked for — but to be nominated and selected for that is an honor.
But the honor for me is really to honor the football players and the coaches who have been around, because the one thing I think all athletes will say is, "Coach, just give me an opportunity. Just let me play for my position. Just let me have a level playing field." I think that's an honor to be able to be a part of a selection process that will select the best four teams.
I hear this wording out there about the "most deserving." Well, in my world, the best team is usually the most deserving. And the most deserving has usually been the best team. So I think it's an honor, individually, and it's an honor collectively for all the players and coaches I've been around, that I can do something for the game and put in place something that will be, in a sense, pure, and provide the competition that all athletes really enjoy.
I view it as the evolution of life, or the evolution of football. We grow. We get better. We improve. And maybe this is an improvement over the systems that we've had. I've enjoyed all the systems that we've had, but hopefully this will be the next step in that process of making college football, college sports, that much better.
5. MALINOWSKI: You had a stint as a volunteer coach for the Stanford women's golf team a couple of years ago, so working with college athletes is still something in your blood. Is there any urge or desire to ever coach again? Or maybe get into broadcasting? I guess a better question is, how are you enjoying your retirement?
WILLINGHAM: Well, Erik, I've always said this: Life has to have a passion. If there is no passion, then it makes it really difficult to really live and be driven to enjoy your life. I have wonderful passions in my life. I had actively coached football for 30 years at the collegiate and professional level. And now I've volunteered with the Stanford women's golf team, which I enjoyed. And I volunteer for the First Tee program. And I'm a board member for the Youth on Course NCGA program.
So I have a lot of worthwhile passions in my life, and it is wonderful to wake up each day and just have a thrill about the next challenge. And obviously, I'm also now a part of this selection process, so I've got quite a few things that allow that passion — that fire — to see the next day.
You can follow Erik Malinowski, whose affinity for Notre Dame is limited solely to the soundtrack to Rudy, on Twitter at @erikmal and email him at erik.malinowski@fox.com.
---