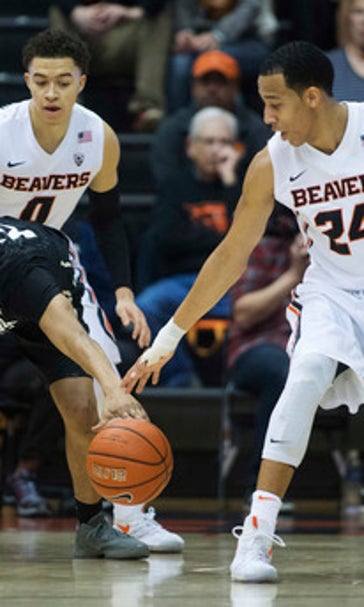 White scores 20, Colorado holds on to beat Oregon State (Feb 16, 2017)
February 17, 2017

CORVALLIS, Ore. (AP) Colorado guard Derrick White has come up with big-time blocks at critical times this season, said Buffaloes coach Tad Boyle.
''He did that against Xavier. He did that against Oregon,'' Boyle said.
Add Oregon State to the list.
White had 20 points and a block with about a minute left as Colorado held on to beat Oregon State 60-52 on Thursday night - the official play-by-play listed the block as one of his three steals.
''We finished with four straight stops there. That was the most important thing,'' White said.
Xavier Johnson added 17 points for the Buffaloes (16-11, 6-8 Pac-12).
Drew Eubanks had 14 points, eight rebounds and four blocks and JaQuori McLaughlin scored 16 points for the Beavers (4-23, 0-14).
White made a contested floater to give Colorado a 55-52 lead with 1:18 remaining, and then blocked Oregon State center Gligorije Rakocevic on the subsequent possession. Johnson sank a corner 3-pointer to stretch the Buffaloes' lead to 58-52 with 36 seconds left.
The Beavers turned the ball over the next time down the court and were forced to foul.
At the half, Oregon State led 25-24.
The Buffaloes went on a 12-2 surge to open the second half and led 36-27 with 14 minutes left after a White lay-in.
The Beavers trailed by 11, their largest deficit of the game, when they went on a 9-0 run to make the score 46-44. A McLaughlin 3-pointer tied the game at 50-all with 3:20 remaining, and the game also was tied at 52-all.
Both teams shot near 40 percent, but the Buffaloes had 23 points off of 18 Beavers turnovers.
BIG PICTURE
Colorado: The Buffaloes started Pac-12 play with seven straight losses, but have won six of seven games since then. . White only scored five points in 29 minutes in the Buffaloes' 85-78 win against Oregon State on Jan. 26. He entered Thursday's game as the second-leading scorer in Pac-12 games at 18.9 points per contest.
Oregon State: Leading scorer Tres Tinkle, who last played Nov. 25, remains out indefinitely with a broken wrist. . Stephen Thompson Jr. entered the week leading the Pac-12 in minutes per game at 36.5.
NO DOUBLE
Boyle called Eubanks one of the Pac-12's best post players, but Colorado didn't double him because they didn't want wide-open shooters along the arc. ''The 3-point shot is something we really want to guard against. We want him to make tough twos, make him work for everything,'' Boyle said.
OREGON GAME
The Buffaloes beat Oregon 74-65 on Jan. 28, so the Ducks might be looking for payback on Saturday. ''We just gotta go in and let it all hang out and not overthink it,'' Boyle said. ''We gotta be ready to play with great energy and great passion and great toughness, because Oregon is a good team. They're going to be loaded for bear.''
UP NEXT
Colorado plays at No. 7 Oregon on Saturday.
Oregon State hosts Utah on Sunday.
---
---