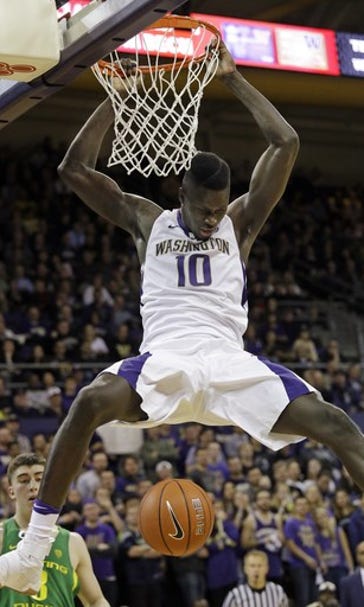 Washington forward suspended after slapping student at game
February 10, 2017

SEATTLE (AP) Washington senior forward Malik Dime was indefinitely suspended Friday for slapping a student at halftime of a loss to Colorado.
Head coach Lorenzo Romar said Dime's action during Thursday night's 81-66 loss in Boulder, Colorado, wasn't consistent with his typical behavior and the coach said he doesn't expect this type of behavior again. But Romar said the incident was unacceptable.
''They were absolutely unacceptable, and did not represent the values of our team and the sportsmanship spirit of our conference,'' Romar said. ''We have spoken with him at length and expect this to be a valuable teaching moment. We do not expect this type of behavior to happen again.''
Dime slapped the student after the halftime buzzer. Washington coaches had to restrain Dime, who was sitting out his ninth consecutive game with a broken right finger. Dime was expected to be able to return from the injury sometime in the next couple of weeks.
In a statement issued through the school, Dime said he made a poor decision after getting caught up in the emotion of the game.
''I made a very poor decision, and did not represent my team, my university and my family the way I want to,'' Dime said. ''I am glad I had the chance to apologize in person to the students involved in the altercation, and I am prepared to accept the full consequences of my actions. I look forward to putting this incident behind me and moving forward.''
Before getting hurt, Dime was averaging 5.5 points and 4.9 rebounds in 15 games. He still leads the Huskies with 39 blocked shots this season.
---
---