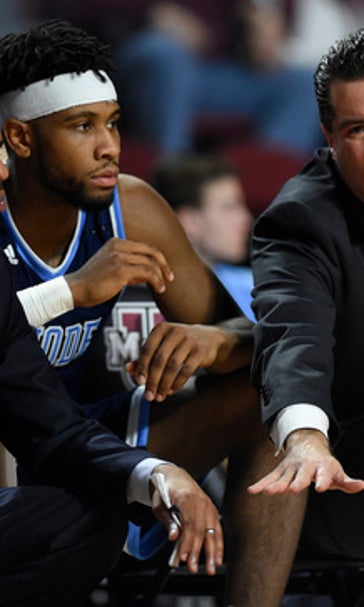 URI promotes assistant Cox as successor to Dan Hurley
April 4, 2018
KINGSTON, R.I. (AP) The University of Rhode Island has promoted David Cox to men's basketball coach.
Cox served as associate head coach for the last four years under Dan Hurley, who left last month to become head coach at UConn.
Cox helped lead the Rams to a 26-8 record this season and a second straight appearance in the NCAA Tournament, where they lost in the second round to Duke.
He also played a big role in securing a four-member recruiting class, which the Rams hope to retain.
The school said Cox, who played at William & Mary, has agreed to a five-year deal worth $700,000 a year.
More details are expected to be released at a news conference Friday morning.
''David has been an integral part of building our men's basketball program to where it is today, and with his work ethic and high character, we believe he was the best person to keep us as a premier team in the Atlantic 10 for years to come,'' said URI President David Dooley.
Before coming to Rhode Island, Cox was the associate head coach at Rutgers. He also served as an assistant at Georgetown and was a director of basketball operations at Pittsburgh.
''This is a dream come true,'' Cox said. ''Navigating the landscape of coaching at the collegiate level has been a long, hard journey.''
Hurley has said he was waiting to find out if Cox would be the next Rhode Island coach before filling out his staff at UConn, which already includes Tom Moore, who also served as an assistant at URI this year.
----
More AP college basketball: https://collegebasketball.ap.org ; https://twitter.com/AP-Top25 and https://www.podcastone.com/ap-sports-special-events
---
---