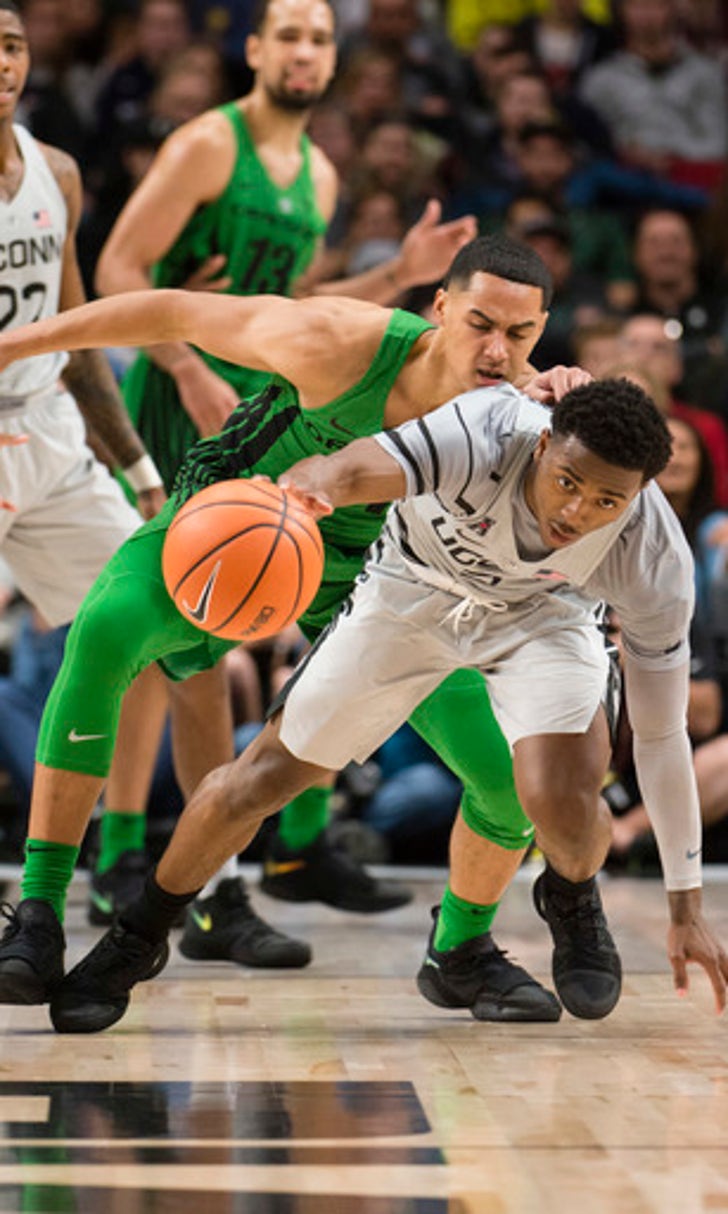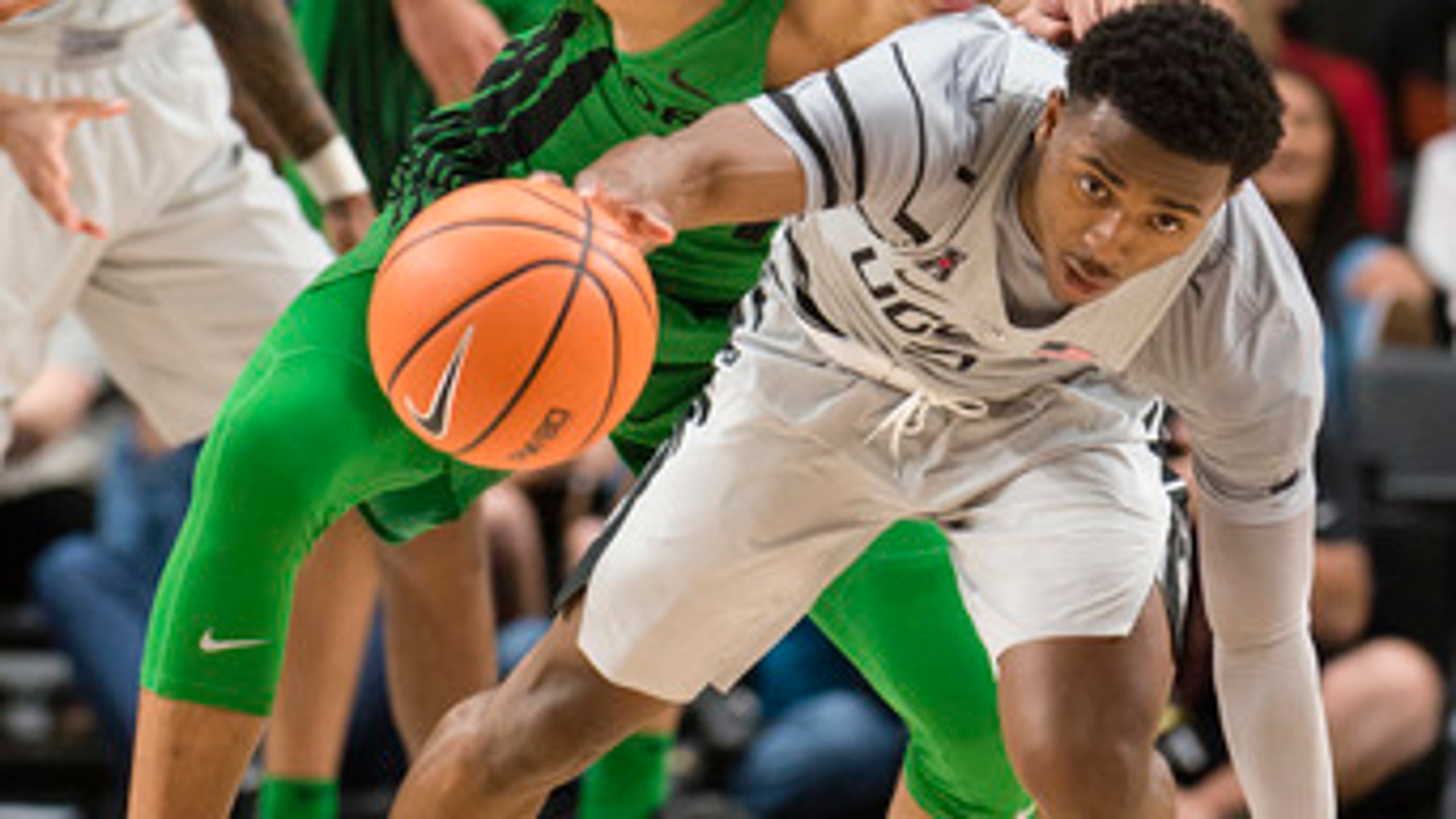 UConn pulls away late to knock off Oregon 71-63 (Nov 23, 2017)
BY AP • November 24, 2017
PORTLAND, Ore. (AP) Playing essentially a road game, Connecticut passed its first significant test of the season on Thursday night.
Terry Larrier scored 18 points, Alterique Gilbert and Jalen Adams both added 16 points each, and UConn knocked off Oregon 71-63 in the opening round of the PK80 Invitational.
The Huskies (4-0) overcame an awful night of shooting to knock off the Ducks playing essentially a home game a couple hours north of their campus in Eugene. Most of the lower bowl at Moda Center was clad in green and yellow but went home disappointed at Oregon's first loss of the season.
''We went through a little adversity but we overcame that and that was the biggest challenge for us,'' Gilbert said.
The tight matchup saw 17 lead changes, the final one coming with 2:24 left when Antwoine Anderson cut baseline and dunked off a perfect pass from Gilbert to give the Huskies a 64-62 lead. UConn led 68-62 in the closing seconds and could finally celebrate the victory when Payton Pritchard missed a deep 3-pointer with 11 seconds left.
''It's just a good win. We just want to keep winning, keep doing it the right way, playing the right way,'' UConn coach Kevin Ollie said. ''Those guys went through a lot last year but they learned from it and we're just trying to play good solid basketball.'''
Meanwhile, Oregon showed its overhauled roster from last season's Final Four team still has a long way to go. Pritchard led the Ducks (4-1) with 14 points, but Oregon missed all 10 of its 3-point attempts in the second half. Oregon was 5 of 24 overall on 3s.
Oregon had 18 second-half points at the free-throw line and just 14 points on made baskets. Paul White added 12 points for Oregon, but Elijah Brown, averaging 12 points per game, fouled out after scoring just five.
''First time under the lights with a little pressure and we sure didn't handle it very well,'' Oregon coach Dana Altman said.
White had a fantastic sequence with about 10 minutes to go that appeared it was going to spark the Ducks. White scored a tough driving layup on one end to give Oregon a 51-48 lead then recovering on defense to swat the driving attempt of Gilbert. He added two free throws and Oregon led 53-48, its largest lead of the game.
But UConn outscored the Ducks 23-10 over the final eight minutes. A pair of free throws from Anderson put UConn up 60-58 with 4:10 remaining, but Mikyle McIntosh answered with a driving basket and added two free throws with 3:25 left to put the Ducks in front.
The lead didn't last long. Christian Vital hit a pair of free throws and Anderson's dunk gave UConn the lead for good. Anderson finished with 10 points.
THE TAKEAWAY
UConn: The Huskies were shooting nearly 32 percent on 3-pointers through the first three games, but struggled badly from deep against the Ducks. UConn was 3 of 17 on 3-pointers and just 1 of 6 in the second half. ... Ollie said the Huskies must be better sharing the ball after finishing with just four assists. At one point in the second half UConn had just one assist in the game.
Oregon: The Ducks were lucky to be down only seven at halftime after watching UConn close the half on a 14-4 run. The Ducks missed nine of their final 10 shots of the first half, the only basket coming on White's putback in the final seconds to get within 38-31 at the break. ... Oregon had seven assists and 17 turnovers. ''Our ball movement on the offensive end was terrible,'' Altman said.
EARLY SEASON MEETINGS
It was the second straight season Oregon and UConn met in an early-season tournament. The Ducks beat the Huskies 79-69 last year in the fifth-place game of the Maui Invitational.
''Last year was a tough year but it's a new year, new team,'' Adams said.
UP NEXT
UConn: The Huskies will play either DePaul or Michigan State on Friday.
Oregon: The Ducks will face either DePaul or Michigan State on Friday.
---
---