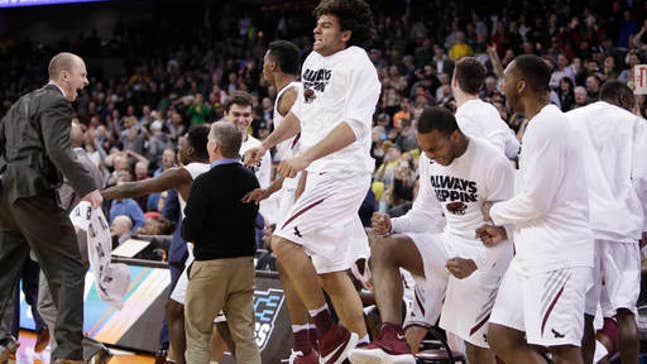 TIPPING OFF: Round 2 of NCAA Tournament wraps up
Published
Mar. 20, 2016 3:51 a.m. ET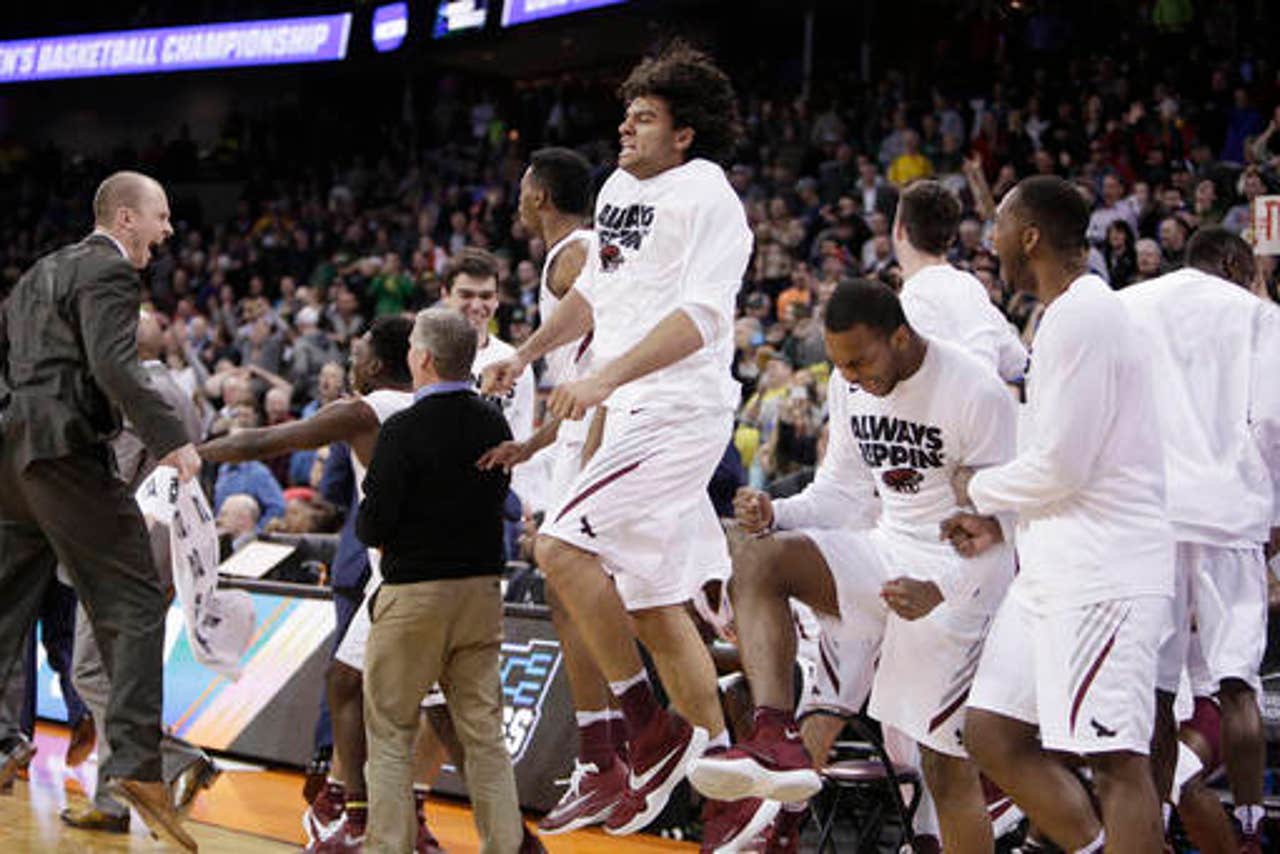 NEW YORK (AP) Some things to think about Sunday as the second round of the NCAA Tournament wraps up:
---
ACC'S EASY ROAD:
No league benefited from all those first round upsets quite like the Atlantic Coast Conference.
Four ACC teams drew second-round matchups with double-digit seeds - more than any other conference - and two of those are coming Sunday.
Notre Dame will take on 14th-seeded Stephen F. Austin instead of third-seeded West Virginia, and Syracuse faces 15th-seeded Middle Tennessee State and not perennial March power Michigan State.
The first two took full advantage on Saturday, with Duke holding off 12th-seeded Yale and Miami beating 11th-seeded Wichita State to earn spots in the Sweet 16.
And that doesn't even count the ACC's two No. 1 seeds - North Carolina and Virginia - for whom facing a 10-or-worse seed wasn't possible in the second round because they got the winners of the 8-9 games.
---
PRETTY POSITIVE:
Thomas Walkup, the bearded star for Stephen F. Austin, is as positive as one can be heading into a second-round matchup with sixth-seeded Notre Dame.
''I think we are the real deal, and we're preparing to win,'' he said. ''We're not preparing just to go out there and say we won a game and we're satisfied. I think it's all about the approach, and that's what we're approaching it like.''
---
HAPPY ENDINGS:
This Northern Iowa team will be remembered for quite a while for Paul Jesperson's halfcourt shot that beat Texas in their first-round game. But the Panthers have had a few late-game situations like that lately and they all have turned out well.
''It's funny because it's never how you think it's going to happen or how it's going to be drawn up, so you've just got to take it for what it is,'' Northern Iowa's Matt Bohannon said. ''It's pretty crazy we've had four games that have kind of ended the same way. You kind of start to build a little confidence and understand that through each of these experiences you kind of build a little bit more and build a little bit more and have a sense of a calm, cool, collected attitude.''
---
HONEST JIM:
Syracuse coach Jim Boeheim rarely holds back when asked a question and he didn't hold back when he was asked about his team's opponent, Middle Tennessee State, the 15th seed who beat Michigan State in the opening round.
''They're a very good team. If they were bad I'd be saying that, too. Or if they were lucky, I would be saying the same thing,'' Boeheim said. ''But the truth is they're a really, really good offensive team. I didn't see any weaknesses on that team. They didn't turn it over. They made good plays when they had to. They made shots when they had to. And they did it multiple times. Michigan State came at them multiple times. It wasn't like they were ahead the whole game and Michigan State made a little run. They answered five or six times. And a different guy, a different guy answering almost every time.''
---
HONEST PHIL:
Saint Joseph's coach Phil Martelli was also being very honest when he was asked how much he knew about the season his upcoming opponent, top-seeded Pac-12 champion Oregon, had.
''No idea. No zero. And this is my livelihood and I'm saying to you, until I heard on the broadcast that they had finished the season No. 5, I had no idea,'' Martelli said. ''I knew this: Dana Altman, when he was at Creighton, we played them one time in the Palestra, we still haven't guarded them. They scored as many points as they wanted to. And I knew what a fabulous, fabulous coach he was. But if you said to our players, did Oregon win the PAC-12 or did Arizona? They would lean to Arizona.''
He said it's not disrespectful, but at some point you have to turn off the TV. ''
You can't watch any more games. So, Big Monday, at midnight, is no longer Big Monday, it's Tuesday morning,'' he said. ''I know what Villanova looks like and I know Villanova could end up in Houston and I know Oregon could end up in Houston. So to the fan in Philadelphia, or the East Coast, they have no idea.''
---
AP Sports Writer Joedy McCreary contributed to this report.
---