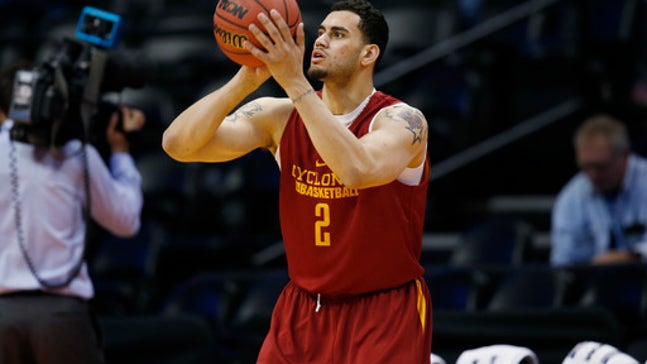 The Latest: Duke beats UNC Wilmington in first-round game
Published
Mar. 17, 2016 3:52 p.m. ET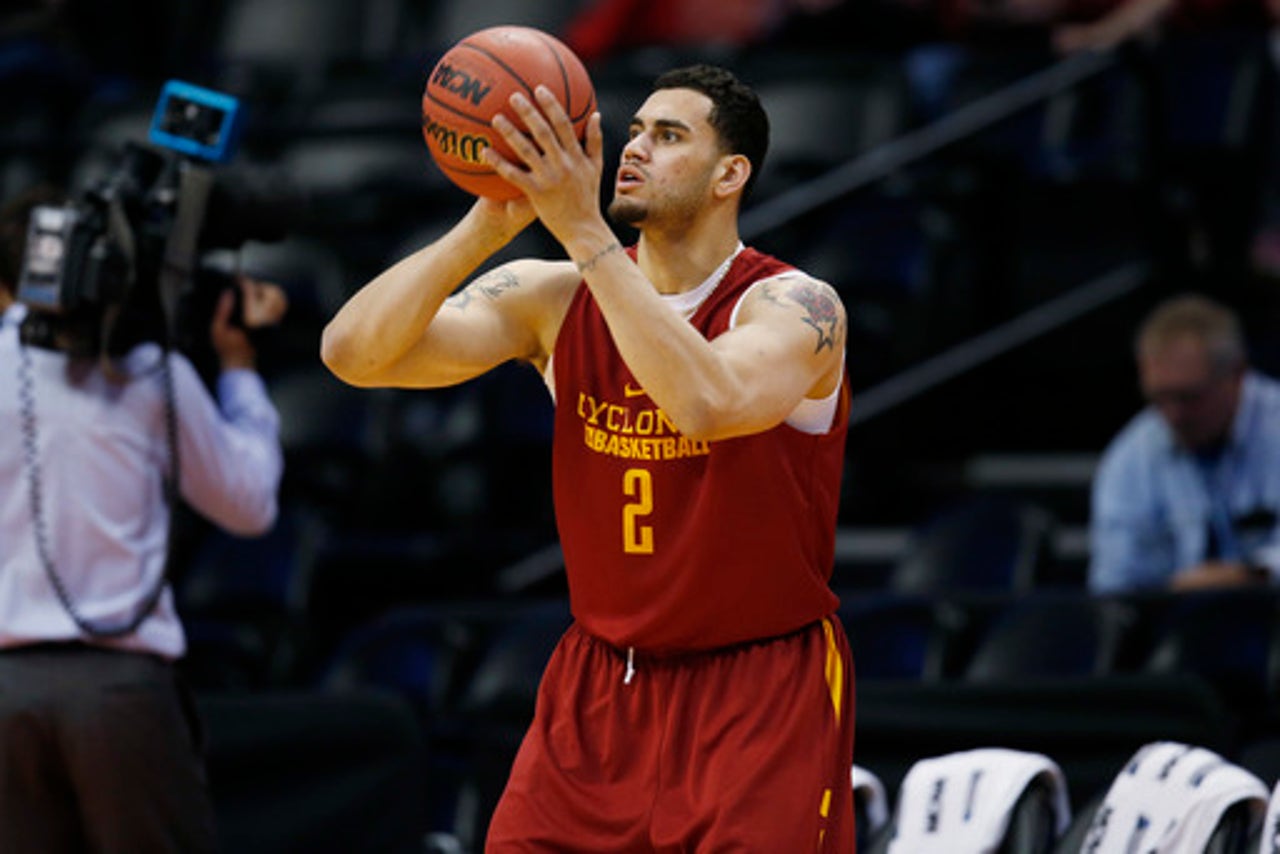 The Latest on the first full day of the men's NCAA Tournament, including games being played in Providence, Rhode Island, Raleigh, North Carolina, Des Moines, Iowa and Denver. (All times EDT):
2:36 p.m.
Duke moves on in its long shot bid to repeat as national champion.
The Blue Devils trailed at halftime, but a maskless Marshall Plumlee led a second-half surge that powered Duke to a 93-85 win over UNC Wilmington.
''I thought the key to the game was Marshall's play in the second half,'' coach Mike Krzyzewski said after Plumlee finished with a career-high 23 points.
Duke moves into a West Regional second-round matchup against the winner of Thursday's Yale-Baylor game.
Plumlee wore the mask to protect a broken nose, but it was removed in the first half. Early in the second half, the Blue Devils took charge.
---
2:32 p.m.
Some arenas may have been only partially full for the opening games of the NCAA Tournament, but it was tough to find a seat in Las Vegas.
Fans and bettors started lining up at 4:30 a.m. to get into the sports book at the Mirage, nearly five hours before the first game tipped off.
Oddsmaker Jay Rood said there were even long lines Wednesday night as people got wagers in early because they thought they feared crowds might be too big on opening day.
At the South Point hotel-casino, veteran oddsmaker Jimmy Vaccaro said two ballrooms had already been set up with big screens and betting kiosks in advance of the first game. When those filled up quickly, a third ballroom was opened up to handle the overflow.
In sports books across the city, fans drank and gambled in what has been a growing tradition in recent years.
Betting on the NCAA Tournament has become comparable to the Super Bowl. A record $132.5 million was bet on the Super Bowl in February, and oddsmakers say up to $150 million could be wagered legally on the NCAA Tournament.
-Tim Dahlberg reporting from Las Vegas.
---
2:17 p.m.
So much for easing into things.
Barely three minutes into Iona-Iowa State, we've seen four 3-pointers, one alley-oop and 16 points. Iowa State 11, Iona 5.
And now, during a timeout, we're getting video of Charles Barkley butchering ''One Shining Moment'' on the big screen.
-Eddie Pells reporting from Denver.
---
2:10 p.m.
Keep the calculators handy. Iona and Iowa State have tipped off. The over-under for the game between these two running teams is 165.5 - a full 13 points higher than Thursday's next-highest game, which is the Kansas-Austin Peay matchup.
-Eddie Pells reporting from Denver.
---
2:08 p.m.
Syracuse coach Jim Boeheim spent most of his session with the media Thursday talking about the Orange's postseason ban from a year ago and his own nine-game suspension from violations of NCAA rules.
The curmudgeonly coach at least did so with a smile.
Boeheim said taking the ban last year, rather than putting it off until this year, wound up being the right decision. He did so for a couple reasons: the Orange were only losing one senior last year who would be deprived of playing in the NCAA Tournament, and his team would have struggled to make the field anyway.
''The other thing is one month knowing you're not going to the tournament is one thing,'' said Boeheim, whose No. 10 seed Orange play seventh-seeded Dayton on Friday in St. Louis. ''To sit in Syracuse and for 10 months know we're not going to the tournament next year, that would not have been good.''
- Dave Skretta reporting from St. Louis.
2:02 p.m.
Duke looks to be taking charge over UNC Wilmington in the second half of their NCAA Tournament game in Providence, Rhode Island.
After trailing by three at the half, Duke was up 70-62 with less than eight minutes to go. A thunderous dunk by Marshall Plumlee had gotten the lead up to 12 points, but UNC Wilmington wasn't quitting in only the second game between the schools.
There was a scary collision near mid-court between UNCW Chris Flemmings and Duke's Derryck Thornton. Both players stayed down on the floor for about a minute, but were able to make it to their bench under their own power. They appear to be OK.
- Kyle Hightower, reporting from Providence, Rhode Island
---
1:43 p.m.
There's a reason the NCAA Tournament keeps coming to North Carolina seemingly every year.
PNC Arena was about three-quarters full for the first game of the day, an 8-9 game between Butler and Texas Tech.
Fans of the Bulldogs and Red Raiders showed up, of course, but there was no doubt that the two anchor teams here are North Carolina and Virginia.
It helps that three of the eight schools here are only a short drive away - the Tar Heels, Cavaliers and 16th-seeded Hampton.
- Joedy McCreary reporting from Raleigh, North Carolina.
---
1:40 p.m.
California will be without point guard Tyrone Wallace for the NCAA Tournament.
Wallace broke a bone in his right hand in practice on Wednesday. The Golden Bears play Hawaii in a first-round game on Friday in Spokane, Washington.
He averaged a team-high 15.3 points and 4.4 assists per game, along with 5.4 rebounds.
- Tim Booth reporting from Spokane, Washington.
1: 25 p.m.
Those Tobacco Road rivalries never stop.
A few North Carolina fans who showed up early at PNC Arena gathered around the huge video board near the tailgate area outside the gates.
They were loving what they saw - Duke losing to UNC Wilmington.
There were audible cheers when Chris Flemming's basket put UNCW up by four points with a stickback slam dunk late in the first half.
- Joedy McCreary reporting from Raleigh, North Carolina.
1:18 p.m.
Duke has five national titles. UNC Wilmington is playing in the NCAA Tournament for the fifth time.
And then there's this: At the half, it's UNC Wilmington 43, Duke 40 in an East Regional at Providence, Rhode Island.
UNC Wilmington, about 160 miles from the Duke campus in Durham, played the defending national champions only once before. And Duke needed overtime to pull out a 67-57 win on Feb. 8, 1982, one of only 10 victories for the Blue Devils in coach Mike Krzyzewski's second season.
Maybe the Seahawks remember.
---
12:51 p.m.
Every year, it seems like one host city for the NCAA Tournament gets a lucky draw for the first two rounds.
Des Moines, Iowa, hit the jackpot this March.
The city's first shot at hosting the tournament drew top-seeded Kansas, Kentucky, Indiana and Connecticut. Those programs have combined to win 20 national championships, including the Jayhawks in 2008, Kentucky in 2012 and Connecticut two years ago - over the Wildcats, no less.
Naturally, such big programs are led by big stars. Perry Ellis, Yogi Ferrell, Tyler Ulis and Jamal Murray are among the talents sharing the same arena Thursday - along with unheralded guys like Stony Brook's Jameel Warney and Austin Peay's Chris Horton hoping to steal the spotlight.
''I'd I think this is one of those rare moments where we're all in one place together, and it should be exciting because it should be some great basketball,'' Kentucky coach John Calipari said.
- Luke Meredith reporting from Des Moines, Iowa.
---
12:39 p.m.
Our first basket on the first full day of the NCAA Tournament was a jumper by Duke's Brandon Ingram 43 seconds into the game against UNC Wilmington.
Fans are streaming into Dunkin' Donuts Center for the first of four games. It's St. Patrick's Day, and the place already is packed. All tickets have been sold.
With under nine minutes left in the half, the game was tied at 19.
- John Kekis reporting from Providence, R.I.
---
11:50 a.m.
We're a few minutes away from tipoff on the first full day of the NCAA Tournament, which just happens to fall on St. Patrick's Day.
So if you're looking for a little luck o' the Irish, you may have to wait until Friday when Notre Dame (Fighting Irish) plays Michigan in an East Regional game in New York.
The early games Thursday are UNC-Wilmington vs. Duke in Providence (12:15 p.m.); Texas Tech vs. Butler in Raleigh (12:40 p.m.); Colorado vs. UConn in Des Moines (1:30 p.m.); and Iowa State vs. Iona in Denver.
In downtown Providence, though, tourney-goers will mingle with crowds of St. Patrick's Day partiers. Although alcohol sales aren't allowed at the games, the city temporarily suspended a law prohibiting open containers of alcohol in two neighborhoods Thursday through Saturday.
---