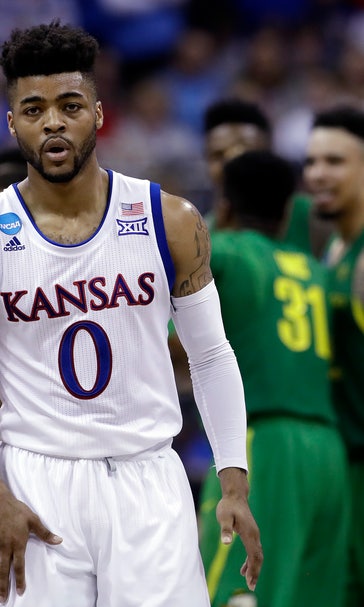 The Kansas Jayhawks blew it again
March 26, 2017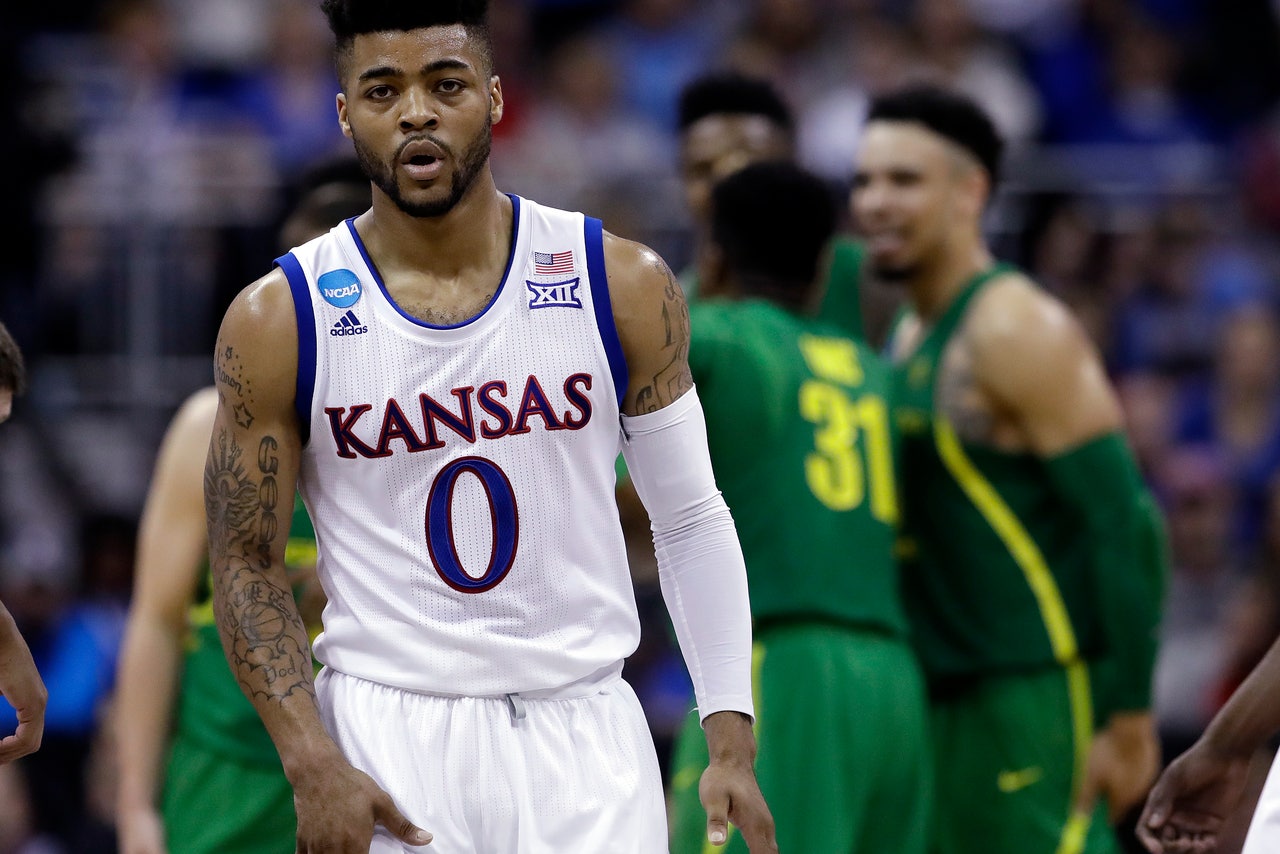 Oregon's 74-60 defeat of mighty Kansas was far from unbelievable. It was, actually, one of the most believable results of the tournament, a virtual replay of too many years of KU letdowns and too many brilliant seasons that end short of the Final Four.

Nobody who's watched Kansas basketball in the last 15 years would be the least bit surprised by what happened Saturday in the Midwest Regional final. The way the Jayhawks lost, and the manner in which it happened, pretty much followed the script labeled "worst-case scenario."

It was a classic performance from a Bill Self team. For whatever reason, one of the best coaches in basketball is stymied when his team has to play an NCAA tournament game on one-day rest, as KU did on Saturday against Oregon. Since winning the title in 2008, Kansas has two tournament losses when it has had a week to prepare for a game. The Jayhawks have seven losses when they're playing in the second round, Elite Eight or national championship -- all of which come with just one day off. One or two times is a coincidence or a fluke, like those first-round losses to Bucknell and Bradley were in the mid-2000s. Seven times is an epidemic. So is KU's inability to handle a top seed: This was the sixth time Self's Jayhawks failed to make the Final Four as a No. 1 seed, an especially bitter pill this year since the regionals, held in Kansas City, were a virtual home game.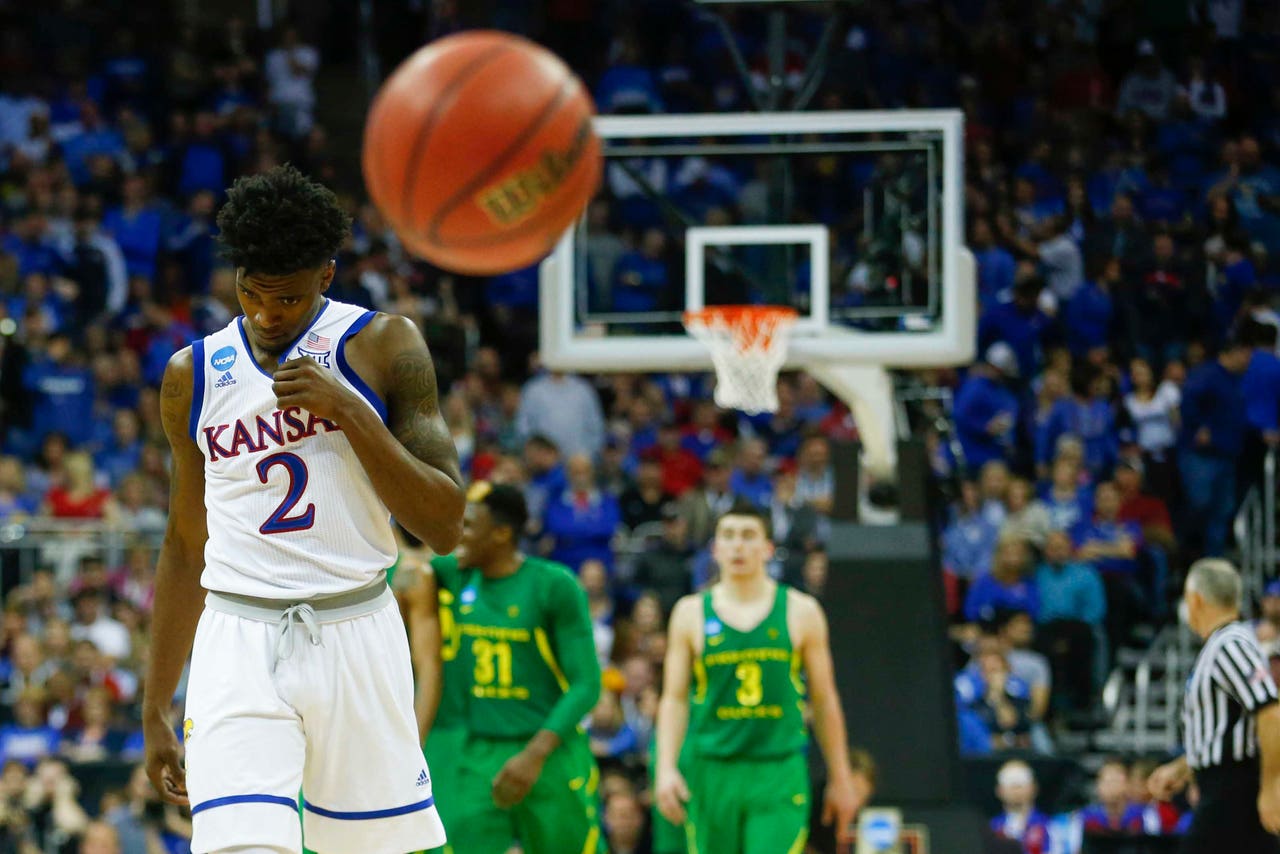 The rest went according to script as well. Freshman star Josh Jackson, expected to be a top-three pick in June's NBA draft, was a no-show, something that's happened to one-and-done Kansas stars before. He picked up two quick fouls on top of two quick turnovers in the first three minutes. He was effectively done after that, unable to get back into gear.  The same thing happened three years ago, when soon-to-be No. 1 pick Andrew Wiggins went 1-for-6 with four points and four turnovers in a second-round upset loss to Stanford.

Then there was Devonte Graham, the lightning-fast junior guard, who started slow and missed some open looks, which appeared to weigh him down with desperation. Rather than being the cool facilitator he'd been all season, Graham reverted to his younger, more inexperienced self, running around the court like a chicken with its head cut off. He finished 0-7 from the field and 0-6 on 3-pointers. Kansas, which had been shooting 47 percent from "3" in the tournament, was 5-25 (20 percent) in the game.

National Player of the Year Frank Mason was tasked with keeping Kansas in the game and did what you'd expect from the best college basketball player of 2017. He carried his team. But one-on-five against a squad as talented as Oregon would only go so far, especially when every break seemed to go the way of the Ducks, who got out to an 11-point halftime lead on a banked in 3-pointer that was overshot by two feet, and collected countless offensive rebounds merely by happening to stand exactly where the ball caromed.




It should have been an easy win for Oregon from there. Kansas couldn't take advantage of at least 10 opportunities in the middle part of the second half to cut the lead to single digits. So many times the Jayhawks took a shot that, if it'd fallen, would have gotten the crowd back in the game and shifted momentum. The Ducks were practically begging KU to make it close, as if for the sport of it. But the Jayhawks missed wide open 3s, had easy layups blocked, fumbled easy passes, missed some more wide-open 3s, couldn't hit foul shots and then missed more open 3s. (Kansas started the half 0-for-9 from downtown.) The Jayhawks never got hot. Shoot, they never got lukewarm. Remember, this was a Kansas team that routinely came back from double digits this season to win games. A second-half deficit shouldn't have mattered.

One play best summed up KU's performance: With 10 minutes left in the game, a visibly shook Graham passed up a wide-open 3 -- the kind he'd drained all season in the biggest spots. Instead, he darted into the paint for an easy floater. The decision appeared to go against every instinct in Graham's body. He practically traveled when he started his move from beyond the arc, as if his head and body weren't working in tandem. It showed panic instead of the patience Kansas has demonstrated all season. But, in the end, it was going to work out - the floater was from point-blank range and nobody was on him. This was the bucket that would start chipping away at Oregon's lead.

Graham airballed it.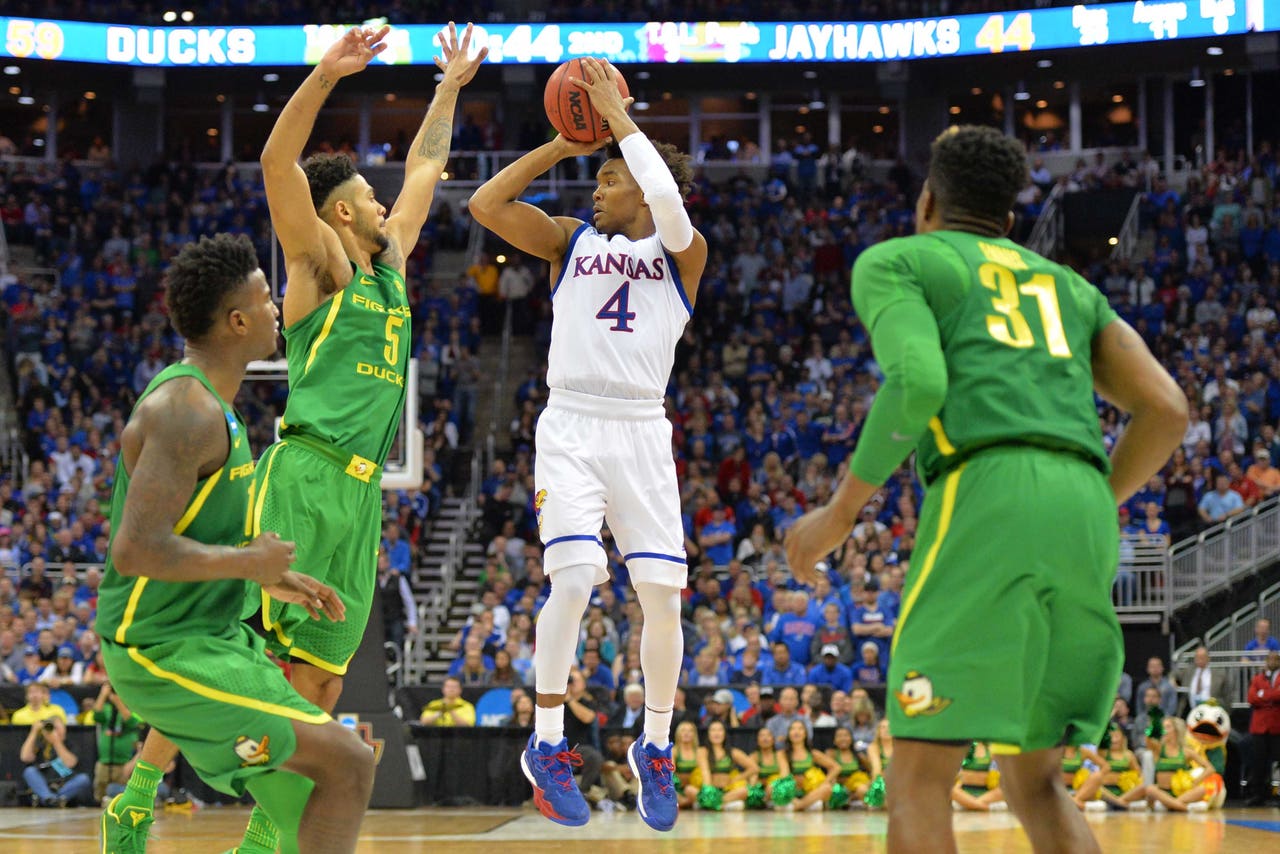 Somehow, Kansas still got to within six points with two minutes left and made a stellar defensive stand that forced Oregon to heave up a prayer 3-pointer to avoid a shot-clock violation. The tide was turning -- for about a half-second. Jackson went up flailing for a rebound and knocked the ball away from Mason. Oregon ball. It was at least the third time two Kansas players were unknowingly fighting for the same ball on the same rebound. It was a basketball broken record. Instead of down six with the ball, Kansas was down six playing defense. After running down the shot clock again, Tyler Dorsey hit a 3 to give Oregon a nine-point lead. Dagger. The Jayhawks would rock no more.

How much credit goes to Oregon for forcing Kansas out of its comfort zone? A lot. The matchups proved difficult for KU and getting out to an early lead unraveled the Jayhawks so badly they never fully recovered. Going at Jackson was a move that paid immediate, and long-term, dividends for Dana Altman.

How much credit goes to the Ducks for putting up points and creating scoreboard pressure? A whole lot. Oregon shot brilliantly, going 50 percent from the floor and 44 percent from 3. Big man Jordan Bell was a revelation. He dominated the paint, shooting 5-6 from the floor (most on nasty, in-your-face, posterizing dunks), grabbing 13 boards, seven of which were on the offensive end, and blocking eight shots, the third-highest total in a regional final. (Yeah, you read it right: The junior almost earned the rare points-rebounds-blocks triple double.) Tyler Dorsey had 27, extending his streak of 20-point games to seven. Dillon Brooks was great, as usual, dropping 17 points.




But how much credit does Oregon get for the win? A good amount, though not as much as Kansas gets for the loss. With all that greatness on the floor, Altman's team was within a few inches on some 3-pointers and a couple favorable bounces on offensive rebounds from giving away a game that had no business being as close as it was.

Now, the Ducks are in their first Final Four since the first NCAA tournament played all the way back in 1939. And Kansas will take the short bus ride back to Lawrence, leaving behind yet another March disappointment.


---