Tarkanian leaves legacy as hoops innovator, but mostly 'true man of the people'
BY Sam Gardner • February 11, 2015
The passing of basketball coaching legend Jerry Tarkanian, 84, on Wednesday hit me in a way I didn't quite expect.
The majority of Tarkanian's success on the court -- and the bulk of his ongoing feud with the NCAA -- came before my time, and my appreciation for Tark growing up was based more on the reputation he had crafted for himself over several decades of service to the game than it was on first-hand memories of his accomplishments on the bench.
But then, in November 2013, I had a chance to travel to Las Vegas and spend some time with Tarkanian and his son, Danny, at his home just a few miles from the Thomas & Mack Center, the arena where Tarkanian revolutionized the fan experience and helped put UNLV basketball back on the map in the 1980s. (Tark previously led the Runnin' Rebels to the Final Four in 1977, when UNLV was still playing at the Las Vegas Convention Center.)
Tark was weak — exhausted, I was told, from a morning of physical therapy, though his condition appeared to be a relatively perpetual state — and didn't say much during my time with him, content to lay sprawled out on the couch listening, while Danny did most of the talking. And even when he did talk, Tarkanian kept his answers brief, his tone and facial expressions often saying more than the words.
The interview wasn't especially enlightening from the fill-the-notebook standpoint we reporters live for — oh, how I would have loved to have been regaled with the stories Tark could no doubt tell -- but it was instructive in the way it humanized a legend who, for large swaths of his career, seemed bulletproof, impregnable to an NCAA and hungry media hellbent on catching him doing something, anything, red-handed.
I left Tarkanian's house that day feeling heartbroken for a man who didn't truly get his due -- a belated Basketball Hall of Fame induction, earlier that September, that came two decades too late -- until he could no longer appreciate it in the way he once could have. Tark should have had the chance to trot up on stage, white towel draped around his neck, and stick it to the NCAA during his acceptance speech. Instead, he was feebly wheeled in front of the crowd after the playing of an ardorless pre-recorded message that wasn't reflective at all of the passion with which he coached.
Talking to Tarkanian's family, friends and former players lifted my spirits, however, because it contextualized the impact he had on those who really mattered. Greg Anthony called Tark a father figure on more than one occasion. Reggie Theus spoke of Tark's impact on his own coaching career. Chris Herren said, without a hint of exaggeration, that Tarkanian saved his life. And it was over the course of those interviews that I came to realize that Tark didn't need a spotless record or a Hall of Fame induction to validate his success.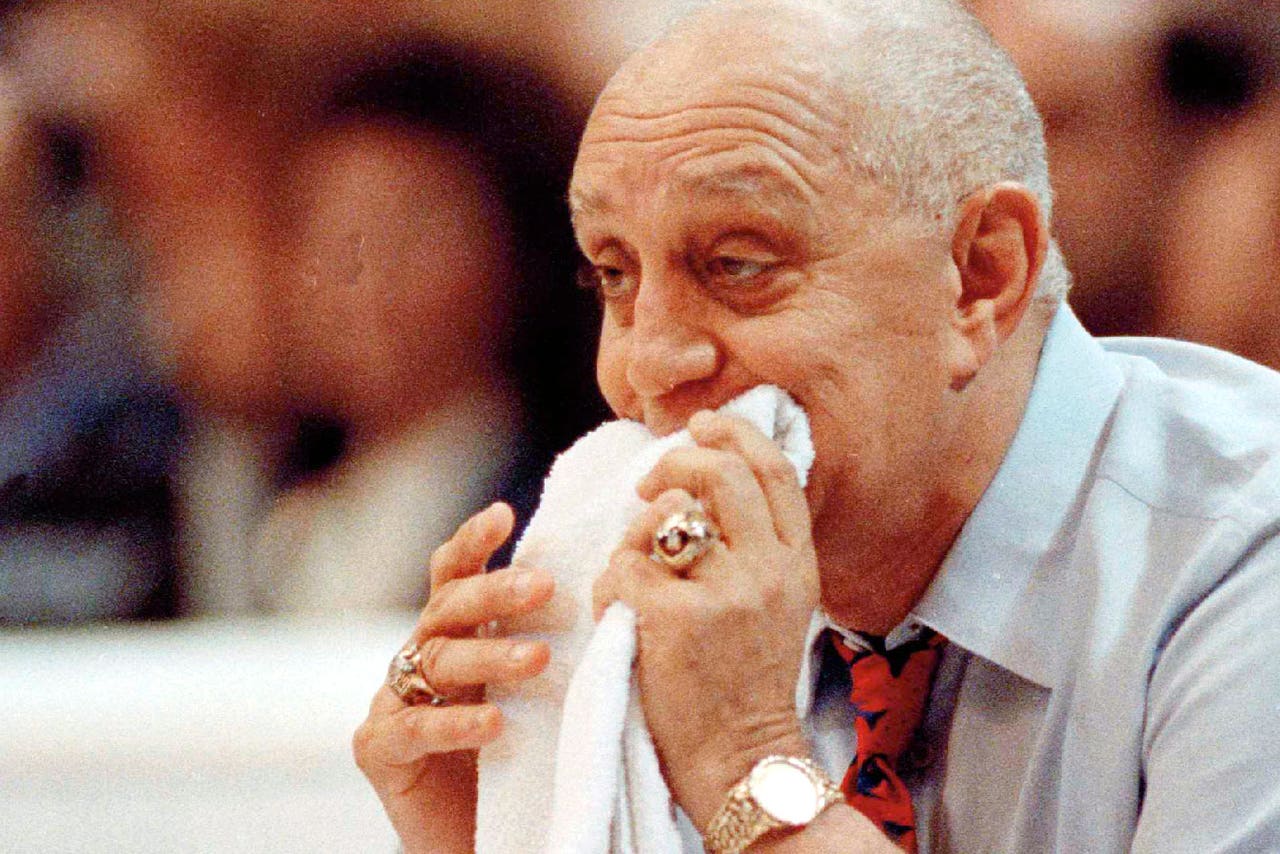 Former UNLV coach Jerry Tarkanian famously chews on his towel during the 1990 NCAA title game.
Jerry Tarkanian's success is manifested in the way he changed the game, especially for schools thought too small compete with the big boys. Tark redefined the way offenses operated, the way coaches recruited and the way basketball was seen as a form of entertainment. Tark reinvented himself at each stop on his 700-plus-win journey and was always steadfast in the belief that he did things the right way, even when the NCAA was unjustly convinced otherwise.
Would it have been nice if Tarkanian could have received the accolades he deserved while he could still fully cherish them? Sure, even if it was only for his family's sake. But Tark died knowing there are generations of players and coaches -- and a thriving sport -- indebted to him for the impact he had during his colorful 31-season career, and that, more than anything, is what Tark the Shark, a true man of the people, would have wanted.
---