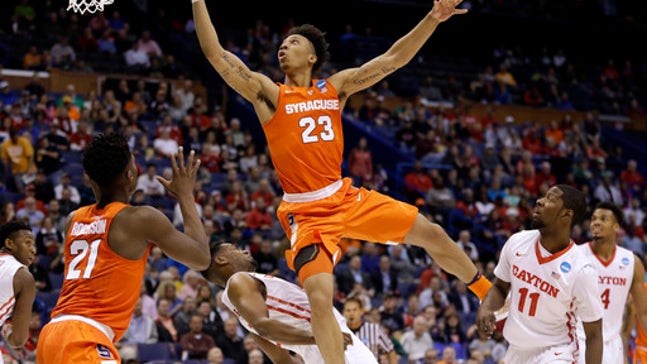 Syracuse routs Dayton in return to NCAA Tournament
Published
Mar. 18, 2016 10:19 p.m. ET

ST. LOUIS (AP) Malachi Richardson scored 21 points, Syracuse stumped seventh-seeded Dayton with its trademark zone and the No. 10 seed Orange rolled to a 70-51 victory in their return to the NCAA Tournament on Friday.
Tyler Roberson added 10 points and 18 rebounds for the Orange (19-13), banned from the field last season following an NCAA investigation into academic misconduct and improper benefits.
They looked back at home in the first round of the Midwest Regional.
Tyler Lydon had 14 points, Trevor Cooney had 13 and Michael Gbinije added 10 as Syracuse advanced to play No. 2 seed Michigan State or No. 15 seed Middle Tennessee State on Sunday.
Charles Cooke led the Flyers (25-8) with 14 points, but he was just 2 of 9 from beyond the arc, as the regular-season Atlantic 10 champions shot 32 percent from the field.
---