St. Bonaventure stuns No. 18 Saint Louis with Gathers' buzzer-beater
Published
Mar. 14, 2014 2:33 p.m. ET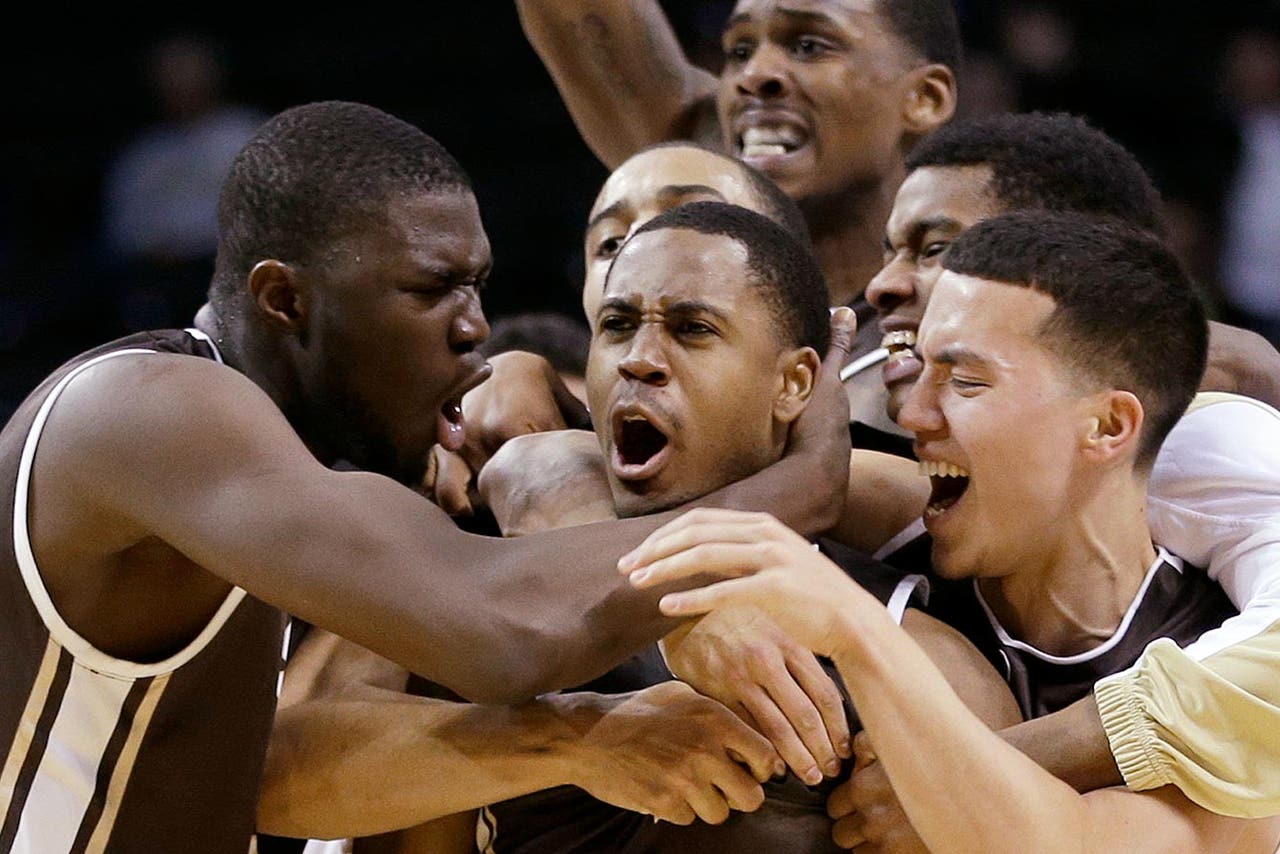 NEW YORK -- Charlon Kloof drew in the Saint Louis defense, the Billikens rightly concerned about the trouble the St. Bonaventure guard could cause.
That left Jordan Gathers wide open at the top of the key, and he drained a 3-pointer at the buzzer to stun No. 18 Saint Louis 71-68 in the quarterfinals of the Atlantic 10 tournament Friday.
The ninth-seeded Bonnies (18-14) had lost four straight before Thursday; now they've won two games in two days.
"Probably one of the biggest shots in St. Bonaventure history," coach Mark Schmidt said.
The Bonnies trailed the top-seeded Billikens by 10 points at halftime but rallied behind a swarming 1-3-1 zone and clutch 3-point shooting.
Saint Louis big man Dwayne Evans, who had hit three 3-pointers all season, made a 3 over 7-foot Youssou Ndoye with 20.9 seconds left to tie the game at 68-68.
St. Bonaventure put the ball in Kloof's hands, and the 6-3 senior had been productive with it all day. He scored 22 points on 6-of-8 shooting, made all nine free throws, pulled down a career-high nine rebounds and dished out six assists.
Gathers, the nephew of late Loyola Marymount star Hank Gathers, had just two points before Kloof whipped him the ball with the clock winding down. The junior said he'd never before made a game-winning shot.
"When I let it go, I knew it was going in," Gathers said.
St. Bonaventure faces fourth-seeded Saint Joseph's in Saturday's semifinals. The Bonnies hadn't defeated a ranked team since 2000 coming into this season; now they've done it twice after upsetting then-No. 21 UMass on Jan. 29.
Mike McCall scored 21 points for Saint Louis (26-6), which lost its first game in its defense of its A-10 tournament title. The Billikens have dropped four of five.
Saint Louis led by as many as 13 in the first half, but the bigger Bonnies were racking up foul trouble for the Billikens. Trapping on the perimeter and denying the ball to Evans, Saint Louis' leading scorer, St. Bonaventure clawed back after the break.
"I didn't think we were aggressive with it," McCall said of the zone. "We were just holding the ball, not attacking."
Matthew Wright, the Bonnies' leading scorer at more than 16 points per game, was held to eight on 2-of-8 shooting in Thursday's win over La Salle. But he rediscovered his range with five 3-pointers against Saint Louis, scoring 22 points. His long 3 with just over 9 minutes left gave St. Bonaventure its first lead.
Saint Louis called timeout, but it didn't help. The Billikens immediately turned it over, and Wright hit another 3-pointer to put the Bonnies up 57-52.
Saint Louis' seniors were hard to shake, though. With the Billikens trailing 61-56 and just over 5 minutes remaining, 6-1 Jordair Jett, the A-10 player of the year, swooped in for an offensive rebound and drew the fourth foul on Ndoye. Jett missed the second free throw, but Rob Loe tipped the ball out, and Jett scored on a drive to pull the Billikens within 61-59.
Kloof missed inside and the Bonnies couldn't convert on several chances for a tip. McCall raced down the floor and drew a foul, and his two free throws tied the game with 4:33 left.
Saint Louis took its first lead in nearly 8 minutes when Loe found Evans for a layup to put the Billikens up 65-63 with 101 seconds remaining.
After Kloof scored inside to retie the game, Jett drove the lane and had the ball knocked away. He went down hard and stayed on the court as the Billikens bench howled for a foul call.
The Bonnies had a 5-on-4, and Wright hit a 3-pointer for a 68-65 lead with 38.2 seconds left.
"Not going to lie -- I was a little numb throughout the second half," Wright said.
He kept urging his teammates to relax, reminding them there was a lot of basketball left. When Evans' 3 tied the game again, Wright told them: "See, I told you it's not done yet."
---