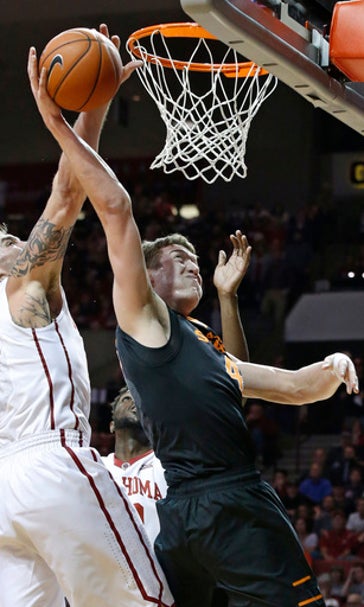 Spangler's 26 lead No. 3 Oklahoma past Oklahoma St. 71-49
BY foxsports • February 25, 2016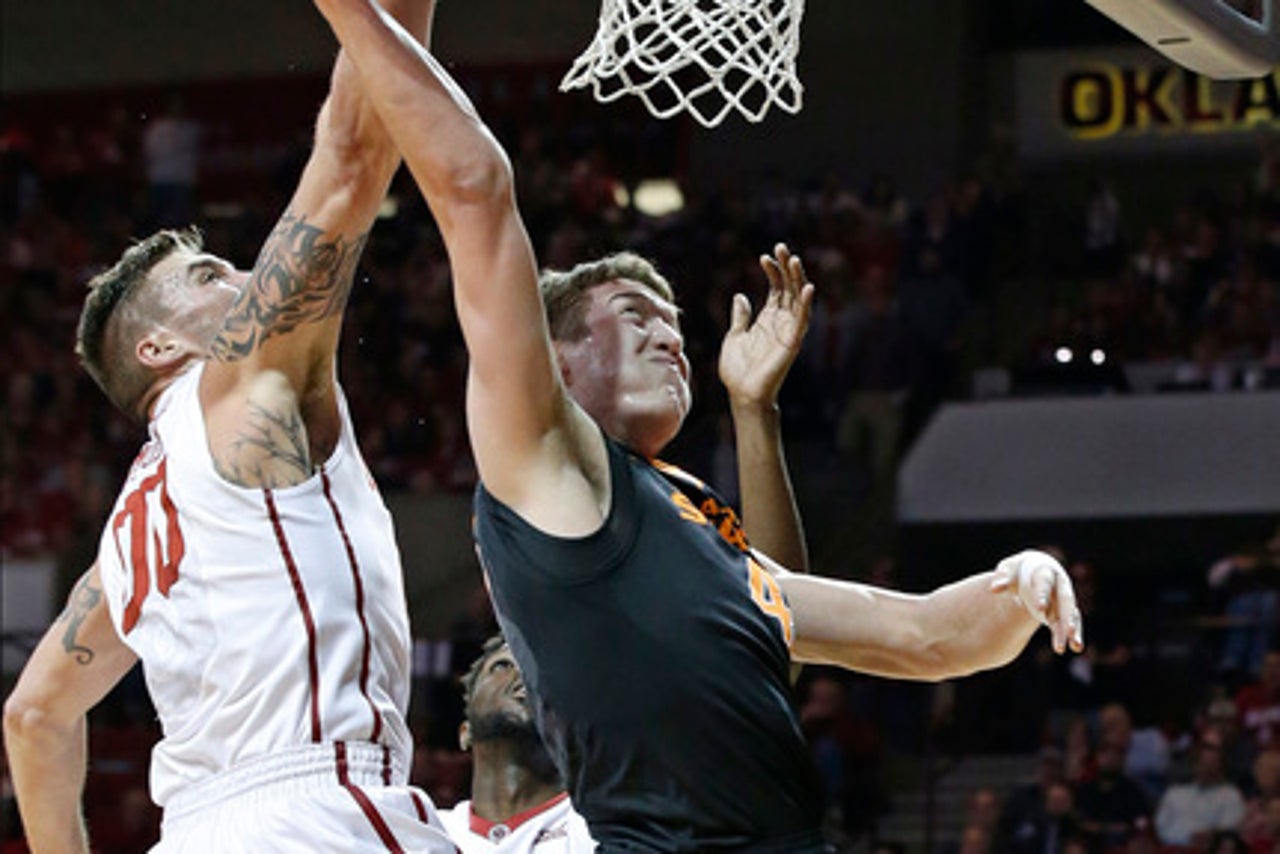 NORMAN, Okla. (AP) Oklahoma State's game plan worked perfectly, except for one problem - the man the Cowboys wanted to shoot couldn't miss.
Ryan Spangler scored a career-high 26 points, and No. 3 Oklahoma used a huge second half to beat Oklahoma State 71-49 on Wednesday night.
Spangler, who had scored in single digits his previous three games, made 10 of 13 shots, including a career-best four 3-pointers, and he grabbed 14 rebounds. Oklahoma State paid limited attention to the senior forward and focused on slowing the more prolific shooters on the nation's top 3-point shooting team. Spangler, who had missed all 12 of his 3-point tries in February before facing Oklahoma State, didn't make a big deal about the outburst.
''It's just where the ball falls, you know - if I'm in the right spot at the right time or if I'm open,'' Spangler said. ''It just depends what all happens with me and my teammates.''
Hield scored 17 points and Isaiah Cousins added seven points, seven assists and six rebounds for the Sooners (22-5, 10-5 Big 12).
Hield, the nation's No. 2 scorer, enjoyed watching Spangler step into his role.
''Oh, it's fun,'' Hield said. ''I was telling him, `Keep playing, keep shooting, keep scoring the ball.' Ryan, he's always active, doing all the dirty work for us, but I see him getting his confidence back up because we need him to score the ball for us going down the end of the season. I'm really happy. I just hope he keeps on doing it because we need it.''
The Sooners made 10 of 22 3-pointers to win their seventh straight in the series. Oklahoma moved into a tie with West Virginia for second place in the conference.
Jeff Newberry scored 19 points and made a career-high five 3-pointers, and Tavarius Shine added 11 points for the injury-depleted Cowboys (12-16, 3-12), who have lost six of seven.
Oklahoma State shot 34 percent from the field overall and 29 percent in the second half.
The Cowboys controlled the pace early. Oklahoma didn't make a basket for the first 4:29. A three-point play by Oklahoma State's Leyton Hammonds put the Cowboys up 18-10.
The Sooners rallied and tied the game at 22 when Spangler banked in a 3-pointer.
''That's how we knew he was going to start making some shots,'' Newberry said. ''He was just stepping out there hitting shots. There's no more you can say about it.''
Spangler's 3 from the left corner in the closing seconds of the first half gave the Sooners a 27-24 lead at the break. Spangler had 19 points and seven rebounds in the first half and made all four of his 3-point tries.
Khadeem Lattin made his first basket of the game, then Hield stole the ball and made a layup to give the Sooners a 38-31 lead.
The Sooners stretched their lead when Cousins hit a 3-pointer, then a layup, to make it 48-32.
The Cowboys played the same way last Saturday night against Texas Tech - close in the first half before letting it slip away.
''We just have to find some way to come out and get going in the second half,'' Newberry said. ''I don't know what I'm going to have to do. We just have to finish out strong this last stretch. We just have to figure it out.''
---
STAT LINES
Oklahoma State ran out to a 10-1 lead and was outscored 70-39 the rest of the game.
CRITICAL MOMENT
Shine hit a 3-pointer with 17 minutes remaining to put Oklahoma State ahead 31-30, but the Sooners responded with an 33-8 run over the next 12 minutes.
QUOTABLE
Shine on defense against Spangler: ''If there was one guy we would want to (try to) beat us from the three, it would be Spangler. He was just on tonight.''
TIP-INS
Oklahoma St.: G Jawun Evans, who scored 42 points in the previous matchup, is out for the season with a shoulder injury. ... Hammonds scored nine points before fouling out with 5:17 remaining. ... G Jeffrey Carroll missed the game with a stomach illness. The sophomore had played in all 27 games this season, and had started 20. ... Starting guard Tyree Griffin did not score.
Oklahoma: Spangler only missed one of his eight shots in the first half while his teammates went 3 for 17. ... Oklahoma only led for the final two seconds in the first half. .. Jordan Woodard, who averages 13.5 points per game, finished with two. He made his only basket on a baseline turnaround with 2:51 remaining in the game.
UP NEXT
Oklahoma St. hosts West Virginia on Saturday.
Oklahoma plays at Texas on Saturday.
---
Follow Cliff Brunt on Twitter: www.twitter.com/CliffBruntAP
---