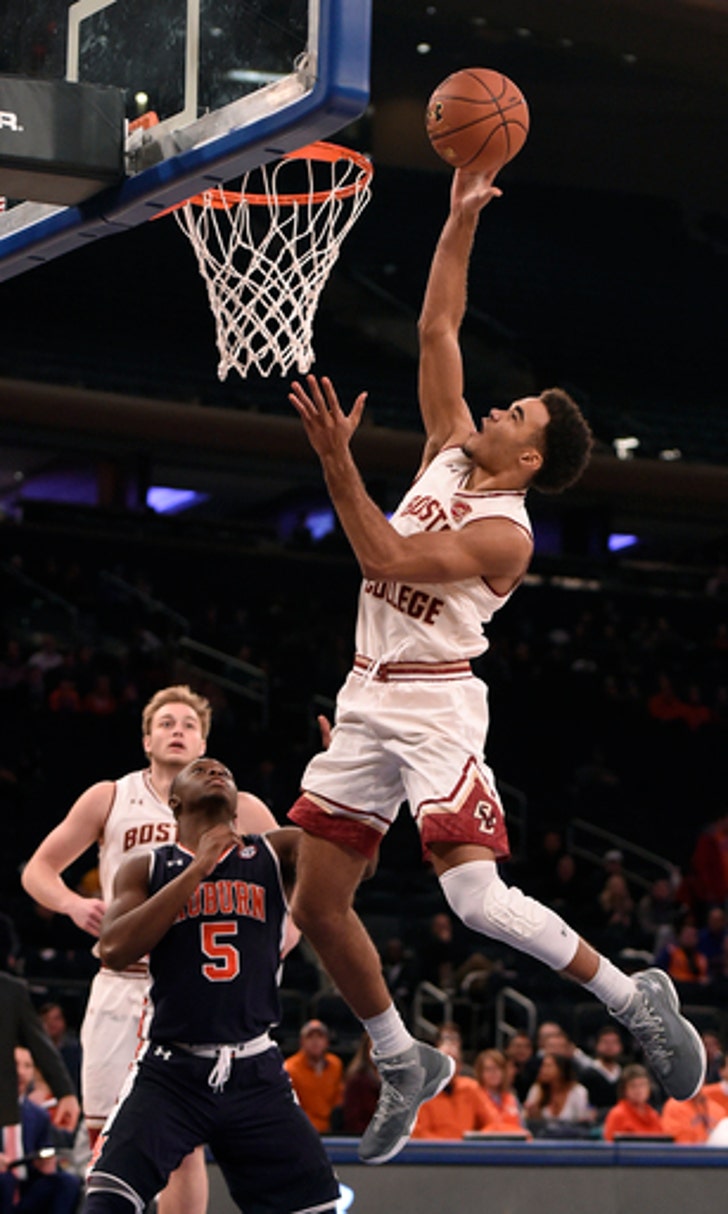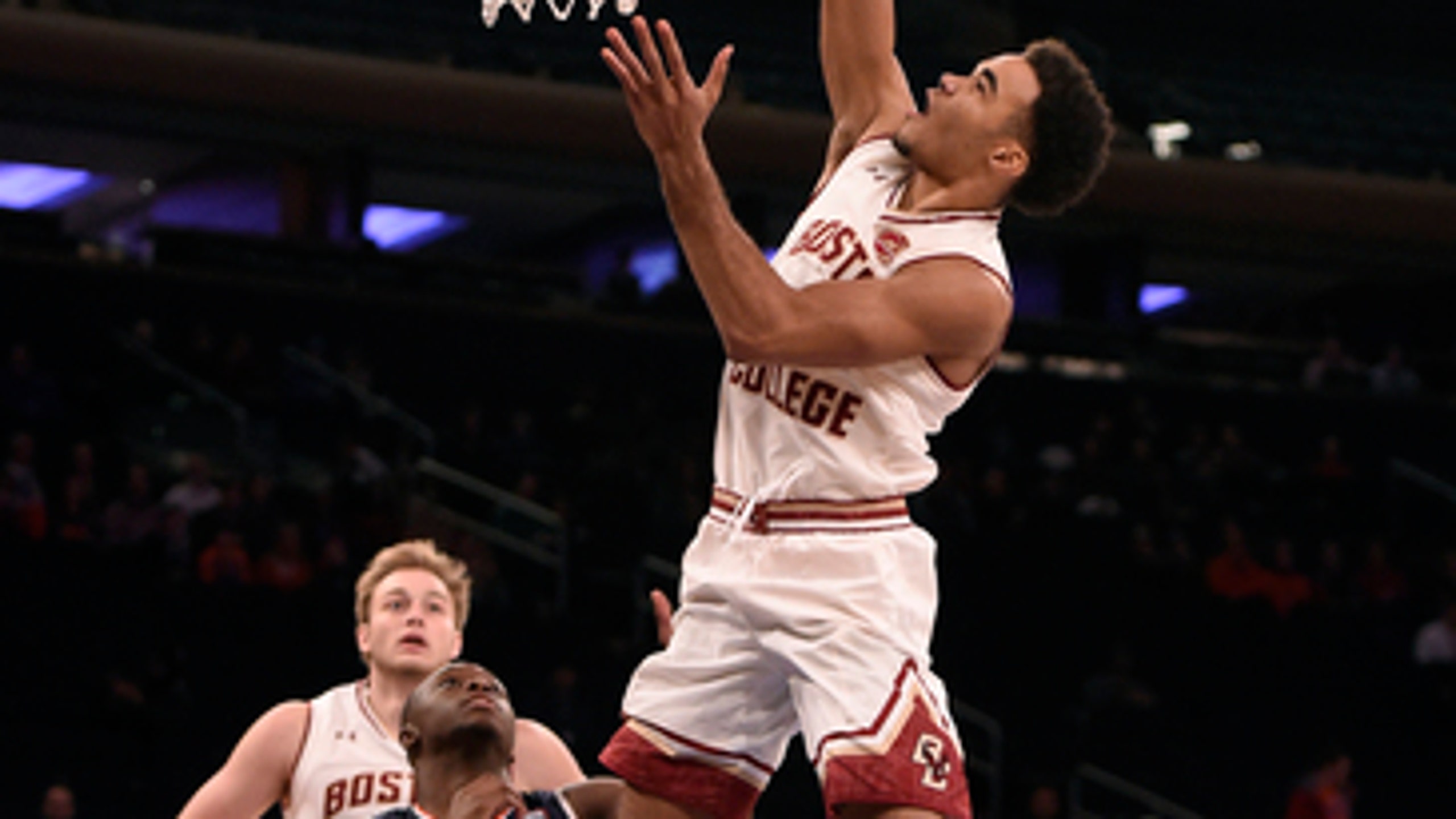 Popovic's tip-in gives Boston College 72-71 win over Auburn (Dec 12, 2016)
BY AP • December 12, 2016
NEW YORK (AP) To recover from a disappointing last second home loss at Hartford, Boston College had to rebound emotionally and literally.
The Eagles sure did.
Nik Popovic ended a terrific night of rebounding for Boston College by tipping in a missed layup from Ky Bowman with two-tenths of a second remaining Monday night to lift the Eagles to a dramatic 72-71 win over Auburn in the Under Armour Reunion at Madison Square Garden.
''They're so athletic, that was a big key for us,'' Boston College coach Jim Christian said. ''We had to keep them off the boards but I thought with some of our length and size we could get to boards.''
Coming off the frustrating one-point loss on Saturday, the Eagles (5-5) held a commanding a 49-32 rebounding advantage. Boston College had 14 offensive boards and none were bigger than the one Popovic grabbed as the buzzer neared.
Auburn held a 71-70 lead on two free throws by Danjel Purifoy with 7.5 seconds remaining and Boston College went the length of the court. Bowman drove the lane, missing the layup and Popovic was in perfect position.
''The tip-in was exciting,'' Robinson said. ''It was a feeling I've never had before. It was awesome and for it to happen in this kind of building, it makes it even sweeter.
After getting through multiple defenders, Popovic positioned himself at the left side of the hoop and tipped it in. Following a brief review, the game ended when Purifoy's inbounds pass eluded Mustapha Heron.
''If we outrebound, we probably would have won that game, no question,'' Purifoy said. ''They outrebounded us and they won the game.''
''The rebounding advantage was significant,'' Auburn coach Bruce Pearl said. ''I knew Boston College would be a good physical team and the fact they dominated the glass was a factor. As a result, they won the game on an offensive rebound it almost stands to reason.''
Robinson, who was held to four points and shot 2-of-13 Saturday, led the Eagles with 23 points and 11 rebounds for his first career double-double. Robinson never touched the ball on the final possession and nearly gave the Eagles a 71-69 lead with 31.5 seconds remaining but his jumper was waved off when a timeout was called.
Purifoy scored a career-high 27 points for Auburn (6-2), which was making its first trip to Madison Square Garden and had most of the seats filled with its orange-clad fans.
Boston College led by 10 early in the first half and Auburn took its first lead at 61-60 on a tip-in by Anfernee McLemore with 6:48 left. The Tigers tied the game at 64 on a deep 3-pointer by Jared Harper nearly three minutes later.
The Tigers took their second lead at 67-65 on an uncontested 3-pointer by Purifoy with 2:48 remaining. The lead was 69-65 when Heron drove through the lane with 2:01 remaining but the Eagles forged a 69-69 deadlock on a hook shot by Popovic with 58.5 seconds left.
After Robinson's shot was waved off, Turner was fouled by Horace Spencer with 19.1 seconds left and hit a free throw, setting up the late dramatics.
BIG PICTURE:
BOSTON COLLEGE: The Eagles are looking to get others besides Jerome Robinson to score consistently and placed three in double figures. Ky Bowman made his first four shots and added 15 points while AJ Turner contributed 13. Overall Boston College had eight players score.
AUBURN: For as athletic as Auburn is, rebounding is becoming an issue. The Tigers have been outrebounded in their last four games and the margin is 46 after Boston College held a 49-32 edge Monday. Those rebounds negated the 11 blocked shots since most of those merely extended possessions for Boston College when the ball went out of bounds.
QUIET NIGHT AT TIMES FOR HERON: Auburn's touted freshman Mustapha Heron did not take his first shot until about 9 minutes in and attempted two shots in the first half. He started 1 of 6 and was 3 of 9 overall. Heron, who grew up about 90 miles northeast of New York, in Connecticut finished with 15 points by getting to the foul line 10 times.
PEARL THE EAGLE: Auburn coach Bruce Pearl has a unique connection to Boston College. When the Eagles defeated Ball State and Wake Forest in the first two rounds of the 1981 NCAA Tournament, Pearl was flapping his wings as a mascot, donning the bird head and feathers.
UP NEXT:
Boston College Hosts Sacred Heart on Sunday.
Auburn Hosts Coastal Carolina on Thursday before a home game with Oklahoma on Dec. 21 and a visit to Connecticut two days later.
---