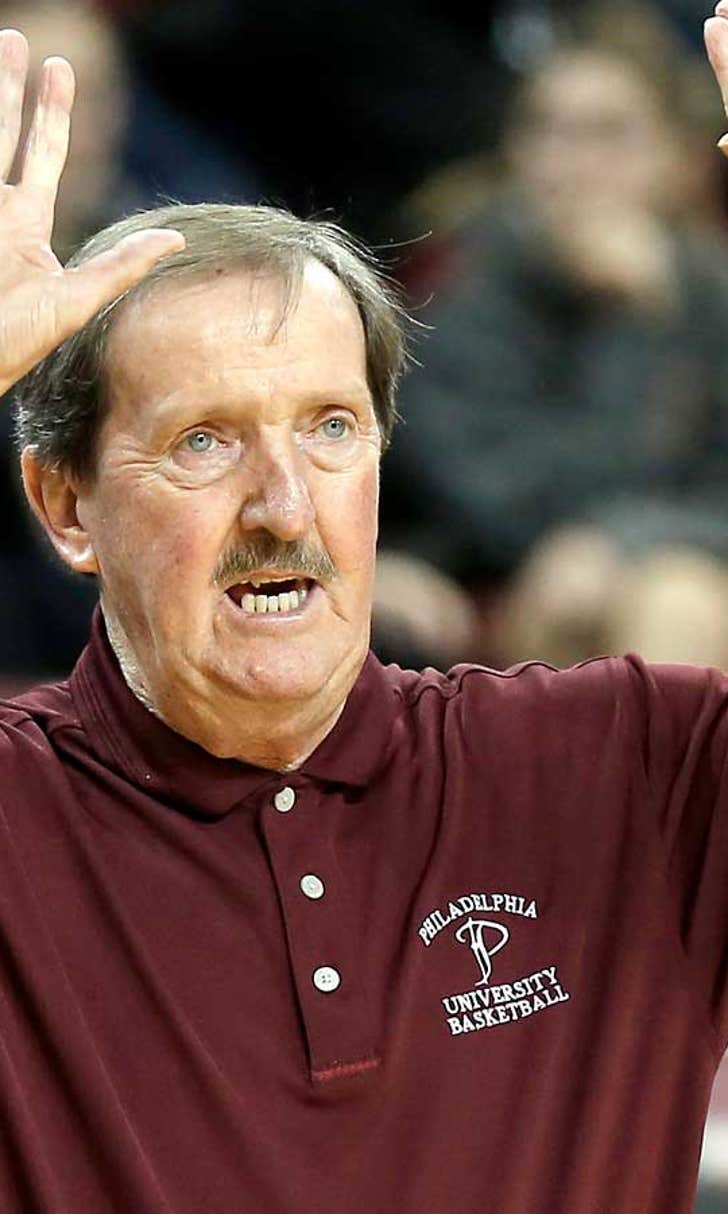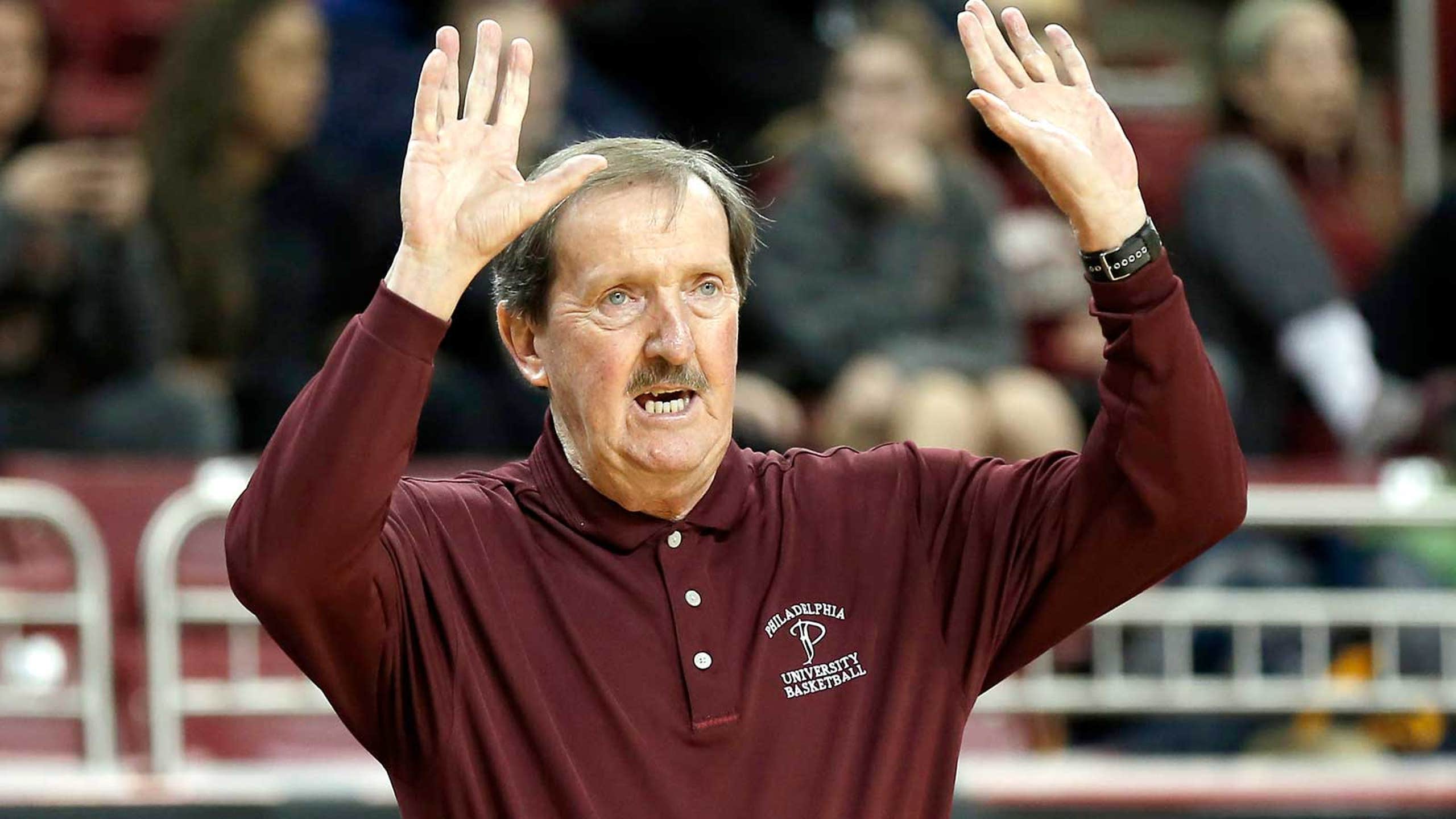 On verge of 1K wins, Magee one-of-a-kind small-time hoops coach
BY Reid Forgrave • February 2, 2015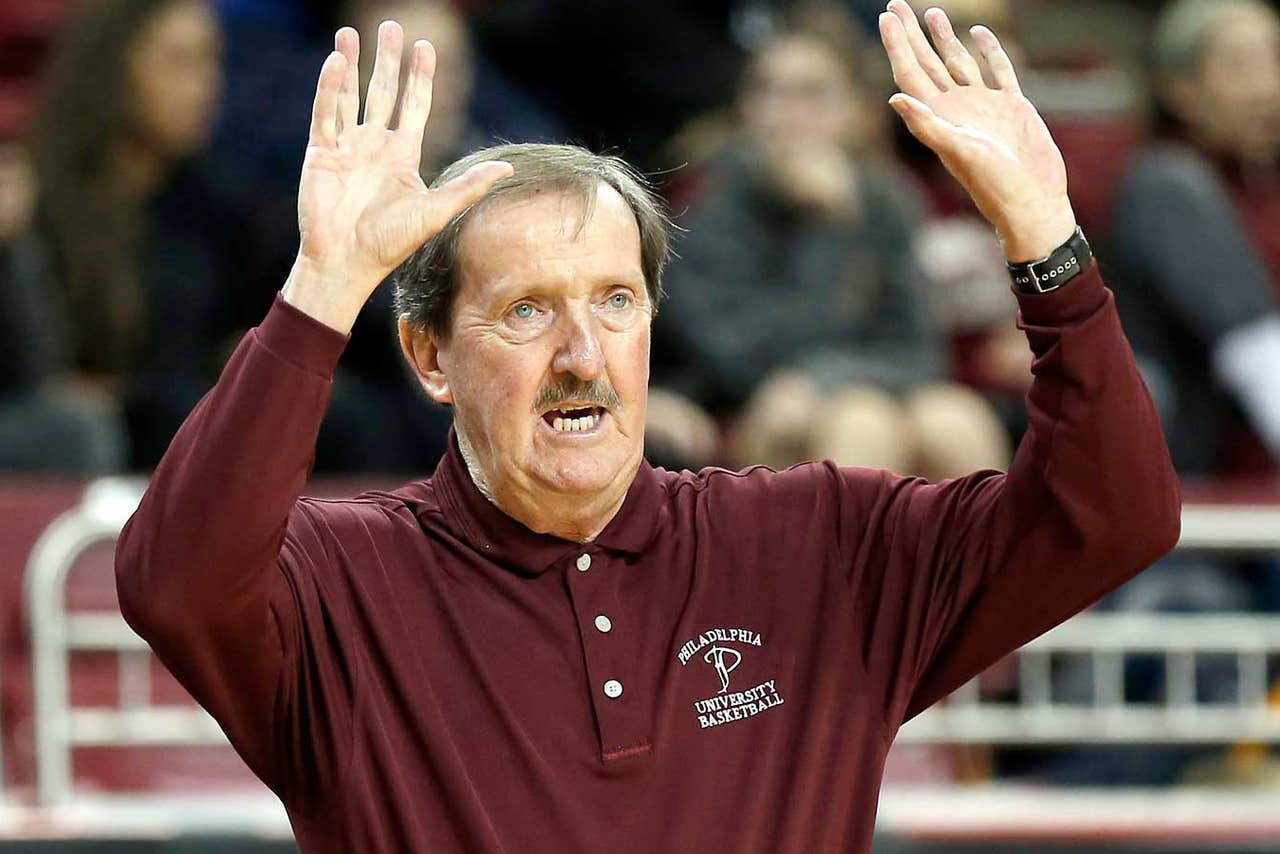 (Editor's note: Magee won his 1,000th game when Philadelphia University defeated Post 80-60 on Saturday, Feb. 7.)
On Tuesday night in Philadelphia, a 73-year-old man will get a chance to join Coach K in the 1,000-win club.
But the fact that Herb Magee, the head coach of the Division II Philadelphia University Rams, is standing on the cusp of this mind-boggling milestone is less impressive than the fact of where — and how — he got here.
All 999 of Herb Magee's wins have come at the same school that the sharp-shooting West Philly teen decided to take his talents to out of high school, way back in 1959. Back then, it was known as the Philadelphia College of Textiles & Science. He played four years there and was about to take a 9-to-5 job at a chemical company when he told his head coach that he never saw himself in a desk job, that coaching felt like his calling.
He had been drafted by the Boston Celtics, but he wanted to coach more than chasing the long shot of playing pro ball. Magee's coach went to the school president; the next day, Magee was hired for his first coaching job. Magee would be head coach of the junior varsity basketball team, assistant coach for the varsity team and also teach physical education, coach cross country and, later, the tennis team.
A few years later, when Lyndon Johnson was president, Magee took over the head-coaching position. In his third season, Magee's Rams won the Division II national title. He became nationally renowned for his shooting clinics and videos, where Magee would speak to students while nailing some 100 jumpers in a row. He worked as a shooting instructor for NBA players: Charles Barkley, Jameer Nelson, Malik Rose. Over the decades, Magee had no shortage of opportunities to leave Philadelphia University. For high-paying Division I jobs. For jobs on NBA staffs. For the type of jobs any young coach on the make would kill to have a chance at.
But those jobs would mean he'd have to leave Philadelphia, the place he'd grown up and the place he wanted to raise his two daughters.
No, thanks, said the man who is about to win his 1,000th game.
Because you don't mess with happy.
"It just didn't seem right for me at any time to leave," Magee said one recent afternoon, when he was snowed in at his Philadelphia home. "This is where I grew up. This is where I decided to live. My family, my children, my friends are here.
"I've never been a guy who worries about money. I don't make much. You couldn't guess my salary. If I gave you five guesses, you would not guess it — that's how small it is. But it's enough for me to live on. I have money I make from running clinics." (That's how he and his daughter Kay, a Philadelphia University professor who doubles as the basketball team's director of operations, supplement their salaries.)
"Could I have made more money? Without question. Ten times more than I am making. But I've never been driven by that."
His way of life — a huge amount of success at one relatively anonymous place, never chasing the supposed greener pastures, never even spending much time or energy thinking about those pastures — is a rare path in today's America. We're always trying to climb up the ladder or avoid sliding down the ladder. We're either having success and moving on to a bigger and better job, or we're struggling and worried about getting fired.
I asked him, "What makes Herb Magee different?"
He really didn't seem to give my question too much thought. To him, it was such an obvious decision to stay in the place he knew best. When his daughters were young, Magee and his wife divorced. There was no way — literally, a 0.0 percent chance — that he would move to a place where he couldn't see his daughters grow up.
"There was no question I would ever leave Philly because my children were here," Magee said. "I wouldn't understand why anybody would do that. Ever."
Magee's half-century run at this school of less than 4,000 students is a story of an excellent coach, of course. It's a story of a coach who believes the best way to run a practice is through constant five-on-five, game-like situations. It's a story of a man who realized, as a 5-foot-10, 140-pound guard competing on the playgrounds of West Philly, that there was only one way he could become a great basketball player and achieve his childhood goal of playing for the West Catholic varsity team, and that was through shooting.
So he taught himself to become an unflappable shooter, taking 500 or 1,000 shots a day, sneaking into the school gym in winter, tracking the location of every miss in a notebook: long or short, left or right. And that made him one of the best shooting teachers around.
"He's an offensive genius," said Penn State head coach Pat Chambers, who transferred to Philadelphia University after his freshman year at Drexel because he wanted to play for the Philly legend. "He's one of the most competitive guys I've ever been around. He sees the game in slow motion. He knows the right plays to call, the right wrinkles to add, the right adjustments to make."
But more than a basketball story, the story of Herb Magee — part of the Naismith Memorial Basketball Hall of Fame Class of 2011, along with Chris Mullin and Dennis Rodman — is a story of a man who values routine and values comfort. Every summer, Magee and his family go on vacation to the same beach spot in New Jersey. Every September, right after Labor Day, Magee and his family go to Disney World or Disneyland, when the lines are less crowded. Magee already knows which sports bar near Disney World he'll be able to best watch the Philadelphia Eagles' opening game on that September weekend.
He works with a personal trainer two times a week and goes on daily walks with his wife, Geri. When I spoke with him the other day, he told me how his evening would go: He'd read the Philadelphia Daily News and he'd watch a Philadelphia sports show and he might have a cold beer while he waited for his wife to come home.
It's a story of a man who knows where he's most comfortable and has had great success in that world. It was a story that was set in motion, though, with a tragedy. When Magee was 12, his mother died of kidney disease. Then his dad died of a stroke. Magee was the third out of four boys, and his uncle, a Catholic priest, took all of them in.
It was an experience that no child should have to go through, Magee told me. But it also gave him a valuable perspective on life: Time with family can be fleeting, and time spent chasing someone else's definition of success may not be time well spent.
"He's really smart because he didn't mess with happy," Chambers said. "He had chances to go, to make a great deal of money. We all have a little bit of an ego, and sometimes we let our ego drive ourselves to different paths. I think about (Magee's decision to stay) all the time. He knows who he is, and he knows what he wants."
Not to say life at Philadelphia University is without its challenges. Division II basketball is a different world from Division I. Coach K and Coach Magee soon will be part of the same elite club, but they might as well have done it in two different sports. Magee has never had a paid assistant coach. His annual recruiting budget is $2,500. The men's team and women's team travel on road trips together and play the same schools. Kay Magee has on occasion taken the team's dirty uniforms home to do laundry overnight.
There's a story people love to tell about Magee. After one road game in the region, the teams got back on the bus. They had pizza — but a few miles into the ride, it was pointed out that there were no drinks. Magee had the bus pull over. He jumped off, hopped over a median, ran across several lanes of traffic and popped into a convenience store. He came back with enough sodas for both teams. When he walked back into the bus, he turned to the women's coach and said, "I betcha Coach K doesn't do this (crap)!"
"This sounds corny, but it's true: My dad does not chase happiness; he chooses to be happy," Kay Magee said. "A thousand wins to him is just another game."
Magee has never met Mike Krzyzewski. He'd like to. And his daughter has a plan. At the beginning of next season, once her father has joined Coach K in the 1,000-win club, she wants to propose the two play each other. Philadelphia University could travel to Durham, NC, to play Duke in an exhibition game, a matchup of the two 1,000-win coaches.
"That'd be tremendous," Magee said when I brought up his daughter's idea. Then he paused. "As long as that guy Okafor leaves for the draft. I don't want to play against him."
Email Reid Forgrave at reidforgrave@gmail.com, or follow him on Twitter @reidforgrave.
---