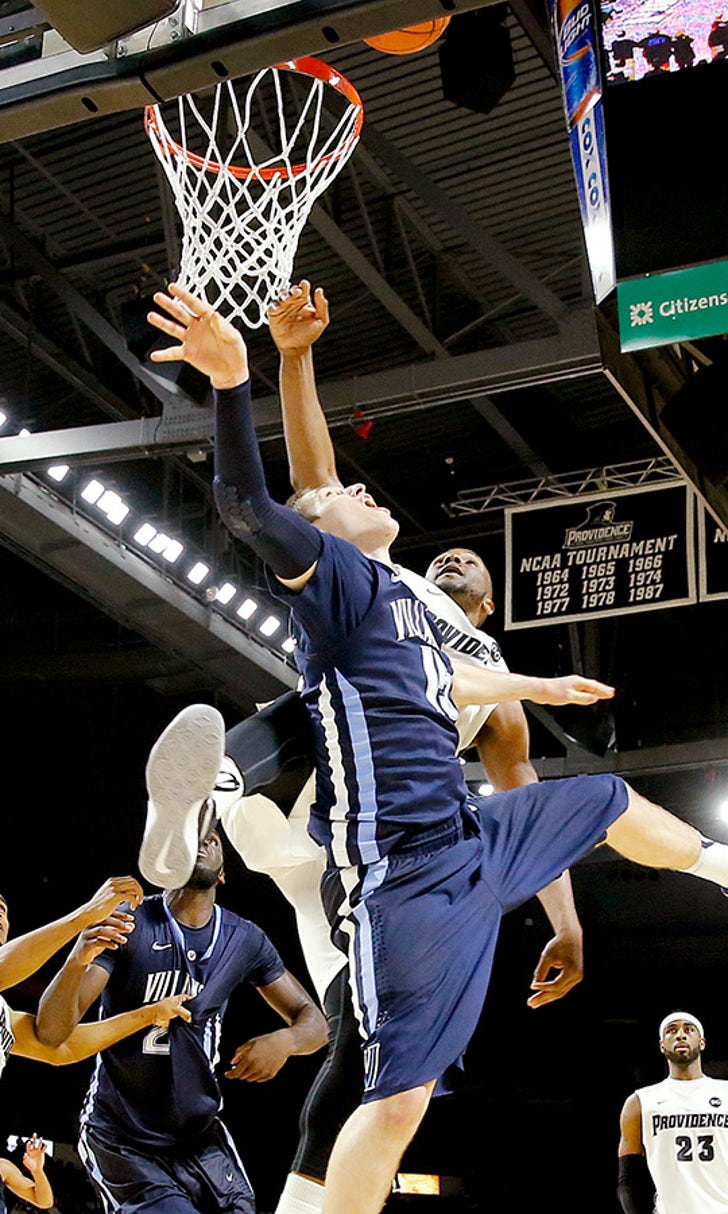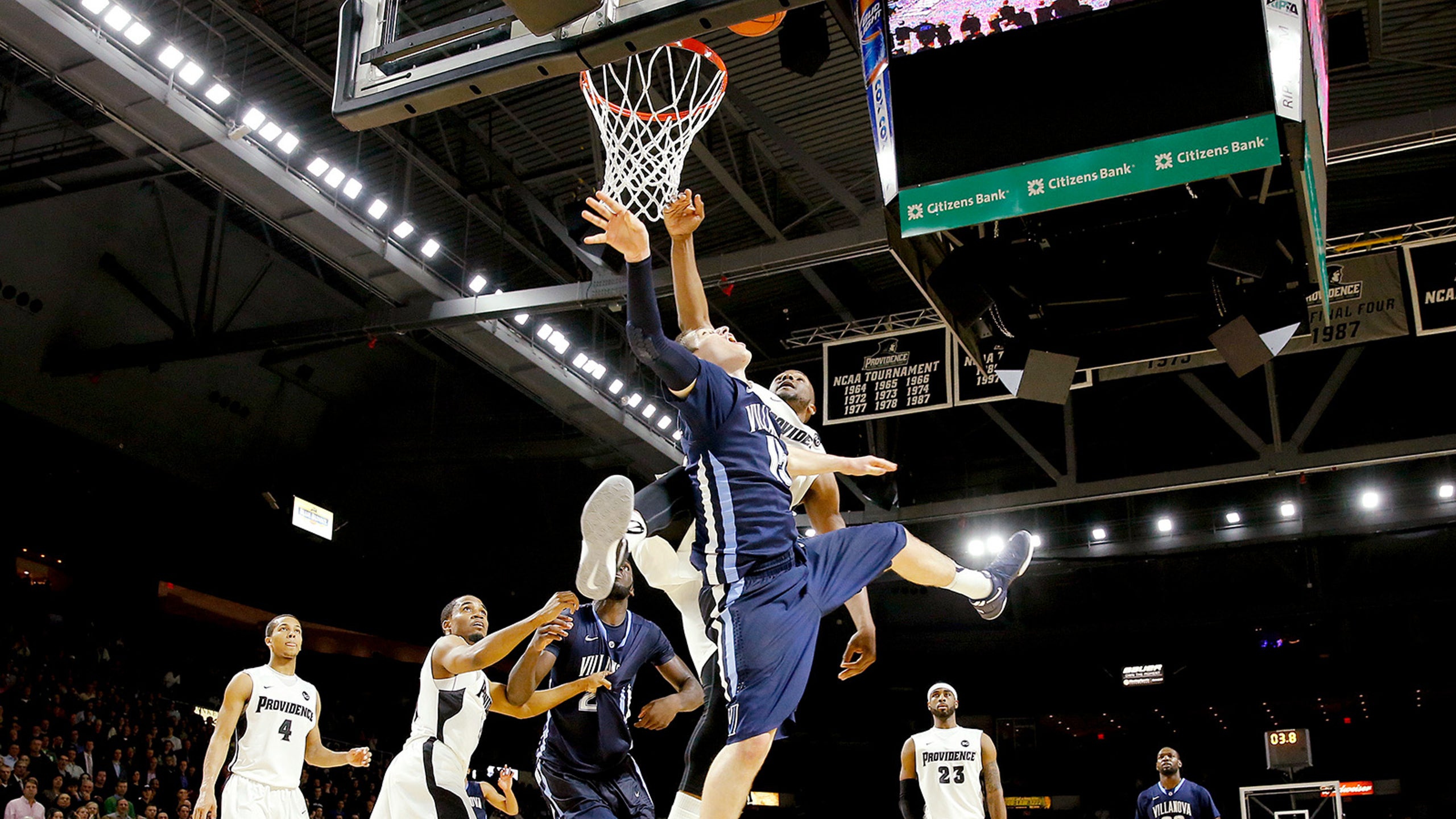 No. 9 Villanova holds on for double-overtime win over Providence
BY foxsports • February 18, 2014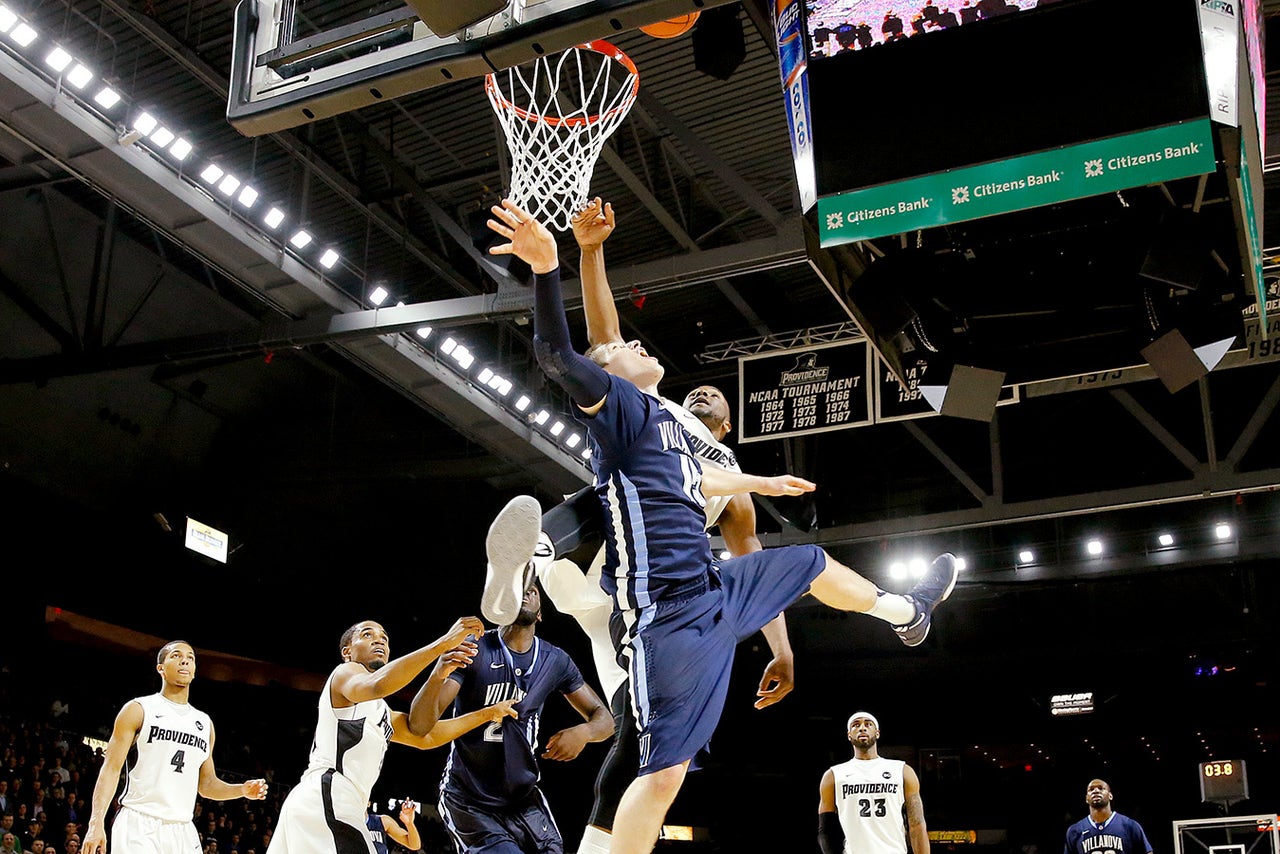 PROVIDENCE, R.I. -- Ryan Arcidiacono felt he had a great chance to win it at the end of the first overtime. He knew what he was doing when he got another chance.
Arcidiacono had a three-point play with 3.6 seconds left in the second overtime to lift No. 9 Villanova to an 82-79 win over Providence on Tuesday night.
"We had the ball and called timeout with 16 seconds left," he said. "Coach wanted me to run a play with about 8 (seconds). I missed the first two and got to the lane in the first OT, and thought I could again."
Arcidiacono led the Wildcats (23-3, 11-2 Big East) with 21 points. JayVaughn Pinkston had 20 and James Bell 17. Villanova moved into a tie for first atop the Big East with Creighton.
"Great college basketball game, great atmosphere, great fans and Providence played great, so did we," Wildcats coach Jay Wright said. "I was just proud to be a part of it -- proud of our guys."
Wright still wasn't over a 100-81 loss at Creighton on Sunday, but was pleased how his team responded.
"I'm not great at resiliency, this stuff eats at me, but these guys are," he said. "Talking to our staff I asked, `How are they?' They said, `They're great, man. They're ready to go.'"
Bryce Cotton led the Friars (17-10, 7-7) with 22 points despite shooting just 6 of 20. Kadeem Batts finished with 21 and 11 rebounds, but fouled out on Arcidiacono's game-winning basket. Josh Fortune added 16 points and Tyler Harris 15.
"It was a game that whoever had the ball last was probably going to win," Providence coach Ed Cooley said.
After missing shots at the end of regulation and OT, Arcidiacono drove to the basket, banking in a shot as he was fouled.
It's something the guard said they practice, going to the basket hard and not getting fouls called.
"If anyone is there, we don't get any calls and we could get hacked," he said. "I think we practice for the road environment and everything going against us. We responded. We like each other and we were ready to go. No one panicked after regulation and the first overtime. We stuck together and knew if we do what we do, we'd come out with the win."
LaDontae Henton's 3 from the left corner bounced off the front of the rim as the horn sounded, allowing Villanova to escape with the win.
Pinkston had a pair of post-up turnarounds in the second overtime, the second gave the Wildcats a 79-76 edge with 46 seconds left, but Cotton made a 3-pointer with 24.1 seconds left.
"They are a great team with so many different weapons," Cooley said. "You try and take away the three, but they have Pinkston, who is a tough matchup for everybody."
With Villanova trailing 70-67 in OT, Daniel Ochefu scored on a baseline drive for and was fouled, but missed the free throw. After Batts missed a short jumper, Darrun Hilliard nailed a 3 from the left wing to push the Wildcats ahead 72-70 with 1 minute left.
Cotton followed with a twisting, spinning reverse layup, retying it with 37 seconds left.
Arcidiacono then missed driving shot, sending the game to the second OT.
Villanova beat Providence by 30 points at home on Jan. 5 in the first meeting this season.
Tyler Harris had nailed a 3-pointer to give Providence a 66-63 edge on its first possession of the first possession of OT.
Villanova was clinging to a 63-60 edge in the closing minute when Henton nailed a 3 from the right wing for his first basket -- and points -- of the game with 20.4 seconds left.
Arcidiacono missed a long 3 in the closing seconds and Providence rushed the ball up with Henton quickly releasing a 10-foot jumper that rolled off the rim just as the buzzer sounded, sending the game to OT.
Villanova, coming off the 19-point loss at Creighton on Sunday, played tight man-to-man defense from the start, but it didn't matter because Providence's hot shooting was too much for the Wildcats.
"I still haven't gotten over the Creighton game yet," Wright joked. "I will. I like this team. It's fun coaching this team. We get on them about mistakes, but they don't get down."
The Friars nailed nine of their initial 13 shots from the floor en route to a 22-13 lead 9 minutes into the first half. Fortune had 10 points in the opening minutes.
The teams were tied at 33 at halftime.
---