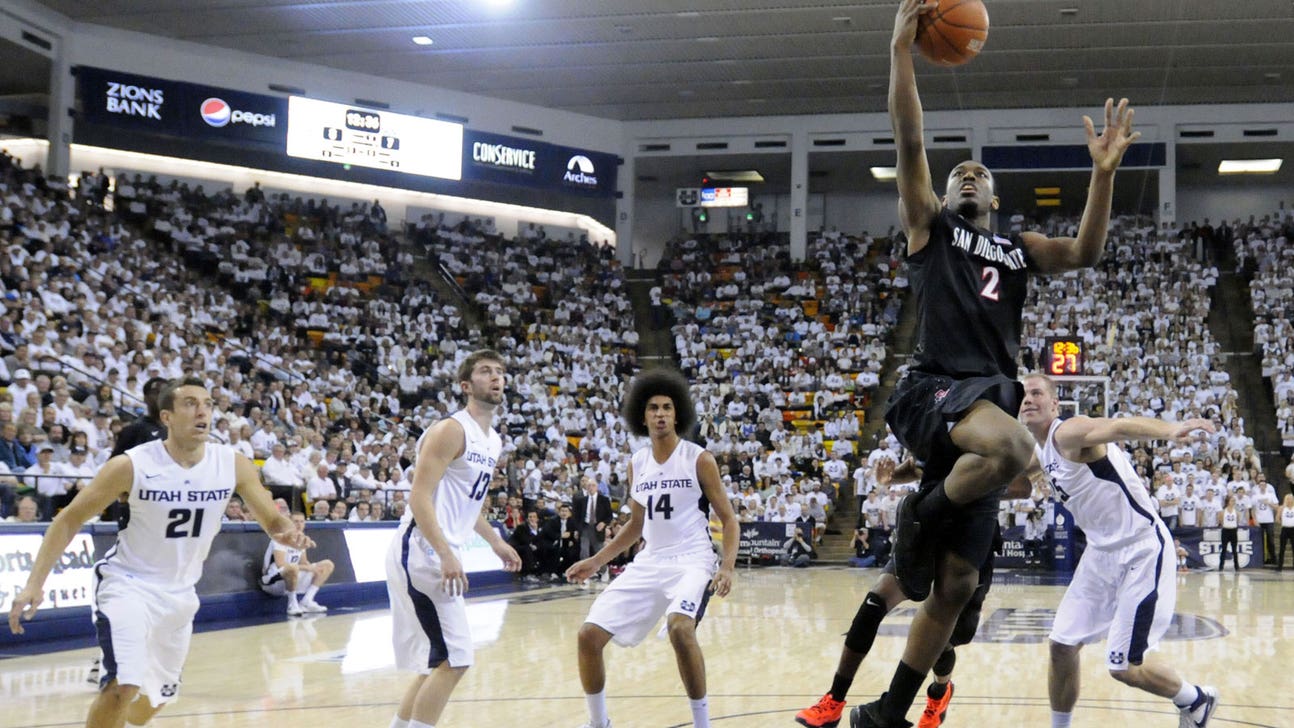 No. 7 San Diego St needs overtime to hold off Utah St
Published
Jan. 26, 2014 1:49 a.m. ET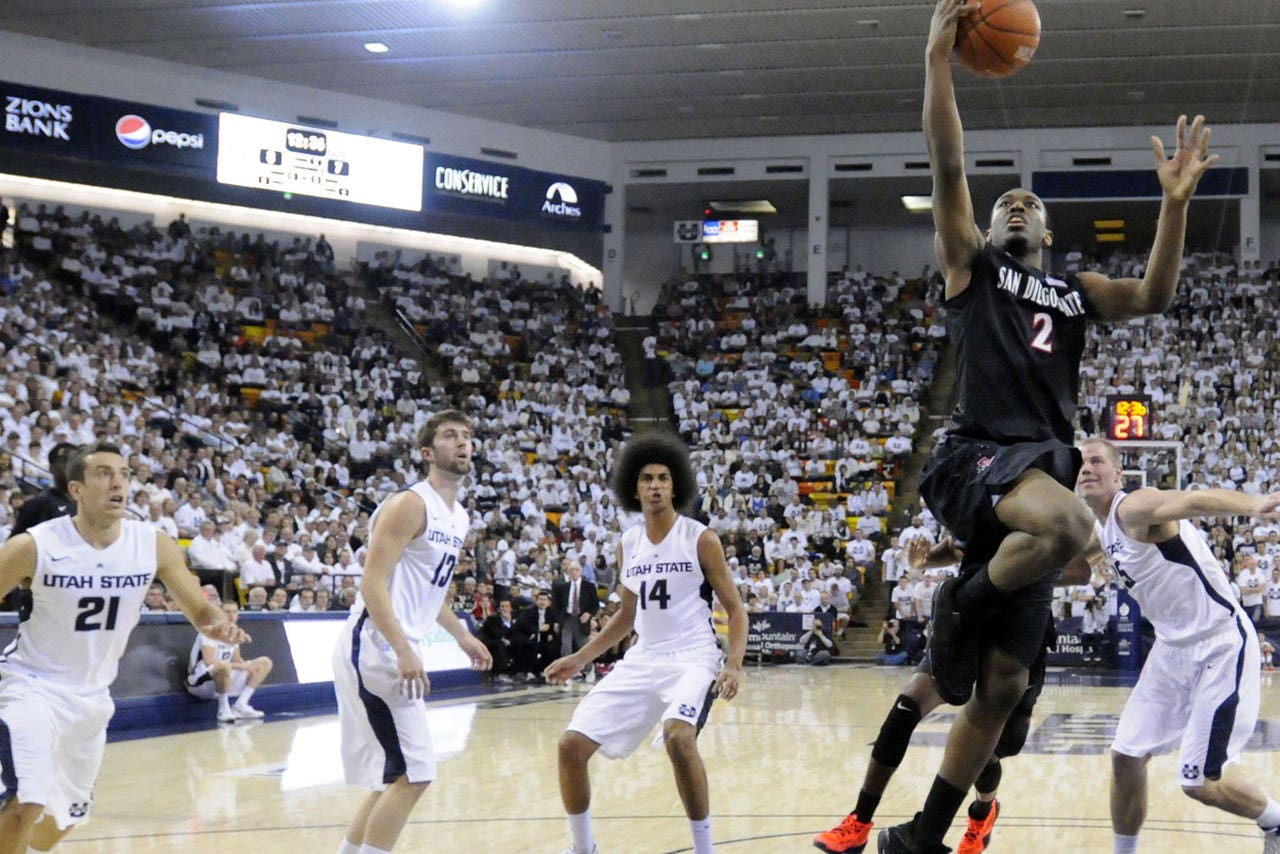 LOGAN, Utah (AP)
Xavier Thames is building a reputation for coming through when it counts.
It's not unusual to see him make an assortment of plays to pull San Diego State out of tough situations. That ability to put his team on his shoulders came in handy once again in a hostile environment Saturday night.
Thames scored 31 points, including 10 in overtime, and the seventh-ranked Aztecs held off pesky Utah State 74-69 for their 17th straight victory.
The senior point guard made the go-ahead basket in the extra session to help San Diego State (18-1, 7-0 Mountain West) win for the 16th time in their last 17 overtime games.
"He seems like he can't miss any night," teammate J.J. O'Brien said. "He had huge plays down the stretch. He saved us. He's been saving us. He doesn't just score. He dishes and he plays defense. He does everything. We're blessed to have him as a point guard."
Spencer Butterfield had 19 points and Jalen Moore added a career-high 16 for the Aggies (12-7, 2-5), who lost at home for the second time this season.
"We'll find a way to pull together," Butterfield said. "If you lose, you have two choices. You can lay down and give up or you can keep fighting. And this team will keep fighting."
Butterfield hit a 3-pointer over two defenders with 2.5 seconds left in regulation to force overtime. He drained another 3 to put Utah State up 62-61 with 3:03 left, but Thames put a halt to the rally.
He nailed a jumper that put San Diego State ahead for good with 1:50 remaining and made a 3 with 49.6 seconds left to make it 66-62.
SDSU shot 8 of 10 on free throws in the final 38.9 seconds to seal the victory.
"This was a good team win," Thames said. "That's what championship teams do. We stuck with it."
San Diego State tied it at 48 on a 3 by Thames with 8:57 left, but Utah State went back in front with a pair of quick baskets. The Aggies took a 52-48 lead when Marcel Davis stole the ball and fed Moore with 7:47 remaining.
The Aztecs went 5 minutes without a field goal down the stretch before Josh Davis tied it at 52 on a jumper with 3:27 left. Davis finally put San Diego State back in front when he scored again to make it 55-54 with 1:50 remaining.
San Diego State appeared to be in good position to escape with a close win in regulation after Thames made two free throws with 16.1 seconds left. Butterfield changed that with his 3 from the right wing that tied it at 57.
After a timeout, Thames corralled a long pass at the other end but missed a tough jumper at the buzzer.
"They made up for all the shots they didn't make against (UNLV) against us," SDSU coach Steve Fisher said. "They made some hard shots and they made some open shots."
San Diego State struggled to overcome poor shooting early. The Aztecs missed 10 of their first 12 attempts from the field and shot just 33 percent (10 of 30) before halftime.
Utah State had a difficult time taking advantage. The Aztecs used a smothering defense to pressure USU into turnovers. SDSU forced seven Aggies turnovers before halftime and five of those came on steals.
San Diego State also dominated the glass, holding a 10-5 edge in offensive rebounds during the first half. The Aztecs made the most of it, outscoring Utah State 13-6 in second-chance points.
"We've done that before — not shot the ball well," Fisher said. "But we hung in with our defense. They carved us up a bit with their sets and their precision and their offense."
The teams traded baskets for most of the first half and the Aggies took a 15-14 lead on Ben Clifford's jumper with 9:31 left.
San Diego State responded by going on a 10-1 run over the next 6 minutes to take a 24-16 lead. Winston Shepard hit a jumper and Josh Davis drove in for a layup on back-to-back possessions to cap the spurt with 3:42 remaining before halftime.
Utah State started mounting a rally toward the end of the half. Butterfield scored with 59 seconds left to trim SDSU's lead to 28-24 going into the locker room. In the second half, Preston Medlin and Butterfield made 3s on consecutive possessions to help Utah State tie it at 32.
The Aggies scored baskets on three straight possessions and took a 42-40 lead with 12:55 left on consecutive 3-pointers from Medlin.
"Our guys played really hard and we hit some big shots," Utah State coach Stew Morrill said. "We gave ourselves a chance to win, but we've got to find a way to win games like this in our league. It's a tough loss."
---