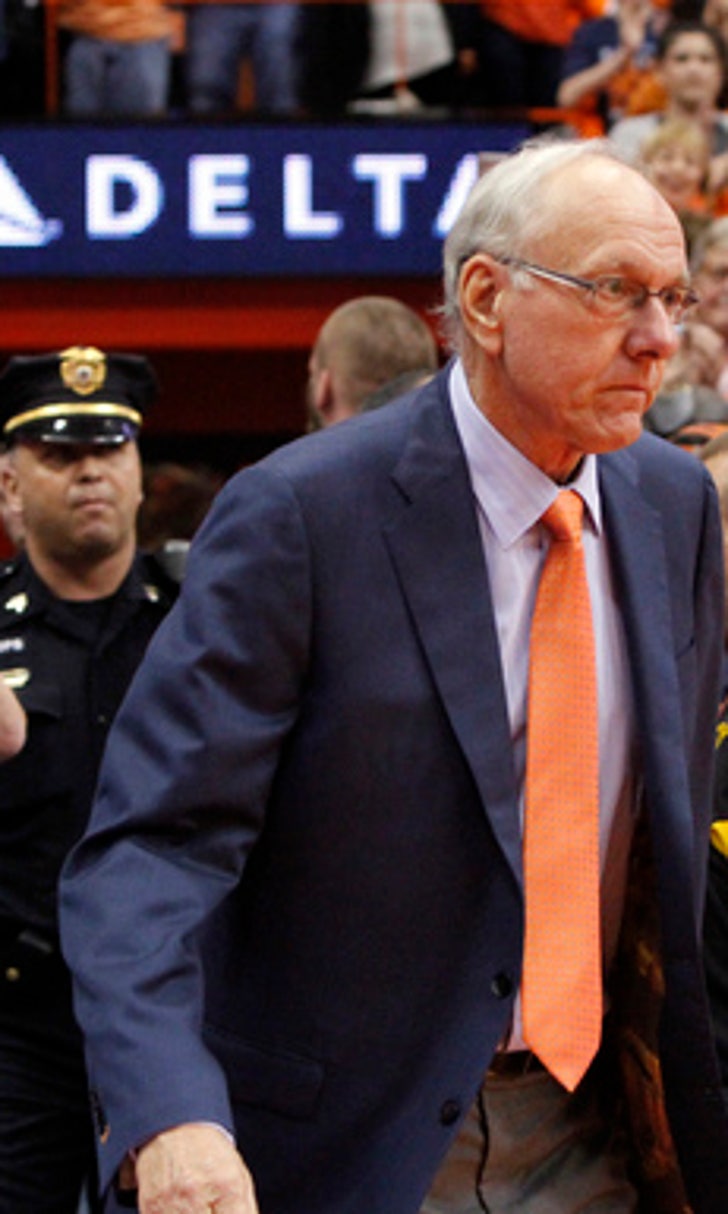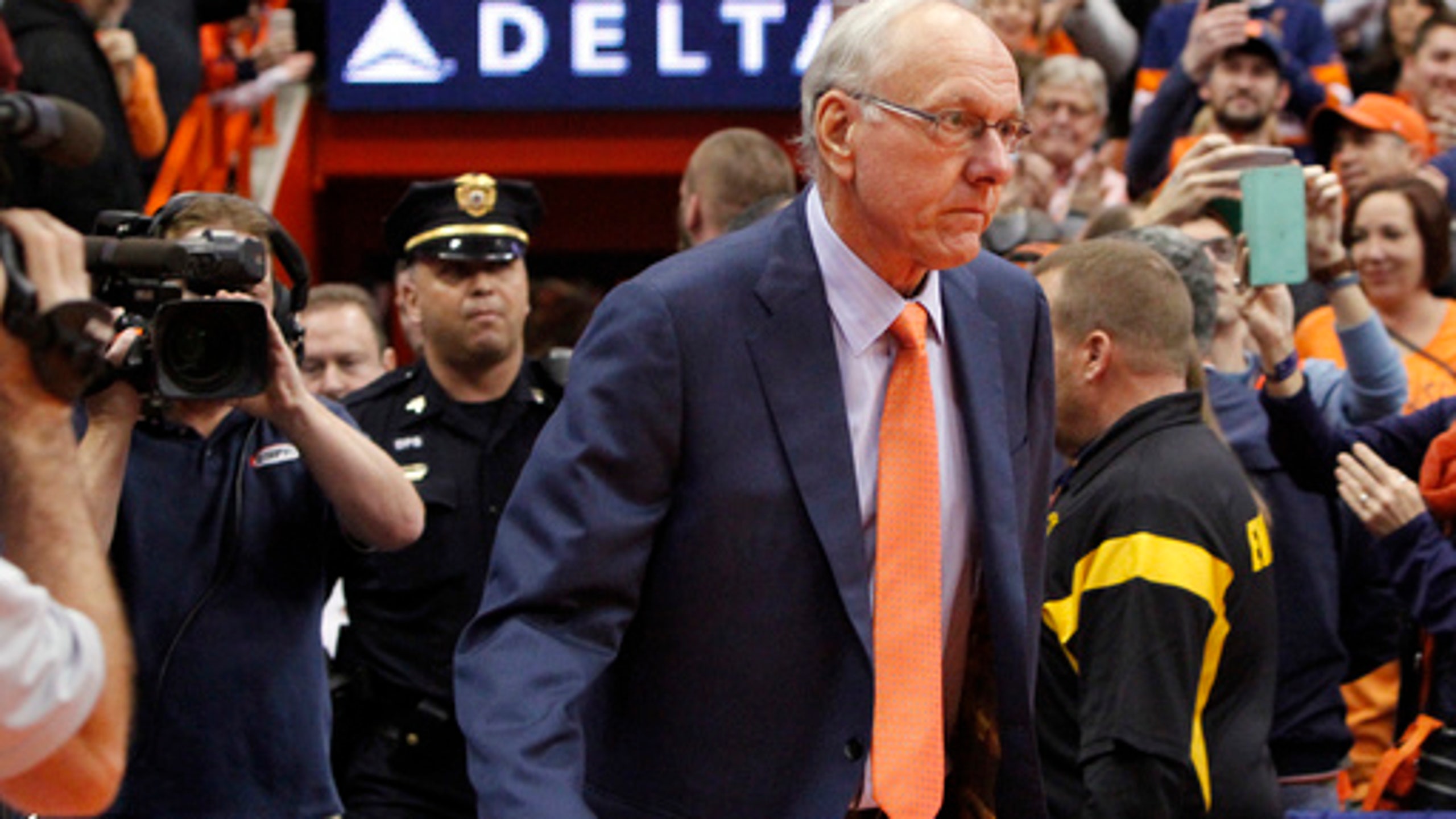 No. 6 North Carolina ruins Boeheim's return, 84-73
BY foxsports • January 10, 2016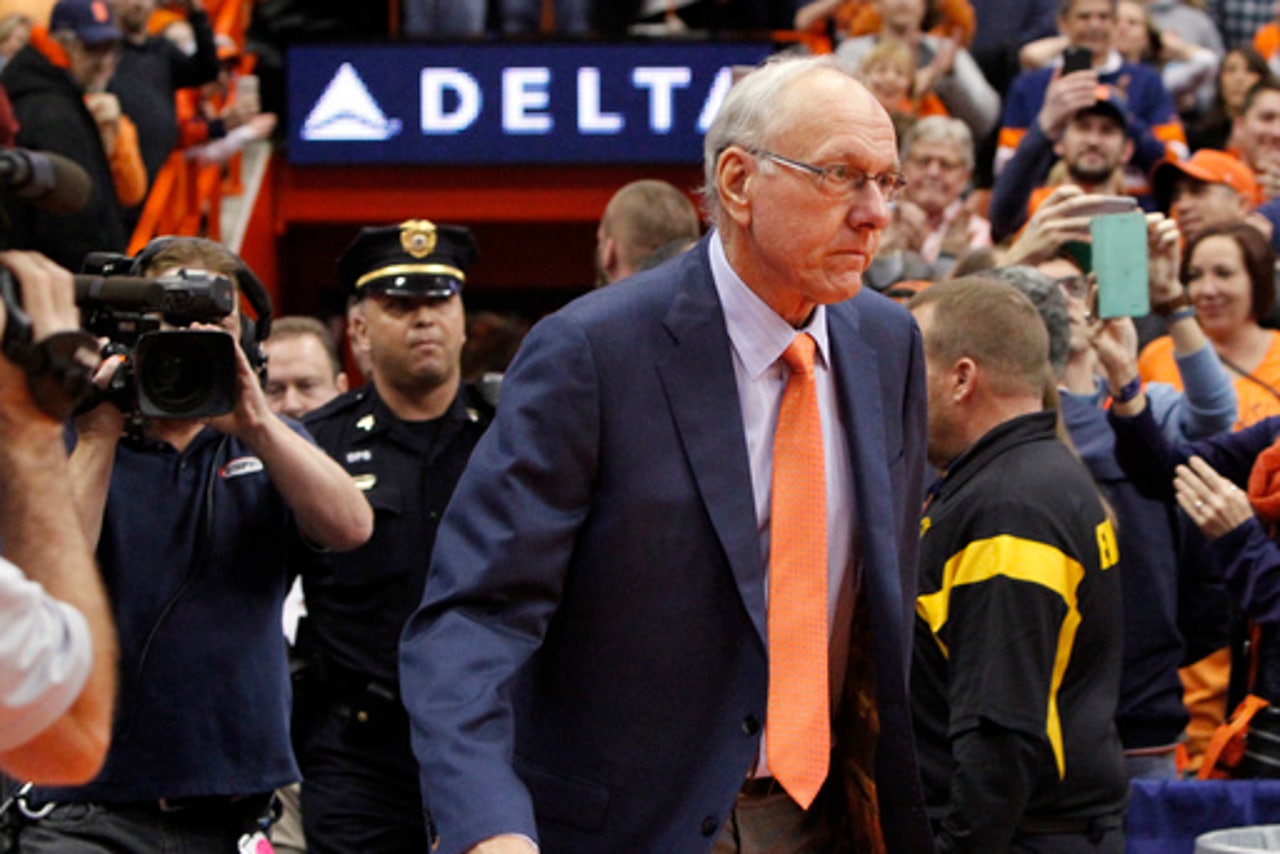 SYRACUSE, N.Y. — Even with coach Jim Boeheim back on the Syracuse bench after serving a nine-game suspension, the Orange failed again in the closing minutes and lost for the fourth straight time.
Isaiah Hicks scored 21 points and No. 6 North Carolina spoiled the Hall of Fame coach's first game back, pulling away in the closing minutes in an 84-73 victory Saturday night.
"We got good opportunities. We gave up layups we hadn't given up the whole game," Boeheim said, keeping the focus on the game instead of his return. "In the last six or seven minutes, you've got to make those plays and we didn't make them. We did more than enough to be in good position tonight, but you can't have the same defensive breakdowns. There is just no excuse for that. You can't do that and win, but it was a great effort."
A bright green sign with a head shot of Boeheim read "Welcome Back Coach" and another read "972 and counting Boeheim is back" in reference to the number of wins Boeheim had achieved before the NCAA vacated 101 of those wins as part of the punishment levied in March against him and his alma mater.
Clad in a bluish-gray sport coat and wearing an orange tie, Boeheim was greeted with a raucous standing ovation from the crowd of 26,811, the largest of the season. He waved back in appreciation, turning to all corners of the Carrier Dome before shaking hands with North Carolina coach Roy Williams and sharing a brief joke.
"I was glad to see him back," Williams said. "There's no question it gave the crowd a huge emotional lift, and his team as well, but we were lucky the ball went in the basket for us. When I saw his first game back was against the University of North Carolina I wasn't the happiest guy in the world."
Leading 62-60 with under 6 minutes to play, Hicks had two dunks and Justin Jackson another as the Tar Heels (15-2, 4-0 Atlantic Coast Conference) pounded the ball inside and pulled away from the Orange (10-7, 0-4).
"We knew when he (Boeheim) came back it was going to be a big game and a big buzz," said the Orange's Trevor Cooney, who had a season-high 27 points. "On top of that, you're playing UNC. I don't care what it is. You just want to win. Everyone does.
"This is a bad stretch, and you've just got to learn from it and get better. You've got no other choice. For us going forward, it's life or death. You've got to win games."
Boeheim's suspension ended at midnight Tuesday, less than two hours after his Orange lost by one to Clemson in overtime. He addressed the team at the Carmelo K. Anthony Basketball Center immediately after his suspension was over.
In his 40th season at his alma mater, the 71-year-old Boeheim had missed only three games — for surgery in December 2001 to correct an enlarged prostate gland — before the suspension, which was announced in March by the NCAA.
Under interim coach Mike Hopkins, Syracuse won four of six nonconference games, the losses coming against former Big East rivals Georgetown and St. John's. In double-digit Atlantic Coast Conference road losses to Pitt and Miami, Syracuse played both tough until the closing minutes, getting outscored 34-9.
Boeheim's last game before the suspension was an overtime loss to Wisconsin on Dec. 2. Syracuse was ranked No. 14 after impressive wins over a pair of Top 25 teams, Texas A&M and Connecticut, in capturing the Battle 4 Atlantis title.
TIP-INS
North Carolina: The last time North Carolina had a better start in the ACC was 2000-01 when it started 11-0. ... The Tar Heels came into the game having scored at least 80 in 12 straight games and 14 of 16. ... The Tar Heels have scored at least 90 points in seven games this season. They broke that mark only five times all last season. ... Kennedy Meeks missed seven games with bruised bone in his left knee. He returned to practice on a limited basis on Wednesday and played against Syracuse, finishing with eight points and two rebounds in 14 minutes.
Syracuse: Michael Gbinije came into the game third in Division I in minutes played, averaging 37.52 per game. Cooney is ninth in minutes at 37.22. ... Coming into the game Gbinije led the team in scoring, 3-pointers, steals and minutes played. He had 10 points on 3-of-13 shooting against North Carolina. ... The Orange had their lowest attendance in 14 years when 16,305 attended the Clemson game last Wednesday. It was the lowest since 14,322 attended the game against Rutgers on Jan. 2, 2002. The crowd Saturday night was announced as 26,811, the largest on-campus crowd in the country this season.
UP NEXT
North Carolina hosts North Carolina State on Saturday.
Syracuse hosts Boston College on Wednesday.
---
---