No. 21 SMU upset by UConn, knocked out of first in AAC
Published
Mar. 1, 2015 4:58 p.m. ET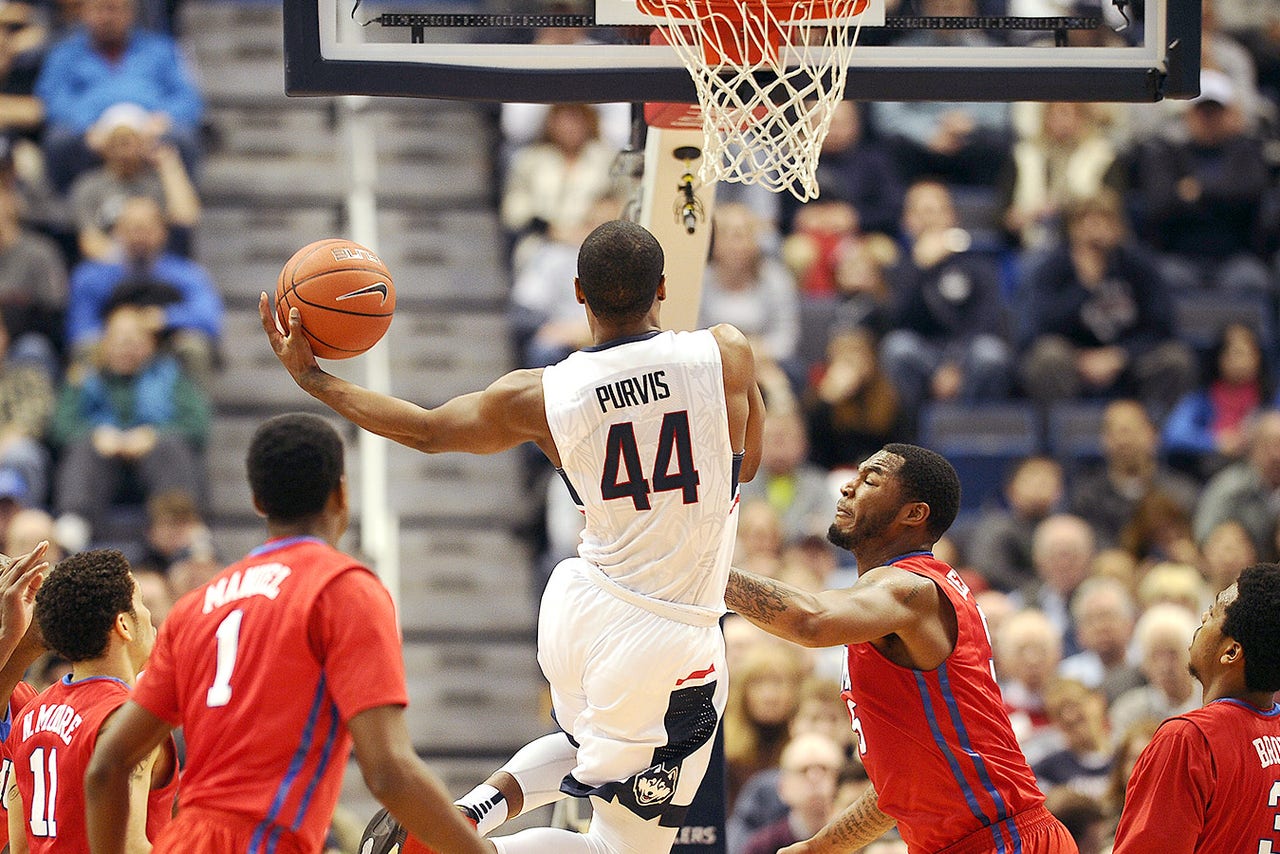 UConn's Ryan Boatright isn't ready to give up on the idea of making it back to the NCAA tournament.
Boatright scored 23 points and Rodney Purvis had a career-high 28 and the Huskies (17-11, 10-6 American) beat a ranked opponent for the first time this season, upsetting No. 21 SMU 81-73 on Sunday
"We finally got a signature win under our belt," Boatright said. "It gives guys the confidence that we can compete with these teams."
Daniel Hamilton scored 14 of his 16 points in the final 7:41 for UConn, which knocked the Mustangs (23-6, 14-3) out of first place in the American Athletic Conference.
Markus Kennedy had 18 points to lead SMU, which had won five straight, 13 of its past 14 and 21 of its past 23 games.
Yanick Moreira added 14 points, but 12 of them came in the first half. Sterling Brown added 13 points.
The Mustangs led only once, 53-51, on a jumper in the lane by Kennedy with 8:10 left.
Hamilton responded with back-to-back 3-pointers to start a 17-4 UConn run. He hit a pair of free throws that gave UConn its largest lead at 68-57 with 4 minutes to play.
Kennedy cut the deficit to 71-67 on a jumper with 1:22 left. But UConn hit its free throws down the stretch.
"Offensively, we had a hard time guarding them, especially out on the perimeter," SMU coach Larry Brown said. "Hamilton, Boatright and Purvis, they all kind of got the ball in spots they wanted to."
The Huskies shot 53 percent from the floor and made nine of their 20 3-point attempts.
Going into the last week of the regular season, SMU is a half-game behind Tulsa, which beat Memphis in overtime on Saturday. The two teams meet in the regular-season finale on March 8.
UConn has won three straight and six of its past eight. The Huskies are in fifth place in the league, a game ahead of Memphis. The top five teams will get first-round byes when the conference tournament opens in Hartford on March 12.
"We've been kind of struggling as a team," Purvis said. "So for us to come together at this point in the season when we really, really need too ... I feel like there is no better time to come together."
Purvis scored eight of the Huskies' first 10 points as UConn jumped out to a 10-4 lead.
A lob pass from Boatright to Amida Brimah put UConn up 24-14, the Huskies' largest lead of the first half, and prompted a timeout from coach Larry Brown.
The Huskies led the entire half, but Moreira cut SMU's deficit to 32-26 with a jump shot at the halftime buzzer. UConn improved to 10-0 when leading at intermission this season.
The Huskies are 11-3 at home and have won their past seven home games.
"We know if we keep winning every game, and win the tournament, they can't keep us out," Hamilton said.
TIP-INS
UConn: The Huskies came into the game 0-4 all-time against SMU, including three losses since the founding of the AAC a year ago. The Mustangs' margin of victory had been at least nine points in each of those games, and they beat the Huskies 73-55 in Texas last month.
Boatright (1,689 points) moved in front of Wes Bialosuknia (1,673) and into ninth place on UConn's scoring list, behind Kemba Walker (1,783).
SMU: The Mustangs had won a school-record seven consecutive road games, but fell to 8-4 away from home this season.
---