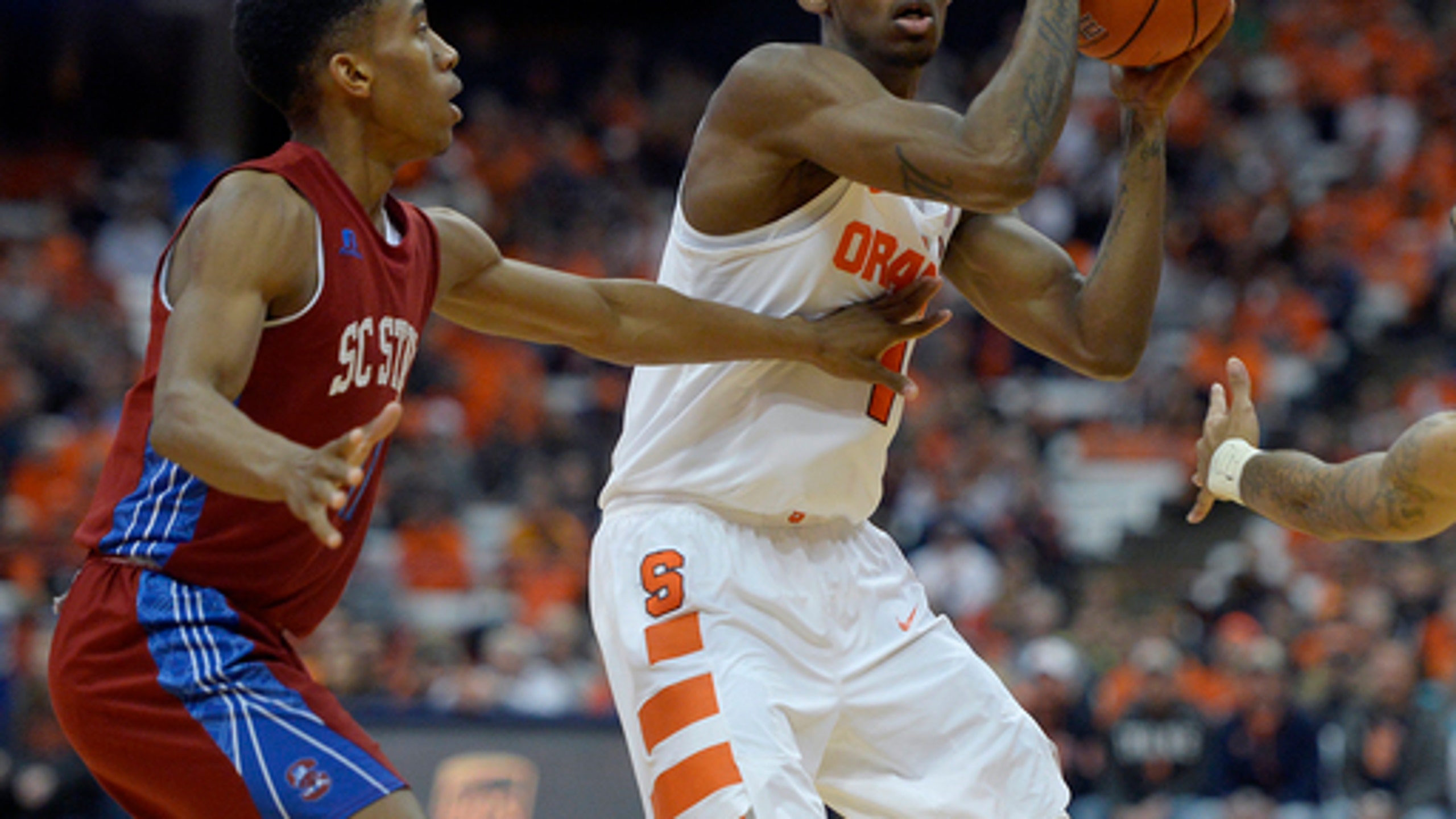 No. 18 Syracuse holds SC State to 27 percent in 101-59 rout
BY foxsports • November 23, 2016
SYRACUSE, N.Y. (AP) When six of nine scholarship players score in double figures and three register double-doubles, even hard-to-please Syracuse coach Jim Boeheim can find a few reasons to smile.
Andrew White had 15 points and the No. 18 Orange (4-0) held South Carolina State to 27 percent shooting in a 101-59 victory Tuesday night.
''I'm very happy with what these guys have accomplished to this point,'' Boeheim said. ''We've gotten guys a lot of experience in game situations and I think they have a good understanding of what they're doing.''
Tyler Lydon had 14 points and 10 rebounds, one of three players who finished with a double-double for the Orange (4-0). He was 4 of 5 from 3-point range.
Frank Howard had 10 points, 11 assists and only one turnover. Tyler Roberson had 13 points and 12 rebounds.
''We've got nine guys and it's different than playing six or seven. We've got to get them all in there,'' Boeheim said. ''Guys play different positions, so they get in there and play different positions. We have some flexibility with this team, and we've got to keep working on it.''
Six players scored in double figures for Syracuse, and five hit at least one 3. John Gillon had 14 points and Taurean Thompson tied his career high with 12.
Thompson and Paschal Chukwu each had four of Syracuse's 11 blocks.
''We have so many different weapons who are able to do so many different things on the court,'' said Lydon, a sophomore. ''We have seven, eight, 10 guys or whatever, who can score the ball. It creates things for everybody and it makes us really hard to guard.''
Lydon entered 2 of 8 from 3-point territory after shooting 40 percent from deep during his freshman season.
''I put some pressure on myself and I was able to get it off my back tonight,'' he said. ''My teammates were able to find me in open positions, in good spots, and I was able to knock them down. You've just got to keep shooting the ball.''
Ozante Fields led the Bulldogs (1-3) with 11 points, and James Richardson added nine.
Syracuse has overpowered four undermanned opponents by an average of 34 points per game, so it's hard to tell just how good the Orange will be. Next up, they hit the road for games against South Carolina and Wisconsin, two good tests.
''Games like these are learning games,'' Howard said after the first double-double of his career. ''Execution is the big thing. Being crisp and sharp.''
Syracuse went 13 of 24 (54.2 percent) from 3-point territory and 37 of 68 overall (54.4 percent), while the Bulldogs shot 5 of 27 (18.5 percent) from beyond the arc and 19 of 70 overall.
''Last year we made it to our (conference) championship game. This year our goal is to win our conference championship. Thank God we don't have to beat Syracuse to win the MEAC,'' Bulldogs coach Murray Garvin said.
South Carolina State scored the first basket of the game, a 3-pointer by Edward Stephens at the shot-clock buzzer. Syracuse responded with a 15-0 run, highlighted by 3-pointers from Lydon, White and Howard. The Bulldogs missed 11 straight shots before Tashombe Riley connected.
The Orange led 46-31 at halftime and outscored the Bulldogs 55-28 in the final 20 minutes.
''We've proven so far that we can shoot the ball really well as a team,'' Lydon said. ''We have a lot of different weapons and we can do a lot of different things. When we can get inside and create plays, it opens up the outside shots.''
BIG PICTURE
South Carolina State: The overmatched Bulldogs were never really in this one, but should find an opponent more to their liking when they play Holy Cross on Friday.
Syracuse: The Orange step up in class Saturday against undefeated South Carolina. Much more will be known about Syracuse after games against the Gamecocks and Tuesday at No. 16 Wisconsin.
POLL IMPLICATIONS
This victory probably won't have much bearing on Syracuse's standing in the poll, but wins against South Carolina and at Wisconsin would likely bump the Orange up.
FEELING FINE
Thompson showed no ill effects from a foot injury sustained Friday against Monmouth.
HIGHLIGHT REEL
Thompson's turnaround slam - with authority - extended the Orange lead to 41-26 with 1:37 to go in the first half.
TURNING POINT
Dajuan Coleman gave the Orange some breathing room in the first half with five straight points on two point-blank shots and a free throw that extended Syracuse's lead to 23-12.
UP NEXT
South Carolina State hosts Holy Cross on Friday.
Syracuse travels to Brooklyn on Saturday for a matchup with South Carolina.
---