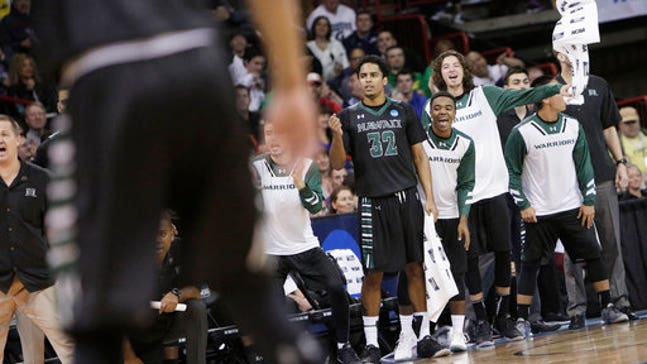 No. 13 seed Hawaii shocks No. 4 seed California 77-66
Published
Mar. 18, 2016 7:16 p.m. ET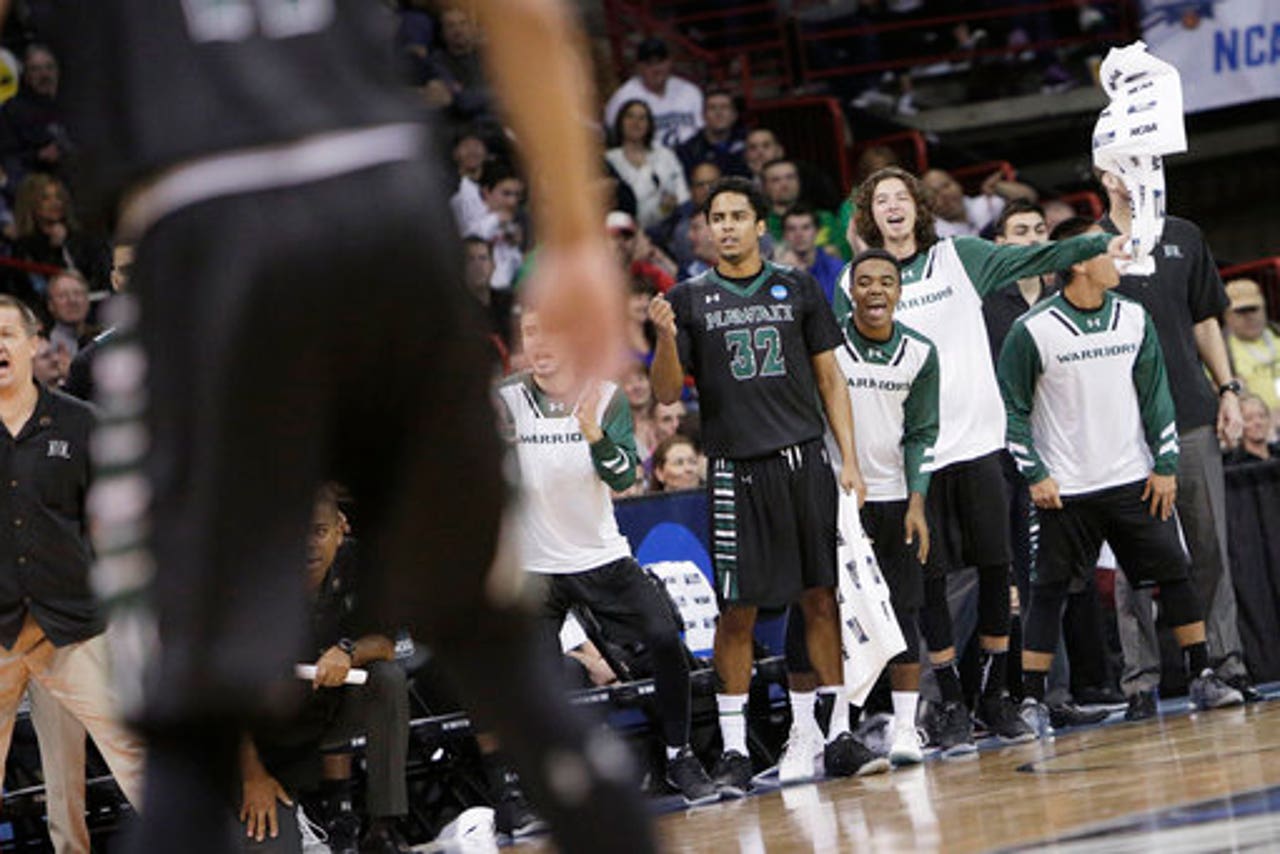 SPOKANE, Wash. (AP) Hawaii won its first NCAA Tournament game in school history, when the 13th-seeded Warriors ended No. 4 California's tumultuous week with a 77-66 upset victory Friday in the first round of the South Regional.
The Golden Bears' played without popular assistant coach Yann Hufnagel, dismissed amid allegations of sexual harassment, and the loss of leading scorer Tyrone Wallace, who broke his hand Wednesday in practice. As if the Bears (23-11) needed more obstacles, guard Jabari Bird had back spasms during warmups and never played.
The Warriors were 0-4 in their previous NCAA appearances, the last coming in 2002.
Quincy Smith scored a career-high with 19 points, Roderick Bobbitt had 17 points and Stefan Jankovic 16 for the champions of the Big West Conference regular season and tournament. Hawaii (28-5) used a strong first half from Jankovic to lead by as many as 11, then withstood Jankovic's foul trouble in the second half thanks largely to Smith.
Smith scored 11 points in the second half and keyed Hawaii's surge midway through after California had pulled within one.
Jordan Mathews led California with 23 points.
Considering the absences, California needed its healthy stars to be at their best and they failed. Jaylen Brown was a miserable 1-of-6 shooting, committed seven turnovers and fouled out with 6:22 left and the Bears trailing by eight. Ivan Rabb had a double-double with 13 points and 12 rebounds, but was hounded on the interior all game. The Bears were just 3 of 19 on 3-pointers, all coming from Mathews.
It could be the final game for Brown and Rabb if they decide to jump to the NBA and may bring more scrutiny to Martin's status considering the school is already reviewing his response to Hufnagel's situation.
The Warriors were 0-4 in their previous NCAA appearances, the last coming in 2002.
Hawaii's ability to withstand Cal's second half surges was more impressive considering Jankovic spent nearly 13 minutes on the bench. Jankovic checked out with 16:41 remaining and the Warriors leading by eight after picking up his third and fourth fouls 20 seconds apart. When he returned with 3:46 remaining, the Warriors had possession leading 66-60.
Smith was a big reason why Hawaii was able to keep Jankovic on the bench for so long. Smith scored eight of Hawaii's 15 points during a 6 1/2 minute stretch where the Warriors built their lead back to as many as 11 after the Bears pulled to 47-46 on Kameron Rooks' three-point play with 11:56 left. .
TIP INS
Hawaii: The Warriors' closest loss in the tourney was a 10-point defeat to Syracuse in 2001. ... Hawaii has been on the mainland since March 1 after playing its final two Big West regular season games on the road, followed by the conference tournament in Anaheim, California.
California: Mathews had three 3-pointers including the 200th of his Cal career. ... Backup guard Brandon Chauca played 8 minutes in the first half, more than any game all season. Chauca did not appear in 25 games this season.
UP NEXT
Hawaii: The Warriors will face either No. 5 seed Maryland or No. 12 seed South Dakota State in the second round.
California: Season over.
---