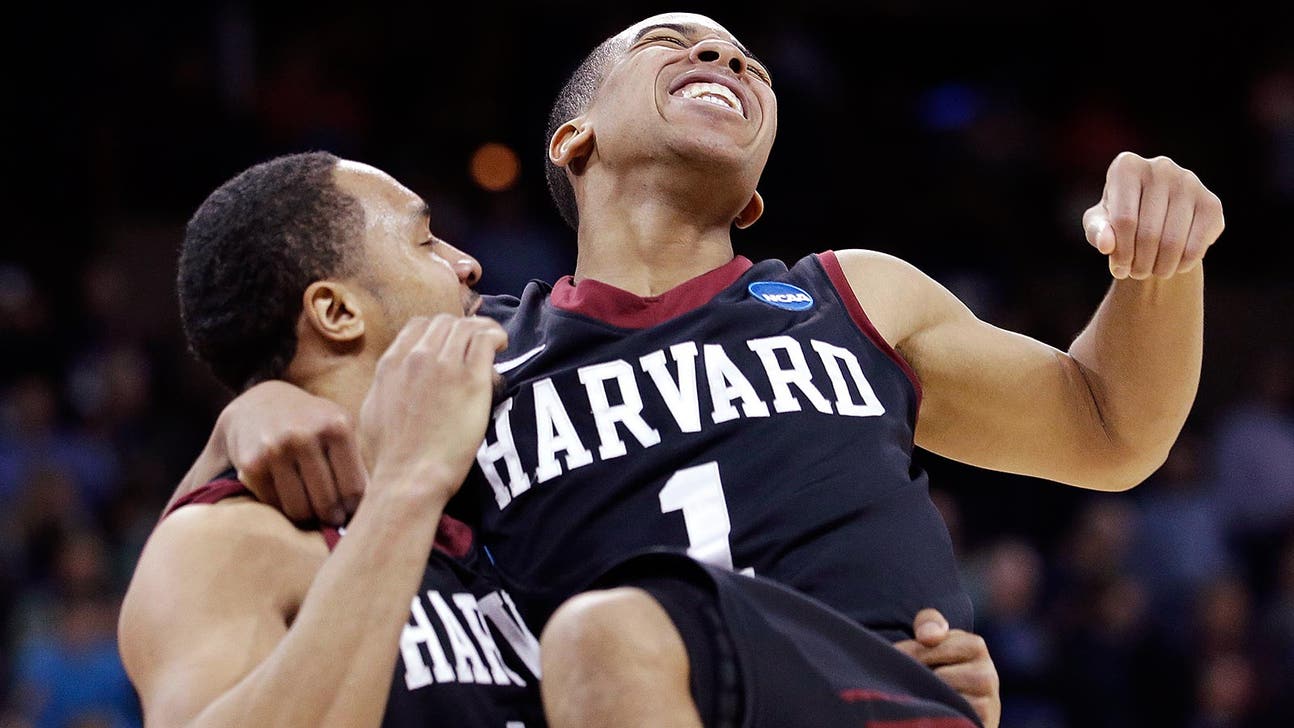 No. 12 Harvard shocks No. 5 Cincinnati in East Regional
Published
Mar. 20, 2014 4:31 p.m. ET

SPOKANE, Wash. -- Those kids from Harvard are getting a passing grade when it comes to the first game of the NCAA tournament.
Ask New Mexico last year. Ask Cincinnati now.
"I've heard this before where there really aren't upsets anymore," Harvard coach Tommy Amaker said. "There may be some surprises, but I just think when you're looking at seeds and if you're playing this time of year, you're probably a pretty good basketball team."
Siyani Chambers scored 11 points, including five straight in the final 2 minutes, and 12th-seeded Harvard won its second NCAA tournament game in history, upsetting Cincinnati 61-57 on Thursday.
Wesley Saunders led the Crimson (27-4) with 12 points as Harvard proved last year's upset of New Mexico as a 14 seed was no fluke. The Crimson became the first Ivy League school with NCAA tournament wins in consecutive years since Princeton in 1983-84. They will play either Michigan State or Delaware in the third round.
Harvard never trailed after the opening moments. They played with confidence and scrap against the fifth-seeded Bearcats, who shared the American Athletic Conference regular season title. Sean Kilpatrick led Cincinnati (27-7) with 18 points, but the Bearcats failed to win a tournament game for the second straight year.
There was a reason Harvard was a popular pick on bracket sheets around the country. Even President Barack Obama was on Harvard to take out the Bearcats.
"Getting a victory in this kind of environment and this kind of setting is very exciting," Chambers said. "You can never describe it, no matter how many times you do it."
But don't call it an upset. At least not in the eyes of Cincinnati coach Mick Cronin or Amaker. Last year's win over New Mexico was the time for celebration. This victory -- as evidenced by the subdued locker room -- was expected by the Crimson.
"In my mind, today's game was anything but an upset," Cronin said. "They've got a great team. Tough draw for us. In my opinion, they're one of the best teams we played all year."
The reason Harvard was a popular pick: defense and balance. All five starters averaged in double figures for the season and that balance was needed against Cincinnati's aggressive defense. Laurent Rivard, the Crimson's 3-point specialist, finished with 11 points, while Steve Moundou-Missi and Brandyn Curry both scored nine.
Harvard improved to 15-0 this season when holding its opponent to 60 points or less. They entered the tournament with the 13th-best scoring defense in the country. That defense helped overcome a shaky performance at the free throw line where Harvard was 17 of 28.
"We definitely want to make a statement that we can compete at the national level," Moundou-Missi said. "I think we showed up today and we did a good job. Now we get to move on."
Cincinnati had its chances. Justin Jackson finished with 13 points and 11 rebounds, but the Bearcats shot only 37 percent from the field and missed a number of shots around the rim.
"We had way too many empty trips," Cronin said.
Leading by seven points at halftime and having withstood Saunders spending 10 minutes of the first half on the bench with foul trouble, Harvard withstood the early second-half push from the Bearcats. Jackson's dunk while being fouled and subsequent free throw pulled Cincinnati within 42-39 and Titus Rubles' driving layup later trimmed the margin to 45-43.
The Crimson then forced turnovers on three straight possessions. Saunders flipped in a driving finger roll to push the lead to five. As Harvard went to the bench for a timeout, Chambers grinned and Amaker pumped his fists in approval.
Harvard was not going to be denied another moment. They got second and third chances at their own misses. They littered the court scrounging for loose balls.
Cincinnati went more than 5 minutes without scoring.
But the Bearcats fought back and cut the lead to one before Chambers stepped up. He hit a pullup 17-footer with 1:57 left for a 56-53 lead. Kyle Casey then drew an offensive foul against Kilpatrick with 1:33 left.
Chambers hit three free throws in the final minute and Saunders sealed it hitting two more with 11 seconds left, setting off the celebration that included the giant Harvard flag waving at midcourt.
"We all talked about just living up to our values and our standards and doing the things that have gotten us to this point," Saunders said. "We felt as though if we were able to do that, that we would have a great chance of coming out with a victory. Luckily we were able to do that."
---