ND's Auguste at best in March, shooting 86 percent in NCAAs
Published
Mar. 22, 2016 7:07 p.m. ET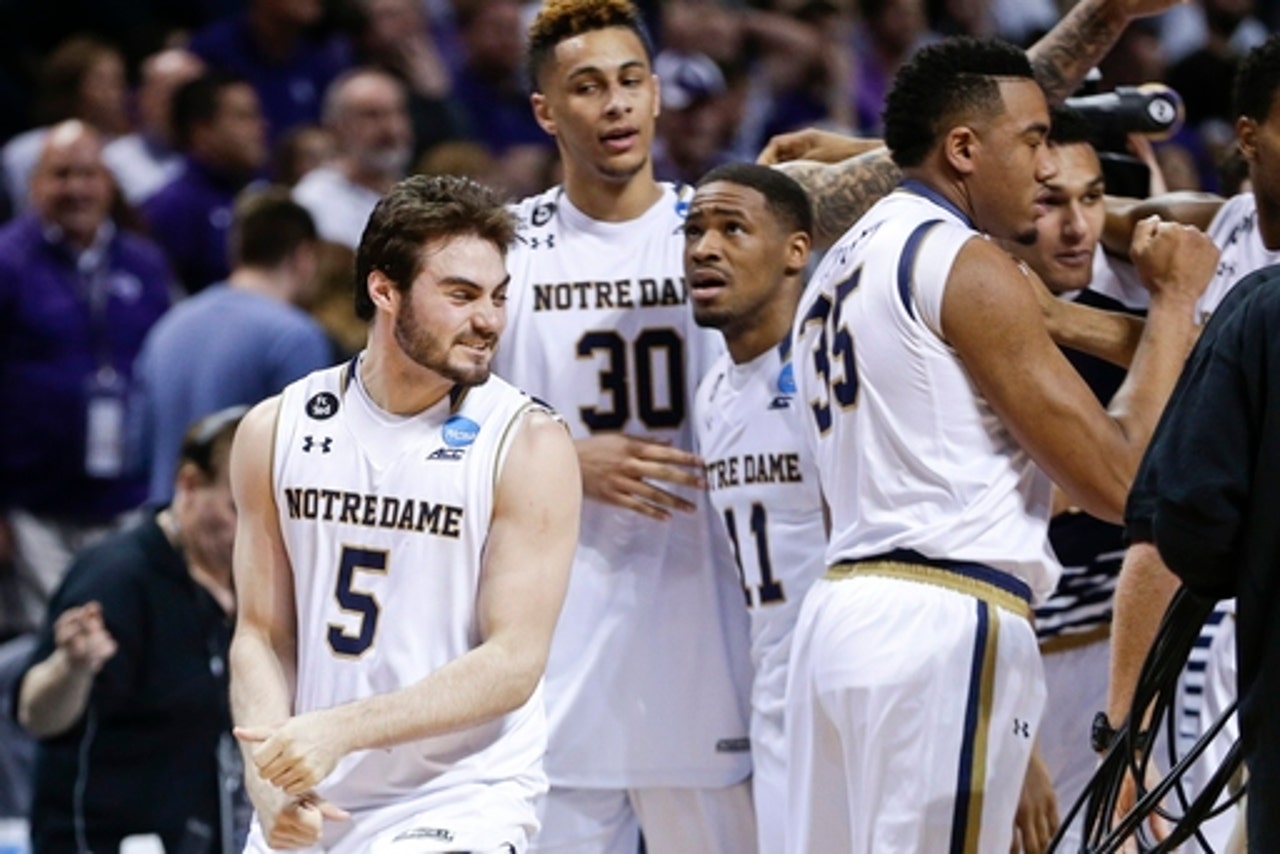 SOUTH BEND, Ind. (AP) Notre Dame forward Zach Auguste is hitting shots at a record rate in NCAA Tournament.
The 6-foot-10, 245-pound senior with the auburn-dyed hair has made 12-of-14 shots (85.7 percent) in two tournament wins for Notre Dame (23-11).
His only miss against Stephen F. Austin on Sunday came in the closing seconds, and Rex Pflueger knocked that one back up for the game-winner.
In seven NCAA Tournament games during his career, Auguste has hit 43-of-61 shots (70.5 percent). The NCAA record is 68.6 percent by UCLA's Bill Walton (109 of 159), but that's with a minimum of 70 shots. So Auguste is potentially one good game way from the record book when the Irish face Wisconsin (22-12) in Philadelphia.
''Wow! That's crazy,'' Auguste said Tuesday. ''A lot of pressure now.''
Auguste has handled the pressure fairly well so far. He's averaging 14.3 points this season and his 10.9 rebounds a game ranks 13th in the nation.
Coach Mike Brey said Auguste is accurate because he understands his role, which is primarily to score down low and grab rebounds.
''He's a guy who knows who he is. We have the system set up for him,'' Brey said. ''I can't believe there's been a player in Notre Dame history that's been more effective, more efficient.''
That hasn't always been the case. Auguste was a role player for the Irish when he arrived as a freshman, playing behind Jack Cooley and Garrick Sherman and averaging 10.7 minutes and 3.7 points. He also was a player who let emotions get the best of him, missing much of the preseason as a sophomore after breaking his hand punching a wall in frustration.
After Auguste's sophomore season, Brey showed him video clips of his outbursts at practices and displays of frustration during games.
''I don't know if he knew it was that bad until he watched it with me,'' Brey said.
Auguste said he learned to display his emotions in a better way.
''It took a long time. My coaches and my teammates really helped me a lot,'' he said. ''I learned to let it out in a game. When I get a dunk or certain little ways I let it out and channel it toward positive ways.''
He played a key role in helping the Irish get to the regional final last season for the first time since 2003 and had 20 points in the 68-66 loss to Kentucky that ended the run.
Coaches during the offseason challenged Auguste to average a double-double, saying that's what was necessary ''for us to make long strides this season,'' Auguste said
Auguste was inconsistent when ACC play began in January. He managed just one point and two rebounds against Virginia, sitting on the bench for a key stretch in the second half. But as the season wore on, he started playing more consistently. He posted 21 double-doubles in 34 games this season, including in seven of the last eight games.
Auguste said realizing his college career was running out led him to focus more on each game. He credits motivation as the reason he's played so well in the tournament.
''It's bright lights. The stage is set where you can potentially set up a long career for yourself individually,'' he said. ''It's fun. The atmosphere is electric. I'm just into it.''
---