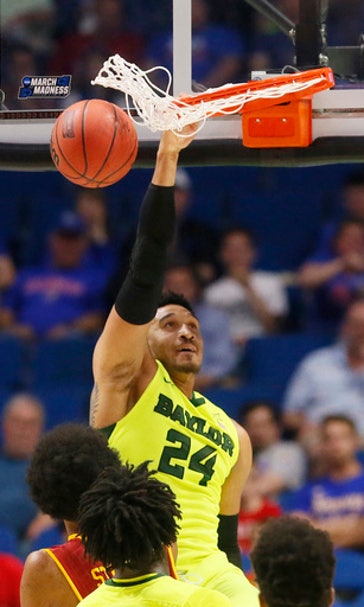 Motley scores 19 as Baylor defeats USC, moves to Sweet 16 (Mar 19, 2017)
BY AP • March 19, 2017
TULSA, Okla. (AP) Baylor knew Southern California would keep coming.
Unlike Providence and SMU, the Bears had answers.
Johnathan Motley had 19 points and 10 rebounds, Manu Lecomte scored all 12 of his points in the final 5 minutes, and Baylor defeated USC 82-78 on Sunday in the second round of the NCAA Tournament.
The 11th-seeded Trojans had rallied from second-half deficits to win their first two NCAA Tournament games , but Lecomte was the spark that held the Trojans at bay. The point guard from Belgium didn't score until a four-point play that gave the Bears a 69-67 lead with 4:40 remaining. It started his run of eight points in 45 seconds, and third-seeded Baylor never trailed again.
''I just had to pick it up,'' Lecomte said. ''I was struggling a little bit in the first half and I just had to pick it up. My teammates and my coaches did a great job. They kept believing in me, they kept me in the game, they trusted me with the ball in my hands, and I just had to go out there and make plays.''
Terry Maston scored 19 points and King McClure added 17 and for the Bears (27-7), who advanced to play seventh-seeded South Carolina, which beat second-seeded Duke, in the Sweet 16 in New York.
The Bears won despite Motley's foul trouble. He fouled out with 1:39 remaining and the game still in doubt.
''I thought if I could be out there, we had a good chance to win,'' Motley said. ''And they kept telling me, `We got you, we got it, we're going to finish this game,' and they did.''
USC coach Andy Enfield said Baylor's depth was the difference.
''They went small with Motley out of the game and they relied on other people and they stepped up,'' he said. ''Their point guard stepped up and scored down the stretch and Maston had a big game. When your leading scorer goes out, it's an opportunity for other players sometimes to score the ball, and that's what they did.''
Chimezie Metu scored 28 points and Bennie Boatwright added 16 for USC (26-10), which was trying to make its first Sweet 16 appearance since 2007.
''This was a game that was there for the taking if we would have executed down the stretch,'' Enfield said.
BIG PICTURE
USC: The Trojans posted a school record with 26 wins and they have no senior starters. Enfield has reinvigorated the program since arriving on campus in 2013. Last season's trip to the NCAA Tournament was the school's first since 2011. The Trojans were trying to become the fourth team that played in the First Four to reach the Sweet 16.
Baylor: The Bears got off to a 20-1 start and were ranked No. 1 in the country before reeling down the stretch. They got back on track in a 91-73 win over New Mexico State in the first round of the NCAA Tournament and appear to be rolling now.
POWER GAME
Baylor outrebounded the Trojans 34-23 and held them to six offensive rebounds, including one in the first half, to help offset their 55 percent shooting. Baylor also showed its inside strength in the scoring column, moving away from the 3-pointers it shot so frequently in the first half and making 13 of 21 shots inside the arc in the second half.
STAT LINES
McClure made 6 of 10 shots, including 5 of 8 3-pointers for the Bears, to add balance to the offense.
QUOTABLE
Baylor coach Scott Drew on a conversation with Enfield: ''I actually joked with Andy, I said, `You want to be up at halftime?' and he said, `No, I want to be down.' We knew it was going to come down to the last couple of minutes of the game, who could make the key defensive stops. I thought we really did a better job of executing down the stretch when it really mattered most.''
UP NEXT
Baylor will play South Carolina in the Sweet 16 in New York.
---
More AP college basketball: www.collegebasketball.ap.org and https://twitter.com/AP-Top25 .
---
Follow Cliff Brunt on Twitter: www.twitter.com/CliffBruntAP.
---
---