Iowa State Cyclones
Iowa State Cyclones
Morris leads Iowa St. over Oklahoma St. (Jan 11, 2017)
Published
Jan. 12, 2017 12:34 a.m. ET

STILLWATER, Okla. (AP) Monte Morris scored a career-high 30 points and added five rebounds, five assists and four steals to help Iowa State beat Oklahoma State 96-86 on Wednesday night.
Matt Thomas scored 19 and Nazareth Mitrou-Long contributed 17 points, six rebounds and four assists for the Cyclones (11-4, 3-1 Big 12), whose only conference loss was a 65-63 nail-biter at No. 2 Baylor on Jan. 4. It was Iowa State's eighth-straight win over Oklahoma State.
''Your best player has to play well on the road to win, and when we needed him tonight, he was good,'' said Iowa State coach Steve Prohm of Morris, who played 39 minutes and has just two turnovers in his last six games. ''He was good all night. It was a special performance, and he was at his best when we needed him. That's what defines great players.''
Phil Forte scored 24 points and Jeffrey Carroll had 21 points and seven rebounds for Oklahoma State (10-6, 0-4). The Cowboys lost their fourth straight and coach Brad Underwood remains stuck at 99 career wins.
It's the first time since 1995-96, when they began 0-5 in the old Big Eight, that OSU has lost its first four conference games.
''We got to get better,'' Underwood said. ''I'm not changing who I am and we're going to keep fighting and keep pushing forward. That tenacity and that bulldog mentality, not there yet.''
Forte's 3-pointer with 9:21 remaining put Oklahoma State ahead 67-62, but the Cyclones responded with a 17-4 run over the next six minutes, with eight consecutive points from Morris, to seize control.
''They made plays, made big shots and give them the credit, but we got to finish games,'' said Forte, who made 9 of 11 from the field, including 4 of 6 from 3-point range. ''Every game is going to come down to that in the Big 12 and we got to figure out a way to close them, get that rebound, get that stop. We gave up too many points. When you score 86 points, that should be enough to win a game.''
BIG PICTURE
Iowa State: Coming off a nine-point win over Texas, Iowa State looked strong early, endured a mid-game lull in which it allowed Oklahoma State to get back in the game, then surged to regain control over the final 10 minutes. Morris, Thomas and Mitrou-Long each had stretches where they appeared unstoppable. Morris, who had 22 points, 10 rebounds and six assists in the Cyclones' 79-70 win over Texas on Saturday, has been particularly impressive lately.
Oklahoma State: The Cowboys displayed impressive resilience bouncing back from an 11-point first half deficit to make it competitive, going ahead by as much as five late in the second half. But OSU was unable to close the deal and needs to demonstrate better consistency. After losing their previous two games by a combined seven points, including a 61-57 loss to No. 2 Baylor, this team has the talent, it just needs to put it all together for a full game.
STAR WATCH
Oklahoma State point guard Jawun Evans entered the day as the Big 12's second-leading scorer (18.9 points per game), while also ranking fourth in assists (5.1) and third in steals (2.1), but had a difficult night for the second straight contest. Evans was just 4-for-14 shooting and finished with 12 points - although he did have seven assists and one steal. In his previous outing against No. 2 Baylor, Evans was 2-for-12 shooting for eight points, with three assists and one steal.
STAT OF THE NIGHT
Each team shot over 50 percent from the field. Oklahoma State, which entered the game ranked fourth in the nation in scoring (91.0 points per game), shot 53.1 percent (34 for 64), their third-best shooting night of the season and highest in 12 games. Iowa State shot 52.2 percent (36 for 69), their fourth-best total of the year and best in Big 12 action. With 6:55 left in the first half, and the Cyclones ahead 36-28, each team was shooting at least than 65 percent.
UP NEXT
Iowa State is back on the road, traveling to Fort Worth on Saturday to take on TCU, which beat Texas 64-61 on Wednesday.
Oklahoma State moves on to the next significant challenge, facing No. 2 Kansas on the road on Saturday.
---
---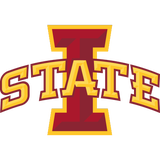 Get more from Iowa State Cyclones
Follow your favorites to get information about games, news and more
---