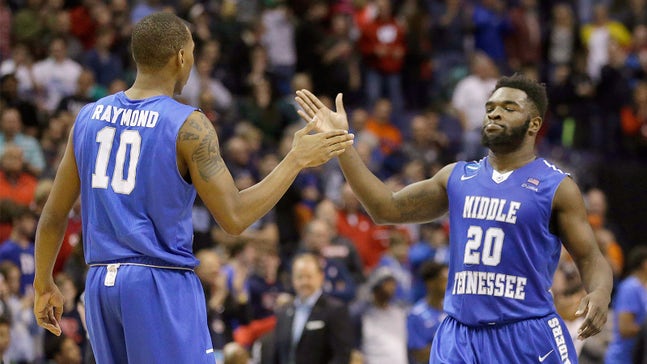 Middle Tennessee State's upset rivals the biggest ever in the NCAA tourney
Published
Mar. 18, 2016 5:18 p.m. ET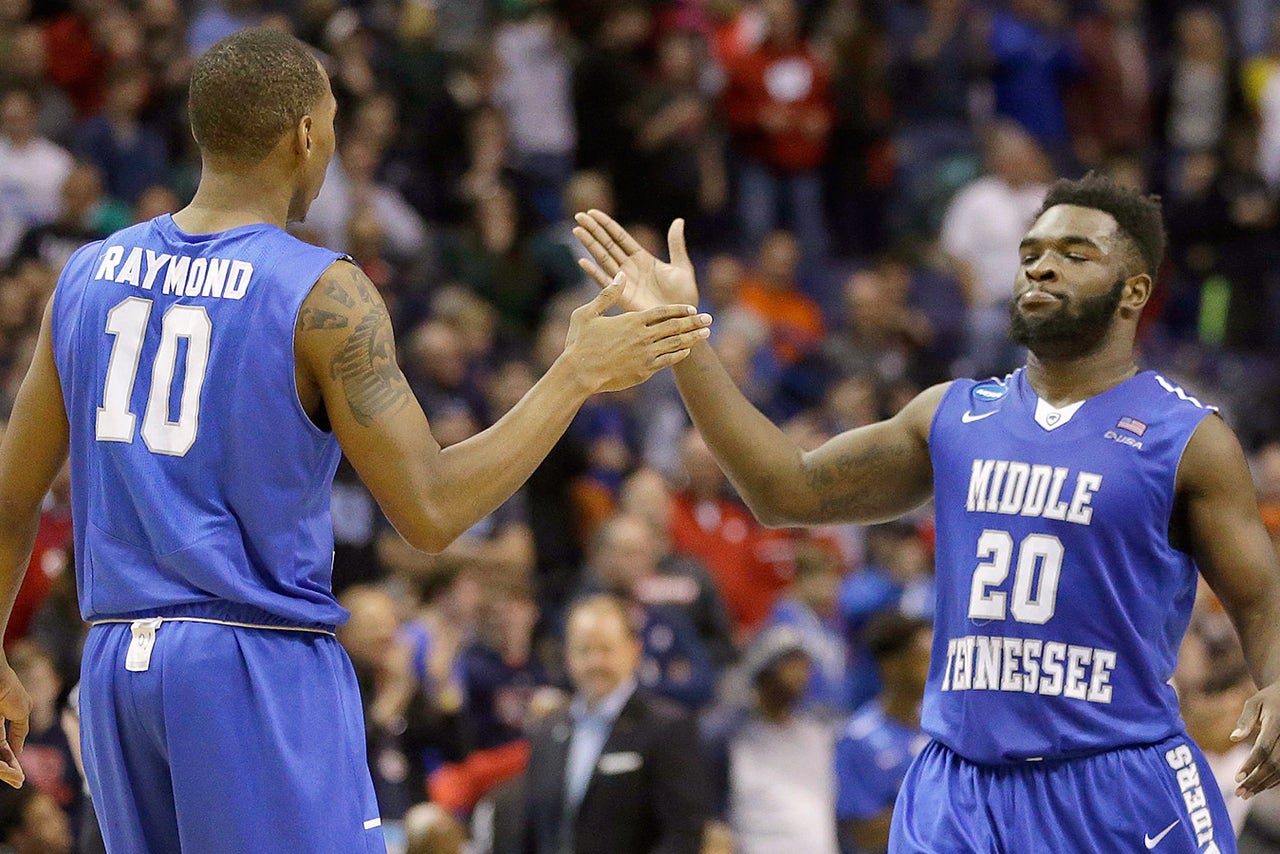 Don't be alarmed if you look out your window Friday afternoon and see a fire breaking out. Millions of NCAA tournament brackets across the country simultaneously burst into flames when Middle Tennessee State knocked out mighty Michigan State in the 2016 first round.
How shocking was the 15th-seeded Blue Raiders' 90-81 victory in Saint Louis? I'd say it's easily the tourney's biggest upset in at least 20 years, dating back to 13th seed Princeton's 1996 classic over defending champion UCLA. And you could make a compelling case it is in fact the biggest of all-time.
Call that hyperbole if you want. I call it insanity.
Heading into Selection Sunday, Big Ten tournament champion Michigan State was a near universally assumed No. 1 seed, though the committee ultimately disagreed. The 29-5 Spartans checked in at No. 2 behind only Kansas in the most recent AP top 25, and Vegas gave Michigan State the second-best odds to cut down the nets in Houston.
By comparison, 24-9 Middle Tennessee of Conference USA was at No. 117 in Sagarin and No. 123 in KenPom.
Oh, and Michigan State is led by arguably the best tourney coach in the sport, Tom Izzo. Middle Tennessee is coached by Kermit (Davis).
Buster Douglas had a better chance.
Yes, there have been seven 15-over-2 upsets before, and a couple were bigger underdogs than Middle Tennessee at 17.5 points.
But sorry, 21.5-point underdog Norfolk State over Missouri in 2012 was not as crazy as this. Many considered the Frank Haith-coached Tigers a fraud.
Lehigh over Duke that same year carried more shock value, but that was hardly one of Mike Krzyzewski's best teams.
Hampton over Iowa State (2001)? Coppin State over South Carolina (1997)? Few saw those coming, either. But those favorites didn't carry the same aura as this Michigan State team.
Izzo won a national championship in 2000 and been to seven Final Fours yet this team had all the ingredients to be his best yet. It boasted the likely national player of the year in Denzel Valentine. The Spartans came in having won nine straight and 13 of their last 14.
And yet the Blue Raiders flat out beat them down. Someone named Reggie Upshaw completely stole Valentine's thunder. All five MTSU starters scored in double figures against one of the nation's top defensive teams. And you could throw together a pretty good highlight reel of all the Blue Raiders' dunks.
I happened to cover one of the biggest upsets in tourney history, George Mason's 2006 Elite Eight win over No. 1 Connecticut. That one obviously carried more weight both because of the stakes and the historic significance of a mid-major reaching the Final Four.
But by then, Mason had already beaten Michigan State and North Carolina. You knew the Patriots were pretty good. Ditto VCU by the time it knocked out Kansas in the same round five years later.
Unless you're a diehard Conference USA fan you had no reason to give a passing thought to MTSU. Even many of them likely didn't either given the Blue Raiders did not win their conference. UAB did.
Is it the biggest tourney upset of all-time? Maybe, but there's some recency bias involved there. Richmond over Syracuse in 1991 carried the shock value of the first-ever 15 over 2. Villanova-Georgetown in '85 remains the most inexplicable championship result of all-time.
At the least, we hadn't seen anything this improbable in at least two decades.
So forget about your now-scorched bracket and simply celebrate having witnessed history. 
---