Malik Monk emerges as a star as Kentucky picks up a wild win over UNC
BY Aaron Torres • December 19, 2016
LAS VEGAS -- The gift and the curse of college basketball is that with so many talented players shuttling into and out of the sport on an annual basis, you never know who the next star will be, where they might come from, or when they'll emerge.

Part of the charm comes when that star does, actually arrive. College basketball fans were given that treat on Saturday, when Kentucky freshman Malik Monk had a game for the ages against North Carolina. Monk set a UK freshman record with 47 points – including the game-winning 3-pointer with 19 seconds left – to lift the Wildcats to a wild, 103-100 victory in what might be looked at as the game of the year.

Yes, you read that correctly: 103-100, and for those who say that "college basketball doesn't matter until March" they should have been in the T-Mobile Arena. With blue-blood teams with huge fan-bases, the arena had the feel of an NCAA tournament game. Both groups of fans were rowdy from the start, and so too were the players and coaches. Don't believe me? Just ask Roy Williams' sport coat.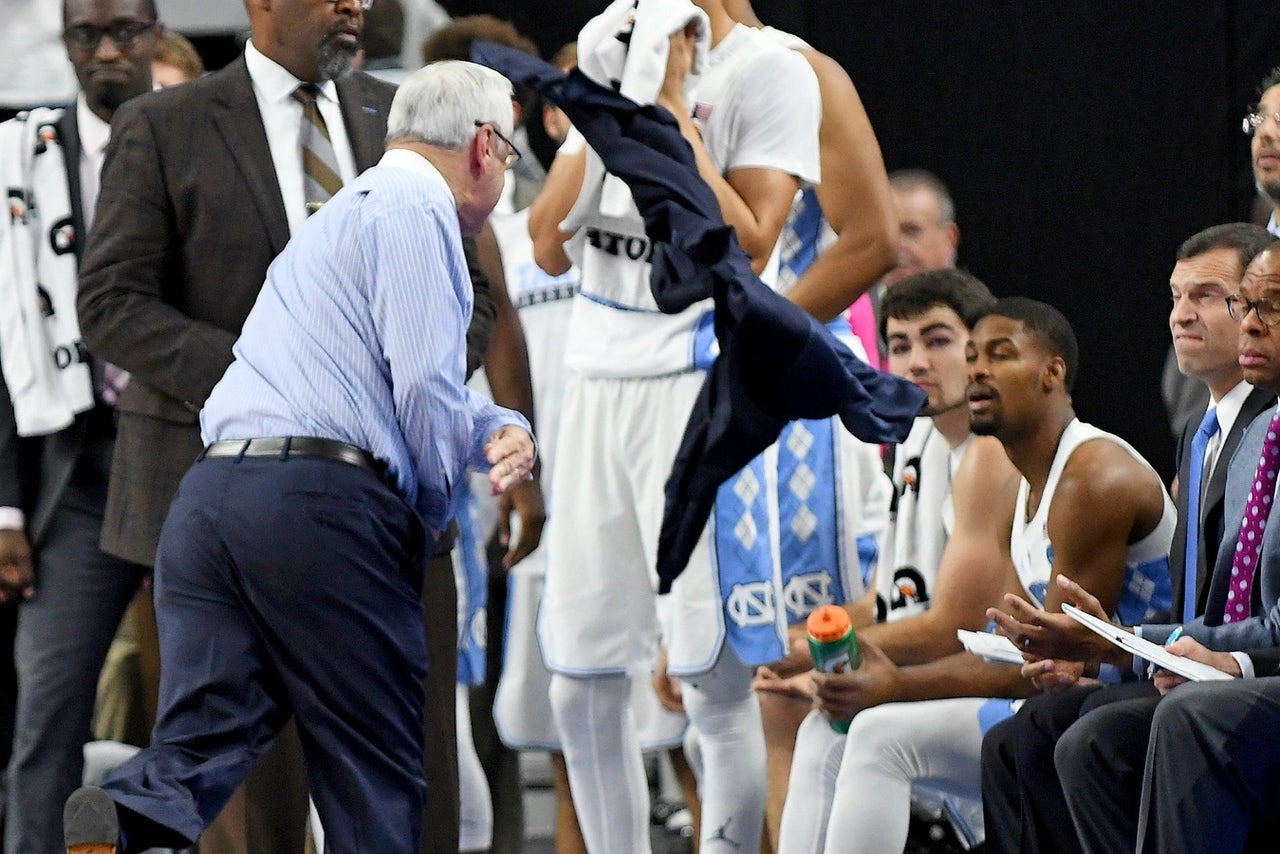 Frankly it was hard to blame Williams, as Monk was nearly unstoppable virtually the entire game.  From the first possession it seemed like every time he touched the ball, he got a bucket. He finished the first half with 27 points, and did it on 10 of 16 shooting, including four 3-pointers. Monk's teammate De'Aaron Fox summed up his teammates' performance splendidly.

"It was like 11 minutes left in the first half, and I looked up and I was like he has 19," Fox said after the game. "After he hit that shot, I was like, man, Malik's crazy."

Despite Monk, seventh-ranked North Carolina (10-2) trailed by just five at halftime, and really, that's how the entire second half went. Every time Kentucky would make a run and push it to an eight- or 10-point lead, the Tar Heels would figure out a way to get back in the game.

And despite the Tar Heels most important player – guard Joel Berry – struggling with foul trouble, North Carolina was able to wrestle the lead from Kentucky late. After Justin Jackson – who had a great game, finishing with 34 points – hit a 3-pointer to make it 98-95, Monk came back down and hit a "3" of his own to tie things up at 98. Jackson then proceeded to get an "and one" bucket, to give the lead back to Carolina, and even after he missed a free throw, a tip-out gave North Carolina the ball back with 40 seconds left.

At that point it seemed like somehow, inconceivably Kentucky (10-1) would lose a game it had controlled. In a flash, that all changed. Carolina missed a shot and guard De'Aaron Fox pushed the ball upcourt. He found Monk in the corner who hit another "3, his eighth of the game for a 101-100 lead. North Carolina missed a shot on the next possession and Kentucky got the rebound with a second left. Just like that, the game was essentially over. The sixth-ranked Wildcats had won, lost and won the game all in a blink.  The Wildcats faithful went crazy, as the final buzzer sounded, hanging out in the arena to soak up every second of the wild win. Carolina trudged out of the arena, with Williams admitting, "It was a heck of a college basketball game if you don't care who won. But I do care who wins."

https://twitter.com/Money23Green/status/810283342037778432

And that's the funny thing about this game: While it's a long way to March, the game did matter for both teams, especially Kentucky. The Tar Heels have a couple signature wins – most notably over Wisconsin in the Maui Invitational – but it was the opposite for the Wildcats. In their biggest game to date, they got beat on their own home court, in a game that UCLA simply outhustled and outworked them.

It also raised the question for many: If Kentucky couldn't beat Carolina were they really a national championship contender? Or just a good team beating up on inferior opponents?

John Calipari admitted as much.

"The game with UCLA wasn't close. They killed us," he said. "This game was what a game should be. They make a play, you better make one. They miss a shot, you better come up with one, and you can't panic."

No the Wildcats didn't panic, and yes, they have picked up their first signature win of the season.

And it was thanks to Malik Monk, college basketball's newest superstar.
---