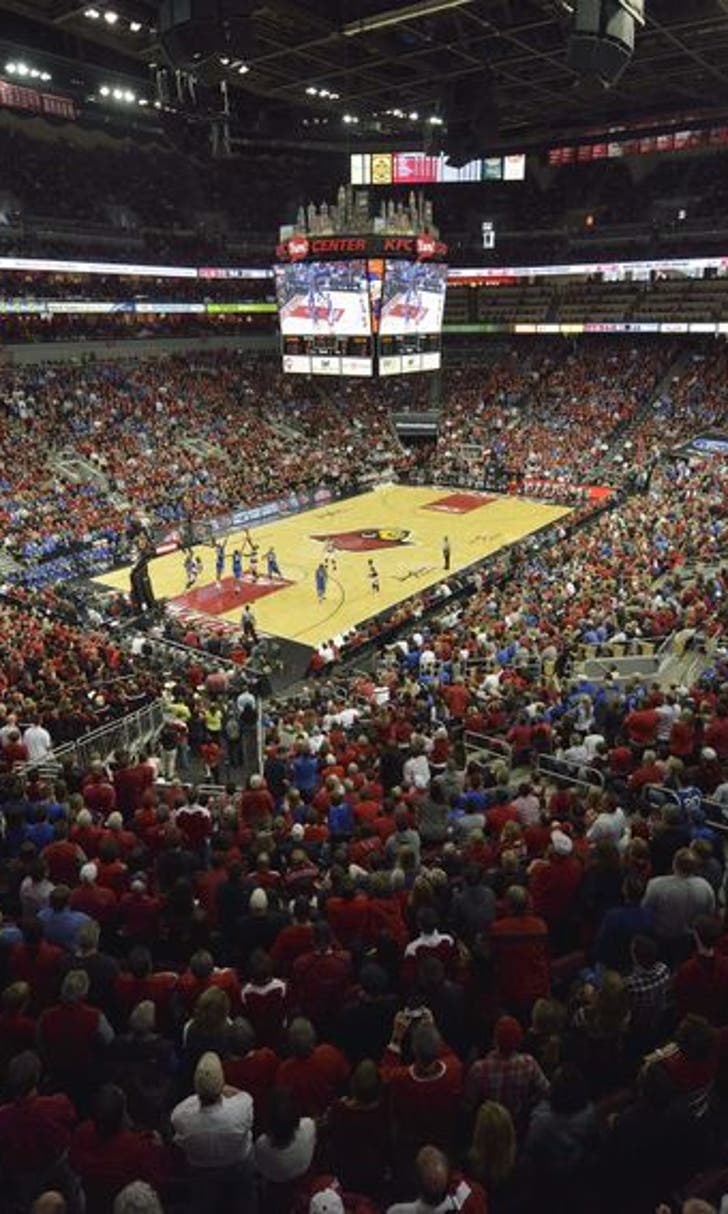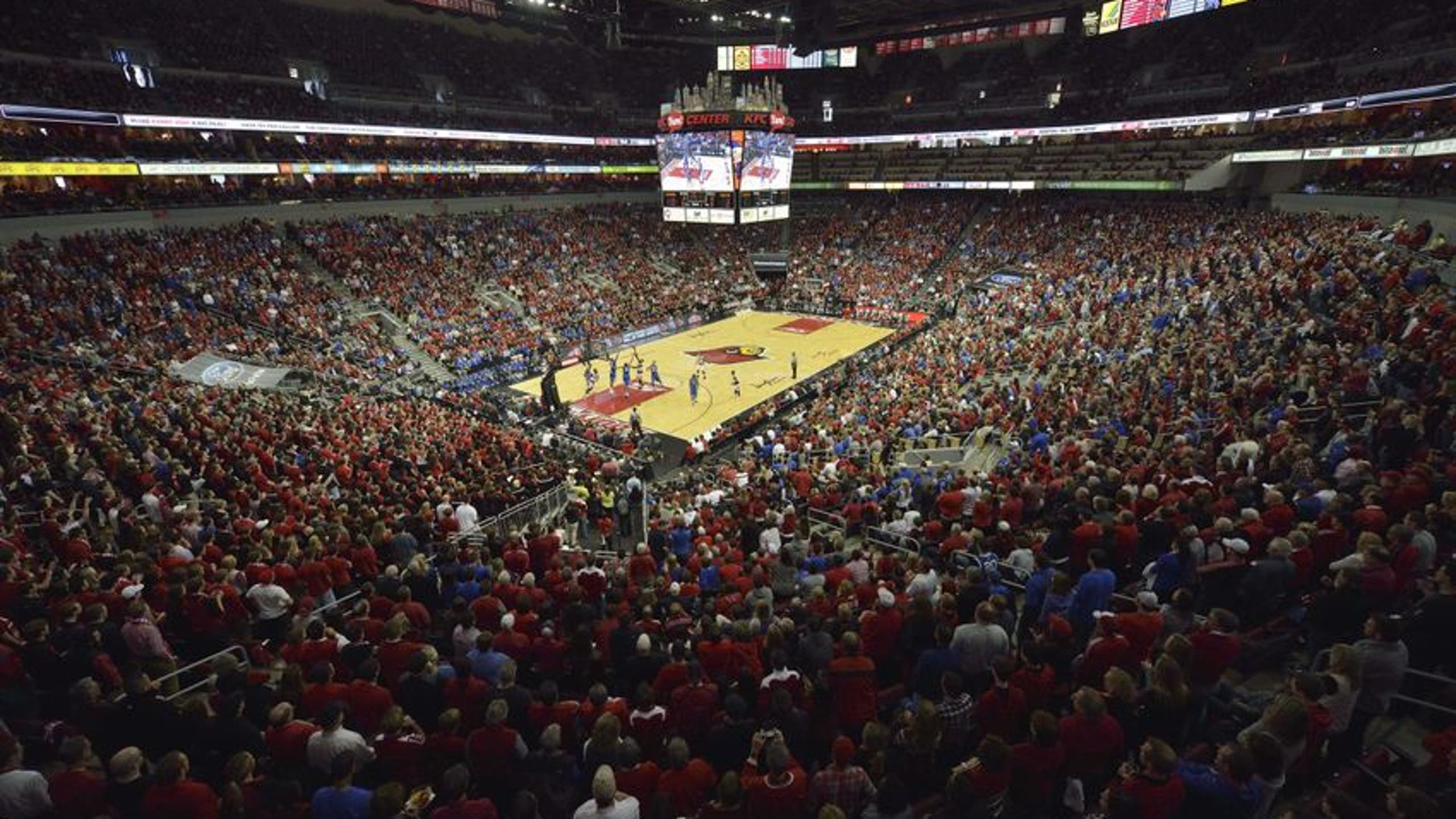 Louisville Basketball: Previewing The Cards Brutal Next Five Games
BY Fansided and Derek Snyder/FanSided via Big Red Louie • December 16, 2016
We take a look at these five next brutal games for the Louisville basketball team and what fans should expect to see from those match-ups.
The Louisville basketball team is about to head into the toughest five-game stretch of their season. They have been playing great defense this year and it looks as though their shooting may be coming around. However, they will need to be at their best to make it out of this month of December.
It's not that The Cards don't have the talent to pull it off, we are just concerned with the toughness of these five consecutive games.
With that being said, Louisville has a great head coach in Rick Pitino and he will have his squad ready.
Dec 21, 2015; Morgantown, WV, USA; Eastern Kentucky Colonels guard Paul Jackson (2) dribbles up the floor during the first half against the West Virginia Mountaineers at the WVU Coliseum. Mandatory Credit: Ben Queen-USA TODAY Sports
Eastern Kentucky Colonels at #11 Louisville Cardinals
This is easily Louisville's most winnable game over this five game stretch. The Colonels are currently 6-5, but have won four out of their last five games. Led by leading scorer Nick Mayo, Eastern Kentucky will be looking to take down a Louisville team on the road on Saturday afternoon.
2016 Wins: IUPUI, Idaho State, Berea, Western Kentucky, Marshall, and Jacksonville
2016 Losses: UNC Wilmington, Auburn, Texas Tech, Georgia State, and Ball State
Again, there shouldn't be any concern about if this is a team that can come into the Yum Center and beat Louisville.
EKU hasn't been able to play with higher level competition this season and I use that term very lightly.
Auburn and Texas Tech beat the Colonels by an average of 20 points, therefore you should expect the same performance from Louisville on Saturday.
Nov 13, 2016; Lexington, KY, USA; Kentucky Wildcats guard De
#6 Kentucky Wildcats at #11 Louisville Cardinals
Out of all the games that Louisville will be playing at the end of the month, I feel like this is going to be the hardest one to win. As Cardinals fans, we just had to admit, John Calipari just has Rick Pitino's number. The Wildcats have won four games in a row in the series and look primed to beat the Cards again this season.
2016 Wins: Stephen F. Austin, Canisius, #13 Michigan State, Duquesne, Cleveland State, Tennessee-Martin, Arizona State, Valparaiso, and Hofstra
2016 Losses: #11 UCLA
What you need to keep in mind is that those rankings above reflect when the two teams played. For example, UCLA is now the second ranked team in the country after beating Kentucky a few weekends ago.
With that being said, as talented as this UK team is, they have played a cupcake of a schedule so far in 2016. Michigan State has turned out to be awful, as they are currently unranked and you would be hard-pressed to find a legit win after that one.
If there is any reason to bash the Cats, it's that they haven't performed great against a high-level team yet this season.
Nov 30, 2016; Charlottesville, VA, USA; Virginia Cavaliers guard London Perrantes (32) reacts after making a three-point field goal against the Ohio State Buckeyes in the second half at John Paul Jones Arena. The Cavaliers won 63-61. Mandatory Credit: Geoff Burke-USA TODAY Sports
#13 Virginia Cavaliers at #11 Louisville Cardinals
The good news for Louisville is that they get to play Virginia in the Yum Center. If there is any light in this five game tunnel, it's that three of the five games will be played in front of the home crowd. However, against Virginia, it doesn't matter where the games is played, the Cavaliers can flat-out get the job done anywhere.
2016 Wins: UNC Greensboro, St. Francis, Yale, Grambling State, Iowa, Providence, Ohio State, and East Carolina
2016 Losses: #25 West Virginia
Virginia actually has played a pretty good slate of opponents in the first parts of this season. While there aren't many elite teams on their resume, they have played some teams that will be making the tournament this season.
Like Kentucky, their only loss of the season came against a ranked opponent. West Virginia is currently ranked 12th in the country, just one spot below the Cardinals.
Who knows, maybe playing Kentucky a week before this match-up will prepare the Cards for an even tougher defensive battle against the Cavs.
Nov 30, 2016; Bloomington, IN, USA; Indiana Hoosiers coach Tom Crean coaches on the sidelines against the North Carolina Tar Heels at Assembly Hall. Indiana defeats North Carolina 76-67. Mandatory Credit: Brian Spurlock-USA TODAY Sports
#11 Louisville Cardinals vs. #9 Indiana Hoosiers
This is probably second on the list of games that the Cardinals should struggle with over the next five games. However, there is some good news. This game will be played at a neutral site court in Bankers Life Fieldhouse in Indianapolis.
2016 Wins: #3 Kansas, UMass Lowell, Liberty, Mississippi Valley State, #3 UNC, SIU Edwardsville, Southeast Missouri State, Houston Baptist
2016 Losses: Fort Wayne
Indiana is one of the most complex basketball teams in the entire country. I don't even know who someone loses to Fort Wayne, but beats North Carolina and Kansas in the same three weeks.
With that being said, what we've learned is that Indiana can play with the best teams in America, while also being vulnerable to the upset.
They can shoot the basketball with amazing success, but let's see how they handle the pressure of Louisville's defense on December 31st.
Nov 21, 2016; Brooklyn, NY, USA; Notre Dame Fighting Irish forward Bonzie Colson (35) reacts against the Colorado Buffaloes during the first half of the first game of the Legends Classic at Barclays Center. Mandatory Credit: Brad Penner-USA TODAY Sports
#11 Louisville Cardinals at #21 Notre Dame
This 9:00pm game is going to be playing in front of thousands of screaming Fighting Irish fans in South Bend. Louisville better be ready to succeed in that environment, or this Notre Dame squad could send them home packing early in the game. However, this won't be Louisville's first rodeo, they should be just fine.
2016 Wins: Bryant, Seattle, Loyola, Colorado, Northwestern, Chicago State, Iowa, North Carolina A&T, and Fort Wayne
2016 Losses: #1 Villanova
Well, at least Notre Dame beat Fort Wayne. In all seriousness, this is a very good Fighting Irish basketball team that nearly knocked off the defending National Champions on the road last Saturday.
These guys are experienced and can shoot the basketball very well. Something will have to give in this matchup between a top offense and a top defense.
More from Big Red Louie
This article originally appeared on
---
---