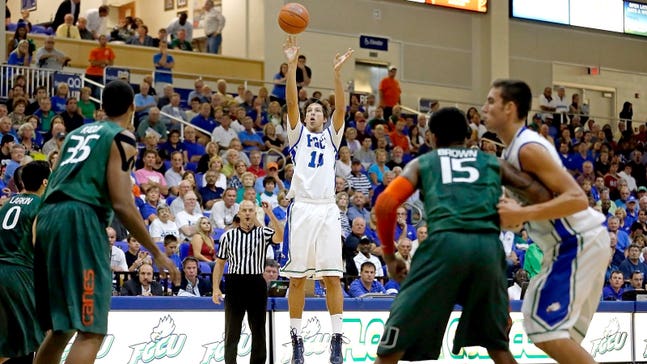 Lone holdover from FGCU Dunk City NCAA run hopes Eagles will soar again
Published
Mar. 16, 2016 4:17 p.m. ET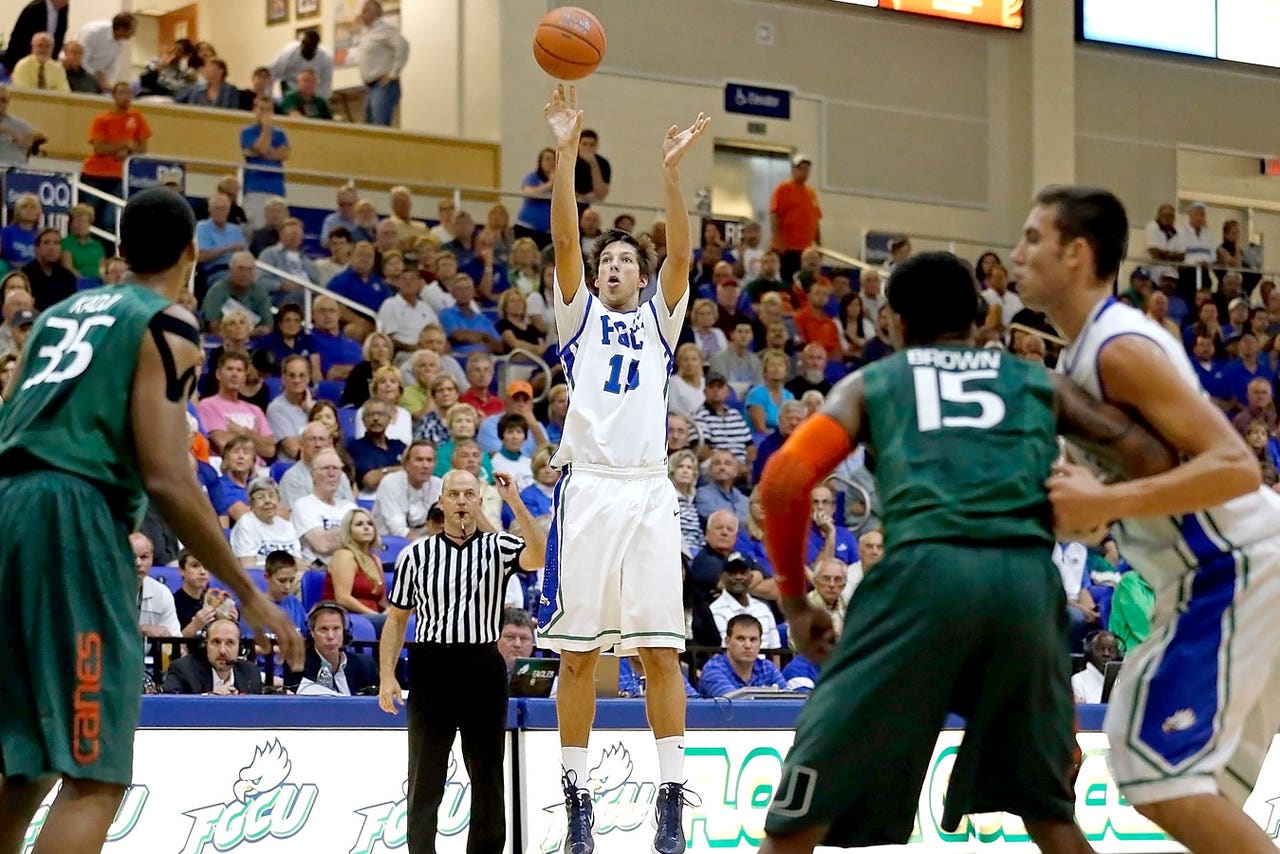 Virtually everything about the Florida Gulf Coast basketball team has changed since it became the first 15-seed to reach the Sweet 16 during its memorable 2013 NCAA tournament run.
Everything, that is, except Filip Cvjeticanin.
Less than two weeks after the Eagles toppled No. 2 Georgetown and No. 7 San Diego State on their historic run to the tournament's second weekend, head coach Andy Enfield left for the same job at USC. And in the time since former Kansas assistant Joe Dooley took over, the roster -- like the team's playing style -- has seen a complete overhaul thanks to graduation and transfers.
But the Croatian sharpshooter Cvjeticanin remained, and now, three years later, the lone holdover from the Dunk City team that captured the country's imagination is hoping for a more impressive second act.
"I always try to explain to the guys how it's going to be and what to expect," the 6-foot-9 senior told FOX Sports in a phone interview Wednesday. "But for me personally, it's pretty much the same feeling I had three years ago. It's an amazing feeling every time you win, and you do your best to try to prepare for the next game."
Technically, Florida Gulf Coast's second trip to the NCAA tournament started Tuesday in Dayton, Ohio, when it routed Fairleigh Dickinson 96-65 in a First Four play-in game.
A 16-seed, the Eagles then traveled to Raleigh, N.C., where they will face top-seeded North Carolina on Thursday. A 16 has still yet to beat a 1 in the three decades since the men's tournament expanded to 64 teams -- it's happened once in the women's game --€" but Cvjeticanin isn't ruling out his team becoming the first.
"We're just going to try to do our best," said Cvjeticanin, who has averaged 4.5 points in 31 games this season. "We don't really feel any pressure because, 'Oh, we're a 16-seed and we're supposed to beat a really high seed again.' I just think we just kind of want to get ready as best we can and give ourselves the best opportunity to win.
"And if we play the best we can --€" if we play how we're really, really capable --€" and then lose, then we at least can say we tried our best and did what we could."
In 2013, Cvjeticanin was a sophomore and appeared in each of Florida Gulf Coast's three tournament games, including the Eagles' eventual loss to 3-seed Florida. It was an experience he still calls the best moment of his college career so far.
"It was amazing," Cvjeticanin said. "Nobody expected us to do that, but we truly believed in ourselves and believed that we could make that run, and that makes it a great story. Three years ago, everybody was like, 'Who the hell is Florida Gulf Coast?' but we really didn't care because we were just happy to be there and we were happy to have the opportunity that we had."
The following season, Cvjeticanin averaged 6.8 points and 2.7 rebounds as FGCU's NCAA tournament bid ended with a loss to Mercer in the finals of the Atlantic Sun tourney. Cvjeticanin then missed the entire 2014-15 season as he recovered from offseason back surgery, but he returned this year as one of two seniors -- the other, Julian DeBose, is a transfer -- on a team that is 21-13.
Cvjeticanin made three 3-pointers in an 11-point effort during the Eagles' win over top-seeded North Florida in the A-Sun semifinals, and his skills from long distance are the type that could help even the playing field against an overwhelming favorite like North Carolina. Unfortunately for Florida Gulf Coast, the Tar Heels will be playing in front of a virtual home crowd, so Cvjeticanin doesn't expect the kind of overwhelming support the team got in 2013.
"There's definitely going to be people who are like, 'Oh look, it's Florida Gulf Coast again,' but I doubt that there are fans who have been rooting for us ever since," Cvjeticanin said. "Of course when they see our name, they'll remember, 'They were a part of that great run,' so they'll probably follow us to see how we'll do again, but that's about it."
Of course, that will change quickly if Florida Gulf Coast can do the unthinkable once again. And while Cvjeticanin is not exactly game-planning yet for a potential second-round game against his old coach and USC, an 8-seed in the East region, he'd certainly revel in the opportunity, if only because a win over Carolina would give him a memory that would even top 2013.
"Every time you get a chance to do something big like that, it's a really big deal," Cvjeticanin said of a potential upset. "So I think we need to treasure this moment."
You can follow Sam Gardner on Twitter or email him at samgardnerfox@gmail.com.
---
---