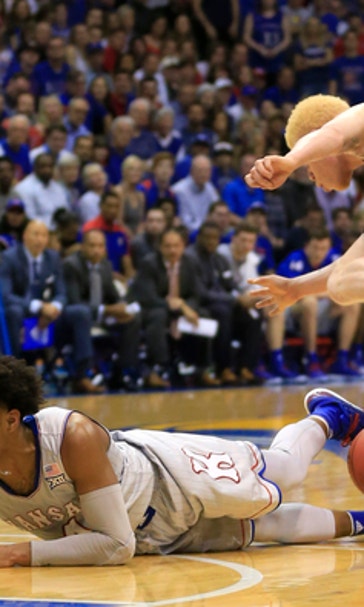 Kansas guard Graham apologizes after traffic warrant arrest
February 23, 2017

KANSAS CITY, Mo. (AP) Kansas guard Devonte Graham apologized Thursday for his arrest on a traffic-related warrant hours after helping the third-ranked Jayhawks to a record-tying 13th consecutive Big 12 Conference title with a win over TCU.
The school said in a statement that Graham was arrested Wednesday night for failing to appear in court last July after being ticketed for driving with an expired license plate. He was later freed on bond.
Graham said he was driving an ex-teammate's car and thought the ticket had been paid, leading to what he calls his ''inattention'' to a notice he received requiring him to appear in court.
''That's on me, and I apologize to everyone. I learned a lesson the hard way,'' added Graham, a 6-foot-2 junior averaging 13.1 points this season.
Coach Bill Self said Graham ''made a mistake,'' and that ''this is why we tell our guys to inform us when they receive a citation, no matter how minor.''
''For their sake we don't want something so minor to become a story,'' Self said in the statement released through the school's athletics department.
Self, during a conference call with coaches, said he had no plans to suspend Graham as Kansas (25-3, 13-2 Big 12) prepares to next play at Texas (10-18, 4-11) on Saturday.
Graham had 17 points and seven assists in the Jayhawks' 87-68 victory Wednesday night over the Horned Frogs, helping Kansas clinch at least a share of the Big 12 regular-season title, tying UCLA for the Division I record. Kansas, winner of an NCAA-leading 60th conference crown, can clinch the outright title with a victory Saturday.
Graham's arrest marks the latest off-the-court, shadow-casting legal issue involving the storied basketball program this season.
The bad headlines began weeks ago with news that police are investigating a reported rape at McCarthy Hall, the $12 million dormitory that houses the men's basketball team and other students. No suspects have been identified in connection with the incident the night of Dec. 17. Five members of the team are listed as witnesses, but no charges have been filed.
During the investigation, police uncovered two glass smoking devices with residue inside. Sophomore forward Carlton Bragg Jr. was charged with misdemeanor possession of drug paraphernalia in that case and was briefly suspended before he was granted diversion. Bragg was also arrested in December following an altercation with a woman, but a charge of domestic violence was dropped when video evidence suggested he was acting in self-defense.
Late last month, The Kansas City Star reported that sophomore guard Lagerald Vick may have struck a female student two years ago. The school's Office of Institutional Opportunity and Access investigated the case and recommended he receive school probation.
The Star also reported that Jackson and Vick have been named as persons of interest in connection with an incident in December, when a vehicle sustained nearly $3,000 in damage outside a Lawrence bar.
---
More AP college basketball: www.collegebasketball.ap.org and https://twitter.com/AP-Top25
---
---