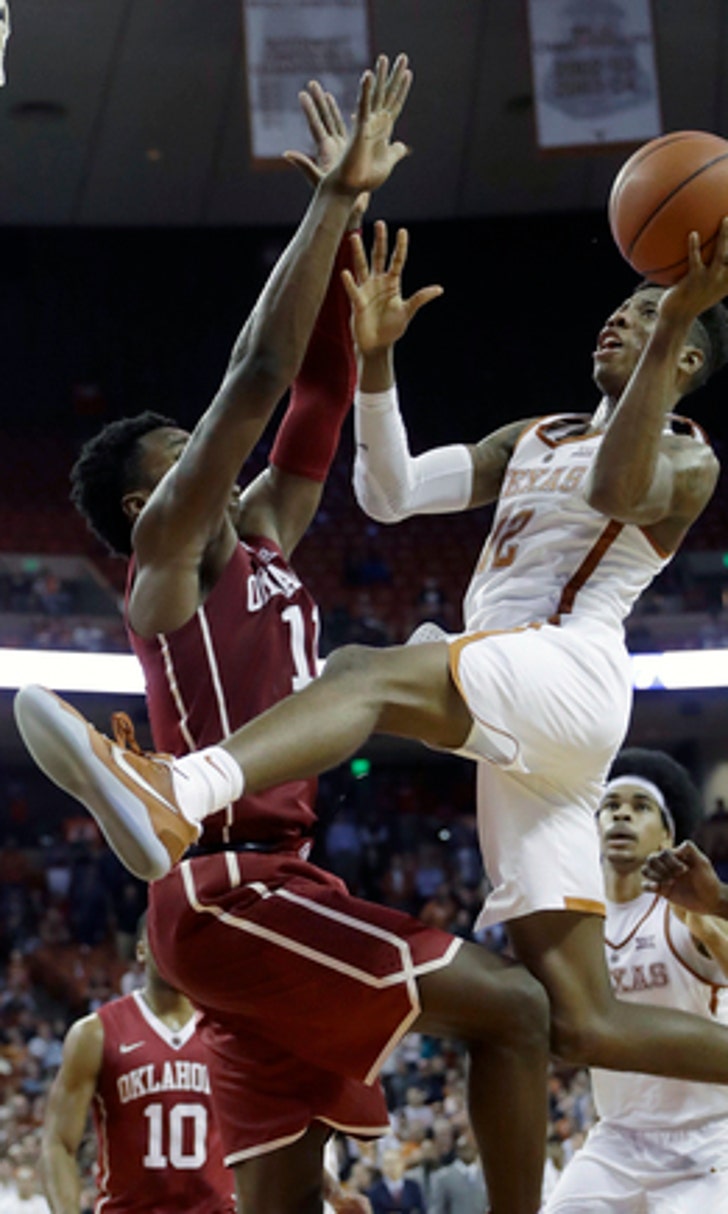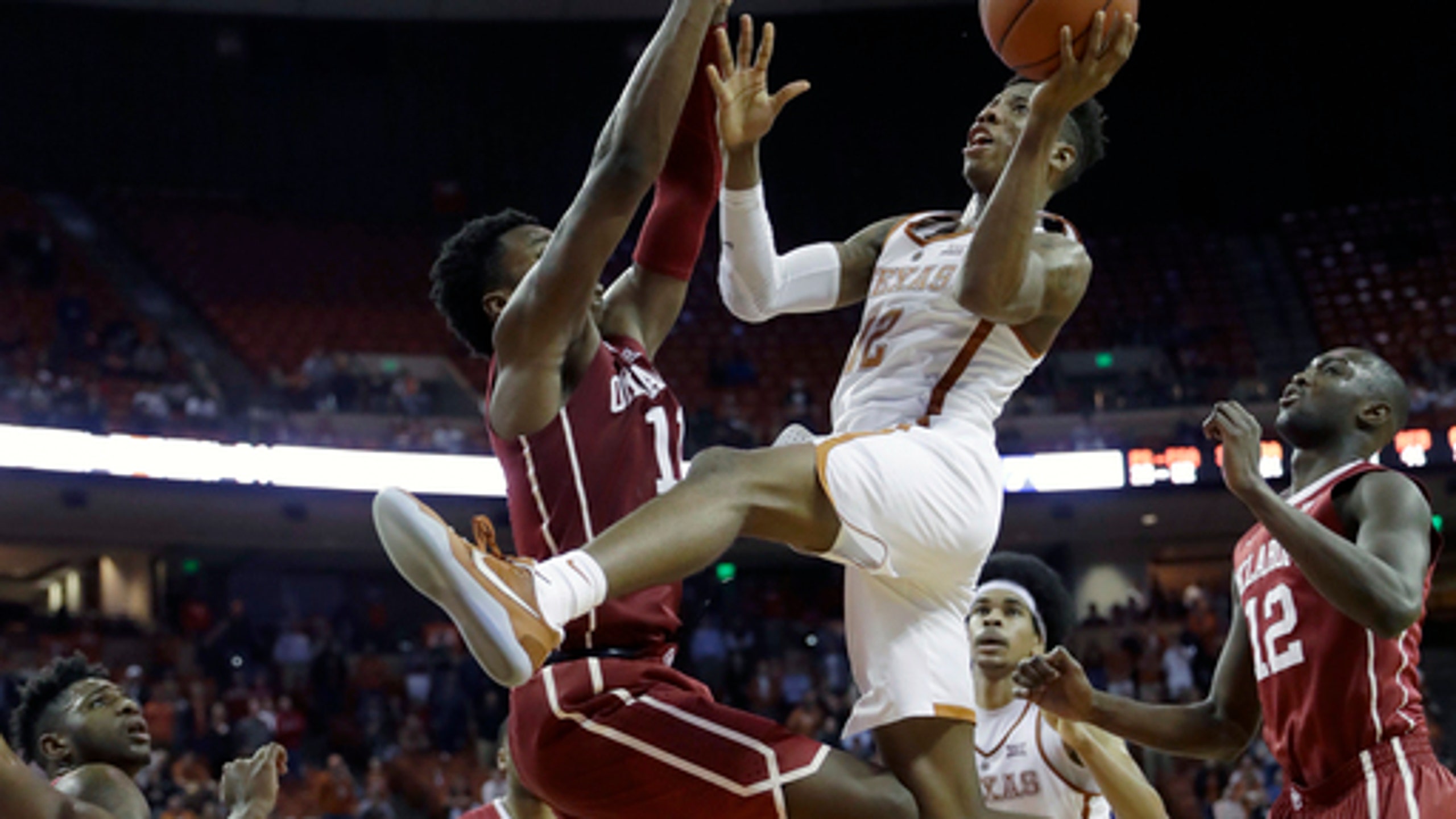 Jones hits 3 with 1.8 left, Texas beats Oklahoma 84-83 (Jan 23, 2017)
BY AP • January 24, 2017
AUSTIN, Texas (AP) Andrew Jones had no idea how far behind the 3-point line he was stationed as he released the shot. But he knew this: far enough to avoid interference.
Jones made a 25-foot basket with 1.8 second remaining, and Texas pulled off a miraculous 84-83 win over Oklahoma Monday night to snap a five-game losing streak.
The 6-foot-4 freshman, guarded tightly by 6-foot-7 Kristian Doolittle, launched his attempt from about four feet behind the line with.
''I just knew I had enough space away from him to he couldn't touch the shot,'' Jones said. ''When it left my hand, it felt really good.''
The Sooners (8-11, 2-6 Big 12) led by five points after a 7-0 push, but Eric Davis Jr. made a 3-pointer for Texas (8-12, 2-6) with 11.5 seconds left. Oklahoma's Kameron McGusty missed two free throws before Jones hit the winner.
''He had some arc on the ball,'' Doolittle said. ''I thought I was there on the release. Congrats to him. I know he's gonna cherish this for a long time.''
Senior Shaq Cleare led Texas with a career-best 23 points. Davis scored 18, and Jones added 16. He converted all three of his 3-point shots, grabbed eight rebounds and had three steals.
Texas coach Shaka Smart appreciates Jones' confidence.
''He knows he's good,'' Smart said. ''We need that.''
Doolittle, a freshman, led Oklahoma with a career-best 29 points. McGusty, also a freshman, scored a career-high 21.
The Longhorns took double-figure leads five times during the second half and led by 10 with nine minutes remaining. But Doolittle and McGusty kept Oklahoma in the game.
Texas led 41-39 at halftime despite receiving nothing offensively from its hottest player recently, Jarrett Allen. The freshman forward missed six of seven shots from the field and scored four points, but the Longhorns got 11 points from Cleare and hit five 3-pointers, including three by Davis.
Allen finished with 10 points and 12 rebounds.
Oklahoma's top scorer this season, Jordan Woodard, missed his only shot and played just 10 minutes in the half because of foul trouble. Doolittle had 14 points and McGusty scored eight. Woodard finished with eight points.
''I'm proud of their fight and effort,'' Oklahoma coach Lon Kruger said. ''We'll bounce back.''
BIG PICTURE
Oklahoma: The Sooners have lost nine of their last 11, but freshmen McGusty and Doolittle have scored 113 points in the last three games.
Texas: The Longhorns kept saying they are improving during their five-game losing streak. Now, perhaps, they have some tangible proof.
''We needed this game in the worst way possible,'' Cleare said. ''We never close games.''
DAVIS COMES THROUGH
Davis made a career-best five 3-pointers for Texas, a welcome change for the sophomore guard. He began the night shooting 22.6 percent accuracy from long distance this season, including 5 for 19 his previous five games. Davis hit 38.2 percent of his 3s as a freshman.
UP NEXT
Oklahoma hosts Florida Saturday afternoon in the SEC/Big 12 Challenge. Lon Kruger coached both schools to Final Fours, Oklahoma last season and Florida in 1994. Florida won the only other meeting, in 1995, between the schools.
Texas plays at Georgia Saturday after noon, also as part of the SEC/Big 12 Challenge. Texas is 5-6 against Georgia, including a Longhorn victory in 2003, the last time they met.
---
---