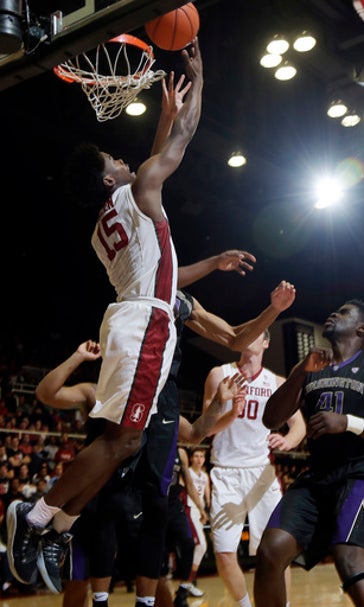 Humphrey paces late run, Stanford beats Washington 76-69 (Jan 14, 2017)
BY AP • January 14, 2017
STANFORD, Calif. (AP) Michael Humphrey needs to play with a chip on his shoulder. That's how he described his play during a critical part of the game.
Humphrey scored eight of his 18 points in the final 3:36 to help Stanford avoid a second-half collapse and beat Washington 76-69 on Saturday night.
''I've played that way in stretches this season,'' Humphrey said. ''Somebody hit my arm and it got me upset. I have to have that kind of attitude.''
The Cardinal (10-8, 2-4 Pac-12) scored 11 straight and closed the game on a 13-6 run. The Huskies (8-9, 1-4) rallied from a 45-24 deficit to tie it at 63 on David Crisp's 3-pointer with 4:15 left.
''He's good when he plays angry,'' Cardinal coach Jarod Haase said.
Crisp finished with 10 points and Markelle Fultz scored 25 of his 34 points in the second half for the Huskies. Fultz was 10 of 17 in the half as he reached his third 30-point game of his career and the first since scoring a season-best 35 against Cal State Fullerton on Nov. 17.
''He got good looks and started shooting over everybody,'' Haase said. ''We all know he's a heck of a player.''
Fultz made a pair of free throws with 12:26 remaining to play to pull the Huskies within 51-43 of Stanford. A little more than a minute later, a Fultz steal and ensuing layup made it 54-49, forcing a Cardinal timeout.
''We scraped and scrapped our way back into the game and gave ourselves a chance to win,'' Huskies coach Lorenzo Romar said. ''The frustrating part is knowing that we came out flat in the first half and dug ourselves such a hole.''
Marcus Allen scored a season-high 15 points and Humphrey grabbed 10 rebounds for Stanford, which played the final 25 minutes without leading scorer Reid Travis. Robert Cartwright and Dorian Pickens each added 13 points.
Washington made 9 of 18 shots coming out of the intermission while the Cardinal missed 11 of 13 to open the second half.
''That's a total collapse of the offense,'' Haase said. ''We were getting out of the flow and that carried over to defense.''
Stanford made seven straight shots during a 17-4 run that put the Cardinal ahead by 15 in the final four minutes of the first half.
The Cardinal made 16 of their first 25 shots and finished 60 percent for the half. The Huskies' 24 first-half points were their second fewest in a half this season.
BIG PICTURE
Washington: Despite the rocky start to the Huskies' conference season, freshman Markelle Fultz continues to showcase his all-around game. He entered the game with 100 assists in 16 games, the second-fastest to 100 at Washington. He needs to average 3.4 assists a game (he's averaging 6.3) to match the freshman record of 151. He's also the second-leading freshman scorer in the nation. Senior team captain Malik Dime missed his second straight game with a broken finger on his right hand.
Stanford: The Cardinal won their second straight after a 0-4 start to the Pac-12 slate. Junior forward Reid Travis left the court with 5:39 remaining in the first half and was escorted straight the locker room. He was favoring his right side after hitting the floor hard when he was fouled trying to score. Travis missed two games recently with a right shoulder injury and was cleared to play in time for Thursday's game against Washington State.
ON REID TRAVIS
Stanford coach Jarod Haase said that Travis suffered another right shoulder injury and will be ''evaluated day to day.''
The Cardinal missed his presence during the second half.
''You never want to see a teammate get injured like that,'' Humphrey said. ''It was a weird situation. It was a crazy start to the second half. We can't let that affect us.''
Huskies coach Lorenzo Romar said Travis' absence led to a different approach.
''With him in the game, it's very difficult to switch him, because you don't want a smaller guy on him. He will really make you pay for it,'' Romar said. ''We had to be more conservative with him in the game. When he was out of the game, we could go more creative.''
UP NEXT
Washington: The Huskies host Colorado on Wednesday.
Stanford: The Cardinal visit Oregon State on Thursday.
---
---