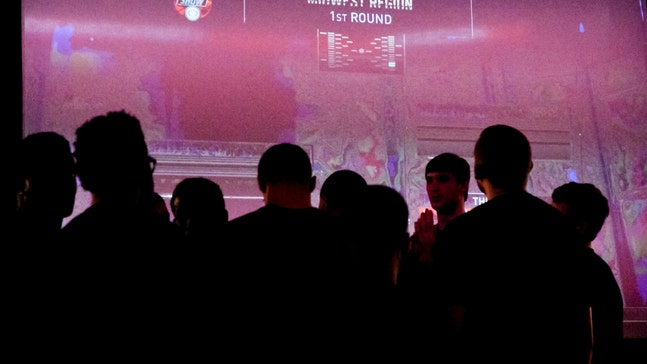 How to stop worrying and love your NCAA office pool
Published
Mar. 16, 2016 11:30 a.m. ET

Let's get two things straight, right off the bat:
1. You're not winning your office pool.
2. If you do win your office pool, it won't be because you watched more college basketball this year than Dick Vitale or studied the efficiency ratings like they it was a section of the SAT or spent every waking moment since Sunday night on FoxSports.com reading our experts give their opinion on which teams should do the best or are Pete Rose. It'll be blind luck. There's no such thing as being good at the brackets. That's like me saying I'm a master at Powerball.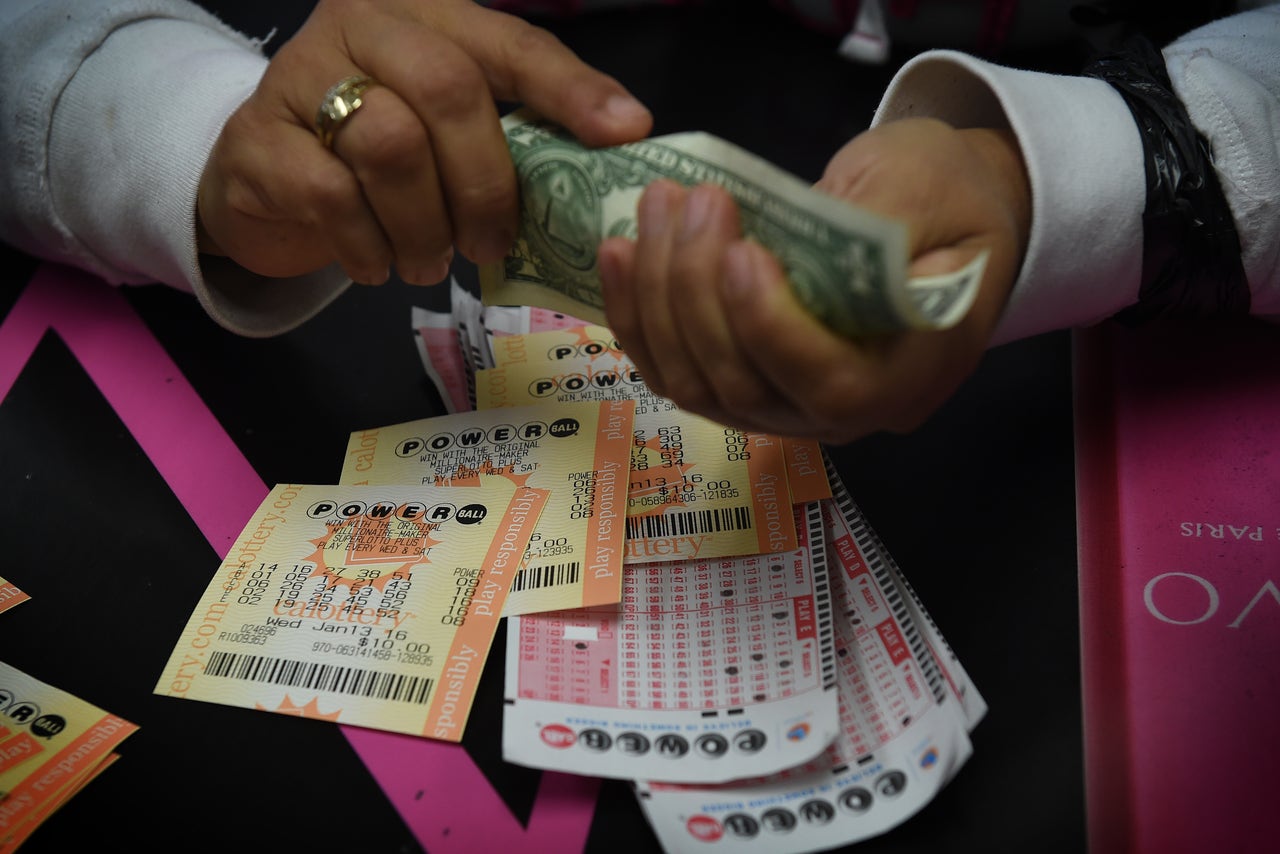 (MARK RALSTON/AFP/Getty Images)
Even if you do have some sort of built-in advantage because you're a college basketball expert, that will only help for the first round (if even then). That disappears once the weekend hits, when you're picking games dependent on the results before them. I mean, you can't win your Villanova-Temple second-round game if neither of those teams are playing. That's why you shouldn't focus on the equivalent of sports roulette. Stop worrying and enjoy your bracket.
Be that guy or gal.
Make your bracket king. Enjoy it at work and revolve your social life around it. Work, breaks, lunches, happy hours, dinner and drinks on Saturday and a Sunday couch-curling: It's all basketball. No one is going to be doing any work come noon Thursday anyway. They'll either be surreptitiously watching games on their phone/browser/iPad or checking scores. But if you're going to be following the tourney, then really lean into it, brother. Call up the streaming tournament coverage on Chrome, Firefox or Internet Explorer. (Check that. If you're using Internet Explorer still, stop reading, go download Chrome or Firefox, then come on back).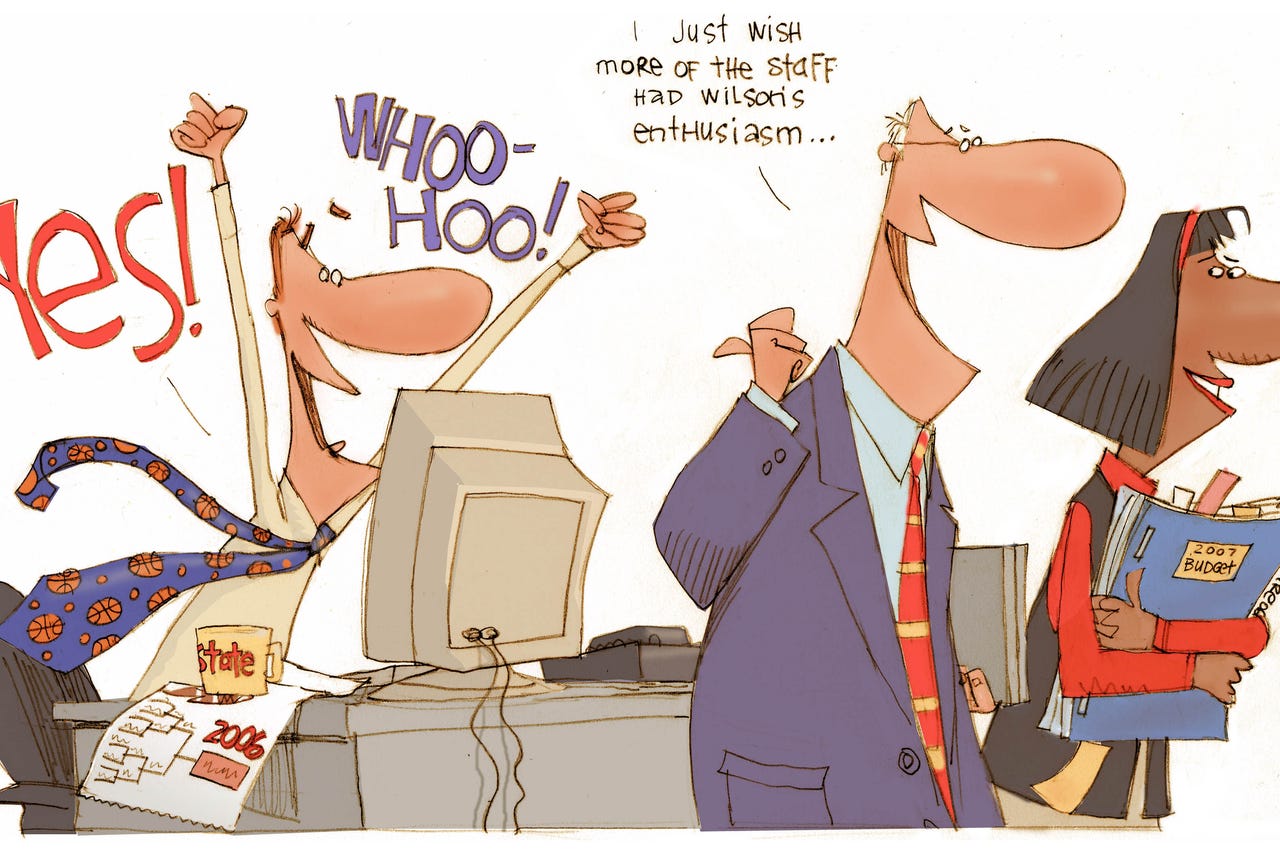 (Lexington Herald-Leader/MCT)
So now you have the game up. Maximize that sucker. Turn up the volume to an office-appropriate level. Break out a cold soda (yeah, beer would be better but we're not trying to get you fired), open some chips (quietly, you're still in an office environment), take your shoes off, kick up your feet and enjoy. You'll be the hero of the office. People will congregate in your office or cube or whatever the hot, new workplace design we're stealing from Sweden is. Your boss will respect your bold initiative, understanding that this brash display of basketball love means you were responsible and conscientious enough to get all your work done earlier in the day so you could watch basketball. You'll be a visionary, of sorts. Promotions are in your future. And you'll get to watch the first five hours of coverage like God intended.. And if that doesn't happen and your boss gets really mad, have them email me and I'll cover for you. You can reach me at: Nicholas.Schwartz@fox.com.
This applies quadruply to those on the west coast, where games start at 9 in the morning. Of course, this operates under the false premise that people living on the west coast actually do work. I swear, it's like France over there. 
Don't let the pool rule you.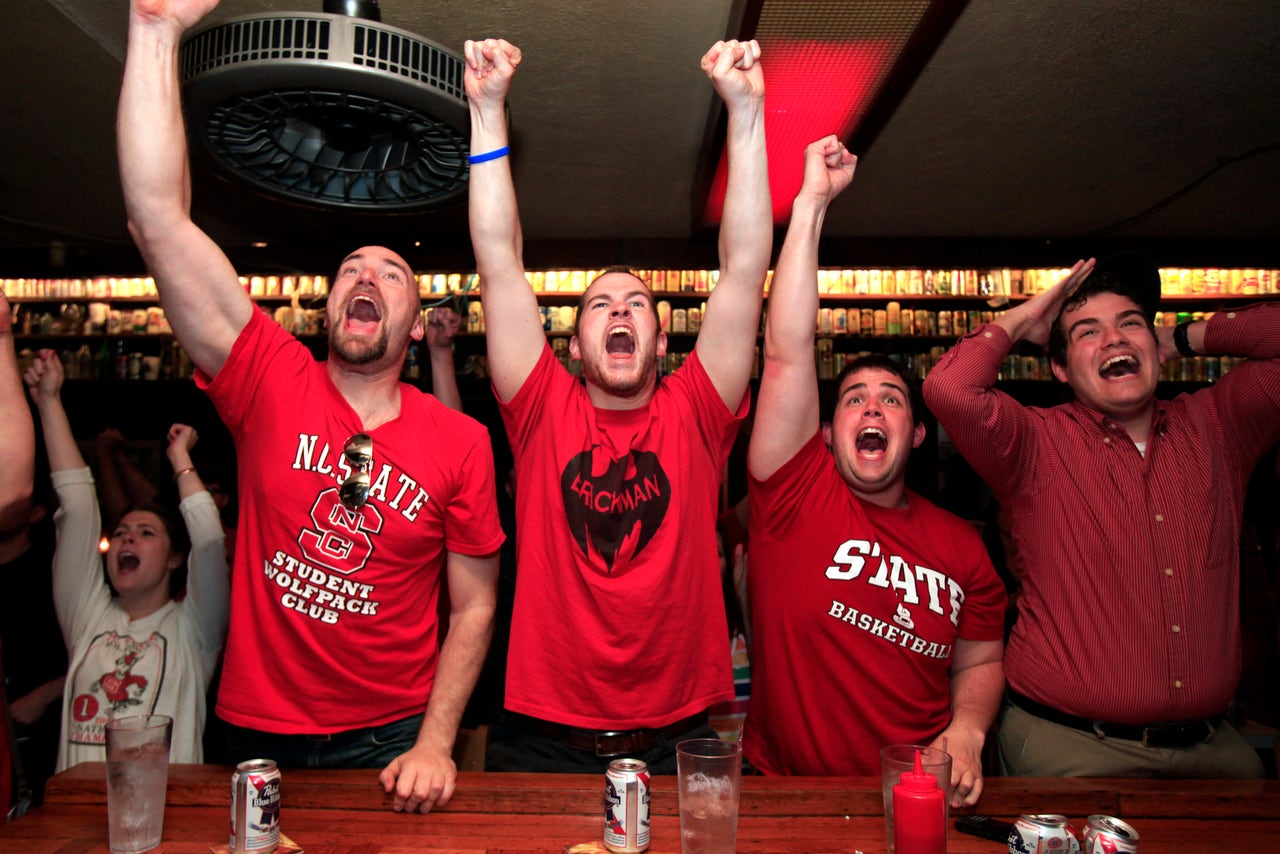 (Takaaki Iwabu/Raleigh News & Observer/MCT via Getty Images),At The Players' Retreat, a sports bar in Raleigh, North Carolina, North Carolina State fans, from left, Joe Zaborowski, Brian Schilling, Joe Kasperski and Matt Kasperski, celebrate the Wolfpack's 66-63 victory over Georgetown in the third round of the NCAA Tournament, Sunday, March 18, 2012. (Takaaki Iwabu/Raleigh News & Observer/MCT)
Never, ever let your pool get in the way of cheering for a major upset. If you take North Carolina to win it all and you tune in on Thursday and it's at the last TV timeout and Florida Gulf Coast only trails by three points, you are obligated by both federal law and societal mores to root for the upset. The only people exempt are those who attended UNC or are related to someone who attended UNC. (Yeah, I'm excluding you, 80% of Carolinians who root for UNC despite never having attended.) 
Pick a team who becomes your new favorite team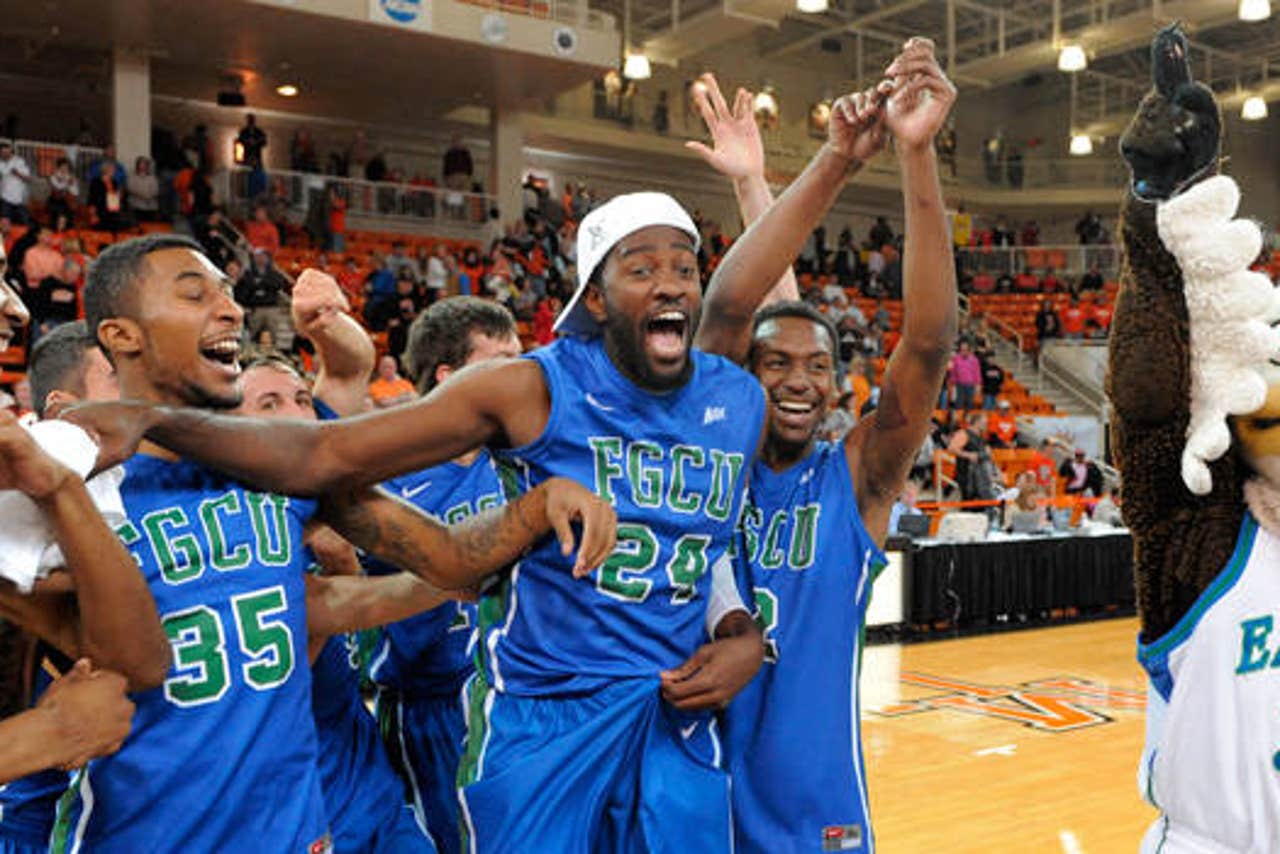 (AP)
I'd say that 85% of people in college basketball pools don't actively or actually watch the sport. (And that's a conservative estimate.) So if that's you, you probably fill out the bracket then don't watch a second of basketball after it, except maybe glancing at it when some idiot at work is blasting it on his screen while barefoot eating Doritos. If you don't watch or care, then you've wasted money on nothing. It's like paying for Girl Scout cookies without ever getting the cookies. So, in order to force yourself into caring, make the team your predicted winner your new favorite team. Then, check on that team every day. Keep your bracket in your back pocket or purse and while you're looking for your favorite team's result, just glance around and see how the rest of your picks are doing.
No one's saying you need to put up three televisions in your family room, and cut yourself entirely off from your family, not speaking to anybody and thus earning derisive looks from your wife who then makes dinner and sits down with her plate whereupon you say "ooh, looks good, where's mine?" and she replies "yours?" (Just me then?) Just check the scores once in a while, flip to a game on commercial from whatever else you're watching and try to learn a thing or two about your new favorite team. Picking a team first and then trying to get into a sport after is the only way for a normal sports fan to start caring about soccer.
Don't be the person who asks the pool chairman, "so, how's my pool?"
No one likes that person. Like a Dukie.
Take a controversial position and then stubbornly don't explain it or defend it.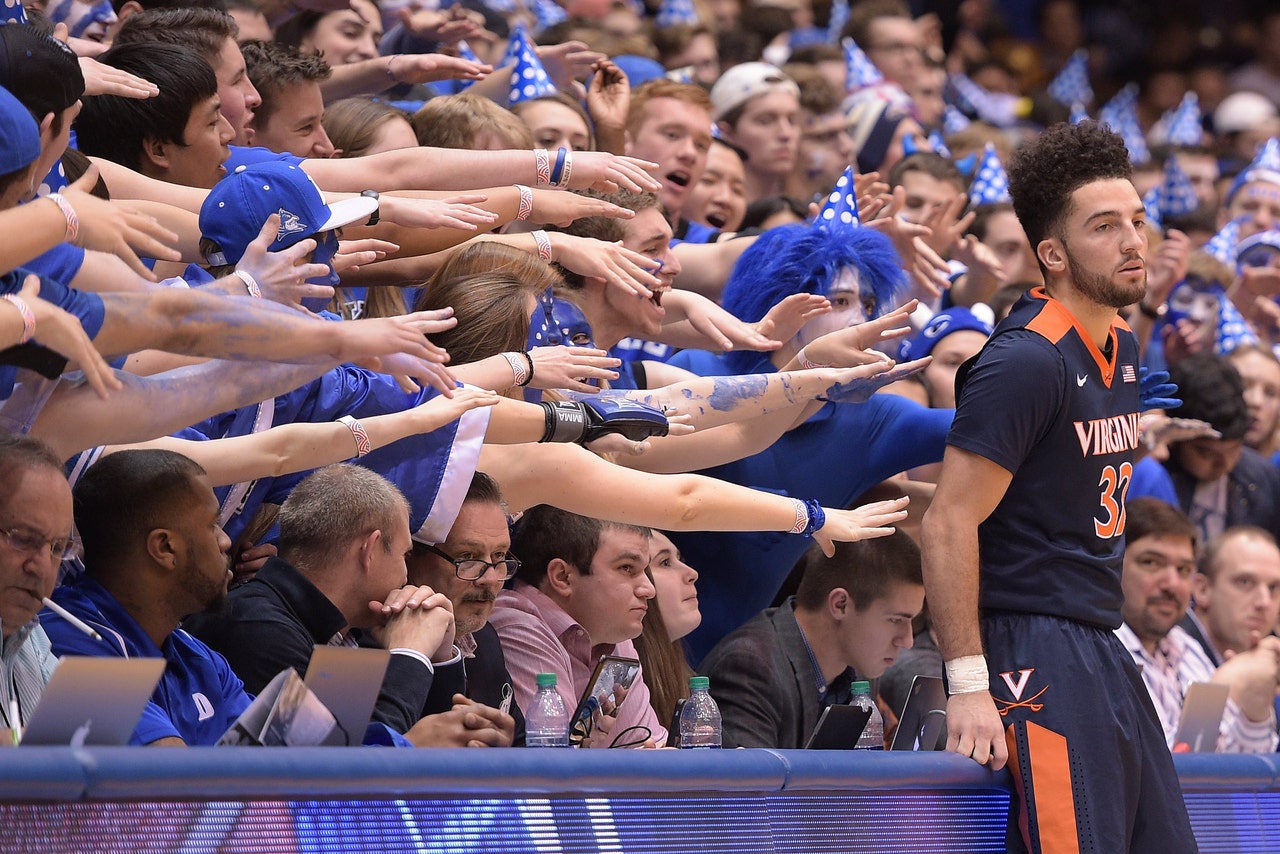 (Photo by Lance King/Getty Images)
I call this one The Trump. Let's say there's a four-team quadrant from which you're paralyzed by doubt when trying to guess which team will survive. You could literally put any team on any line and it'd be viable. (For me, it's the Cal/Hawaii/Maryland/South Dakota State pod.) So, figuring you just have the 25% chance of getting it right anyway, pick the lowest seed -- South Dakota State in this instance -- and then start talking up the Jackrabbits like you think they could win the whole thing. Pull a Jay Bilas and study the roster immediately beforehand so you can namedrop like two or three guys, mention their conference so you sound smart and then completely make up something that's good about the team. "Their tempo could give Maryland fits and, I don't know, they're so physical in the low post that the Terps could get into foul trouble and then 'watch out.'" When challenged on this, put your feet back up on your desk and get back to ballin'.
The greatest two days of the year are neigh. Listen to late Glenn Frey and Take It To the Limit.
---