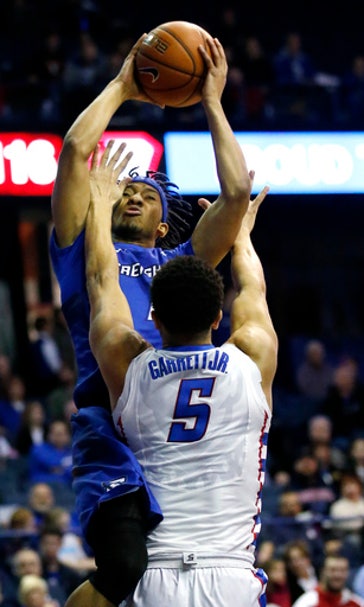 Hegner, Foster lead No. 23 Creighton past DePaul 93-58 (Feb 11, 2017)
February 11, 2017

ROSEMONT, Ill. (AP) Creighton has been trying to evolve and find a new identity ever since star point guard Maurice Watson Jr. suffered a season-ending knee injury last month.
Well, here's the Bluejays' blueprint.
Toby Hegner set a season high with 14 points and matched one with four 3-pointers, Marcus Foster scored 13 points and No. 23 Creighton pounded DePaul 93-58 on Saturday.
The balanced and unselfish Bluejays (21-4, 8-4 Big East) shot a season-high 60.7 percent and nailed 13 of 22 3-pointers against the last-place Blue Demons (8-17, 1-11). Creighton took control late in the first half and outscored DePaul 54-32 in the second to come away with a lopsided win after dropping three of five.
Cole Huff and Khyri Thomas each scored 12 points. The Bluejays had 24 assists on 34 field goals, and they improved to 7-1 in road games.
''We were moving the ball really well, we were attacking the gaps like we normally have been,'' Hegner said. ''That's probably the best we've moved the ball since Maurice has been hurt.''
DePaul dropped its eighth straight even though Chris Harrison-Docks scored 15. He hit 4 of 8 3-point attempts, but the Blue Demons shot just 30.9 percent overall.
''One of the things you look at when you look at our record is `Boy, they're not that good a team,''' coach Dave Leitao said. ''But we've had the ability to be in a lot of (close) situations for the most part during conference season, (be) pretty competitive, and today we weren't.''
BIG PICTURE
Creighton: Though it wasn't a factor in this game, the Bluejays continue to have issues at the free throw line. Ninth in the conference in free throw percentage, they were 12 of 17 in this game.
DePaul: It was more of the same for the Blue Demons, who haven't won since they beat Providence on Jan. 10.
ADJUSTING
Creighton had a week to regroup after missing some chances down the stretch in a two-point loss to No. 24 Xavier. And the Bluejays made the most of their down time.
''We were able because of the week off to spend a little more time on ourselves this week and maybe clean a few things up offensively,'' coach Greg McDermott said.
Creighton has been in sort of a discovery mode ever since Watson tore the anterior cruciate ligament in his left knee. A preseason all-conference pick, he was injured in a win at Xavier on Jan. 16, and the Bluejays have since dropped from the Top Ten to nearly out of the poll.
''Without Maurice Watson, we're still evolving,'' McDermott said. ''So much of what we did before was him in transition, him in ball-screen isolations and then making the defense decide what they're going to do with that and then we adjust accordingly, whether it's spacing and where we move guys around. We don't have that anymore so player movement, ball movement, making the extra pass is really important to us since we've lost Maurice, and we're moving forward and getting better in that regard.''
PULLING AWAY
Creighton, tops in the Big East in scoring and field goal accuracy, shot a blistering 60 percent in the first half and ended it on an 8-0 run to take a 39-26 lead.
The Bluejays were up 31-26 when Hegner nailed a 3. Thomas then drove for a vicious one-handed dunk that delighted the Creighton fans, and Foster passed to Huff for a corner 3 just before the buzzer that made it a 13-point game.
All the Blue Demons had going for them in the early going was Harrison-Docks. The Western Kentucky transfer scored 13 in the half and nailed four 3-pointers.
UP NEXT
Creighton: Visits Seton Hall on Wednesday.
DePaul: Hosts No. 2 Villanova on Monday.
---
More AP college basketball: www.collegebasketball.ap.org and https://twitter.com/AP-Top25.
---
---