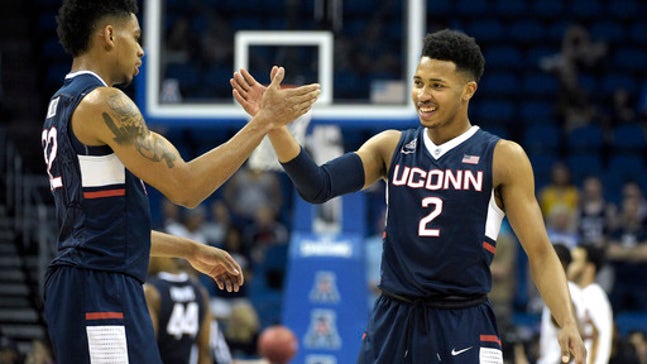 Hamilton, Miller led UConn past Temple in AAC semifinal
Published
Mar. 12, 2016 7:37 p.m. ET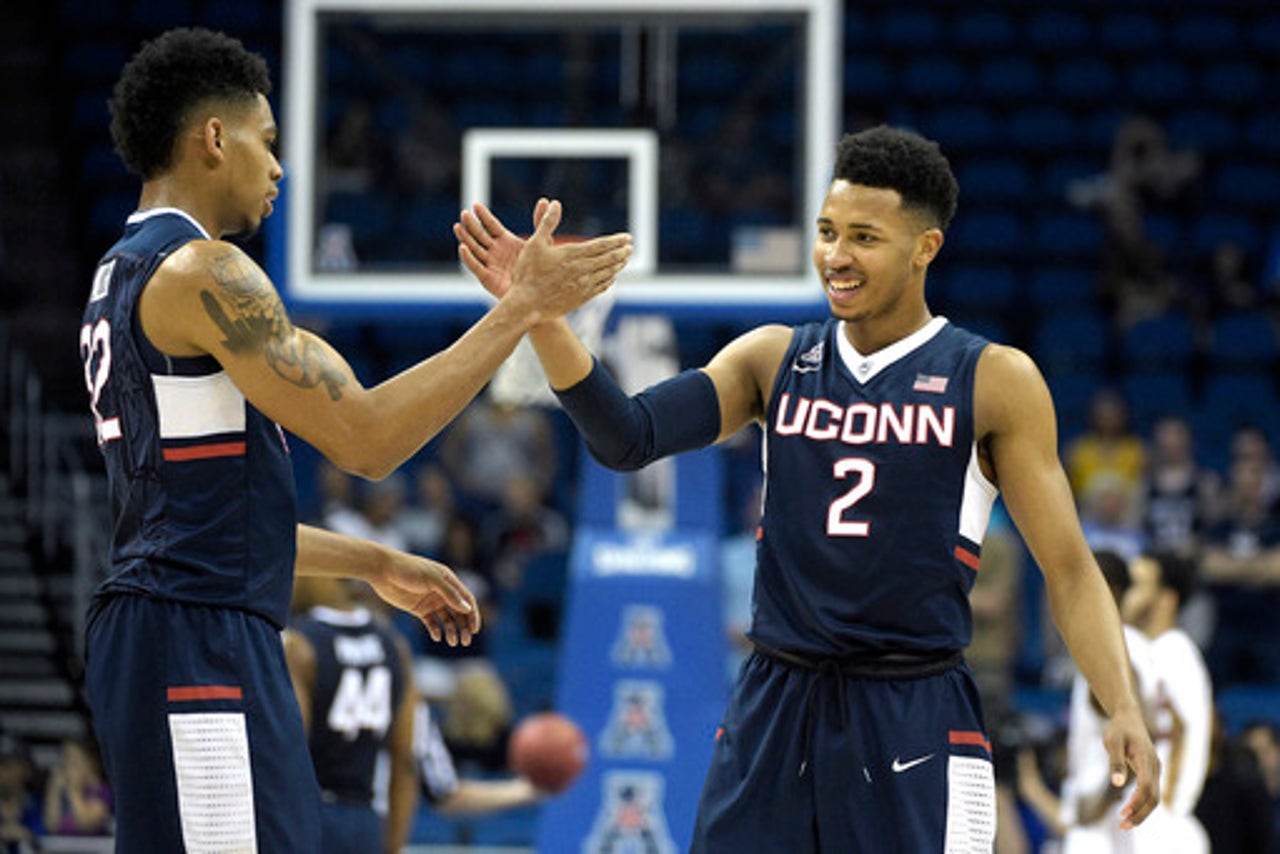 ORLANDO, Fla. (AP) Daniel Hamilton and Shonn Miller scored 19 points and Connecticut shrugged off a slow start to beat top-seeded Temple 77-62 on Saturday in the American Athletic Conference semifinals.
Showing no signs of fatigue after needing four overtimes to win the longest game in league history in the quarterfinals, the Huskies built a 16-point first half lead and weathered a couple of Temple surges before pulling away for good down the stretch.
Jalen Adams, whose shot from beyond mid-court forced a fourth OT against Cincinnati on Friday, had 11 points as fifth-seeded UConn (23-10) advanced to Sunday's tournament final against the winner of the other semifinal between No. 6 seed Memphis and 10th-seeded Tulane.
Jaylen Bond led Temple (21-11) with 17 points and 10 rebounds, but the conference regular-season champions shot just under 36 percent from field, missed 10 free throws and finished 4 of 20 on 3-point attempts.
The Huskies outscored the Owls 31-7 over an 11-minute stretch of the opening half to climb out of a 12-4 hole and surge to a 35-19 lead. Temple, limited to 28 percent shooting in the first 20 minutes, settled over the final three minutes and scored the last five points before the break to trail 39-28 at halftime.
The Owls, who've won 13 of their last 17 games to put themselves into position to receive an at-large berth in the NCAA Tournament, pulled within seven twice in the opening minutes of the second half.
Each time, UConn did whatever necessary to stay in control.
When Devin Coleman's layup trimmed Temple's deficit to 55-49, Sterling Gibbs answered with a 3-pointer for the Huskies, who also held off the Owls' last charge after Quenton DeCosey's layup cut UConn's lead to seven with under 5 minutes left. Hamilton hit a jumper to restore order and Adams made a layup and two free throws before Miller put the game away with a pair of free throws and two thunderous dunks.
Hamilton was 8-of-14 shooting after contributing 32 points, 12 rebounds and eight assists while playing 55 minutes in UConn's 104-97 win over Cincinnati in the quarterfinals. The 6-foot-7 swingman had a team-high 11 rebounds Saturday.
DeCosey finished with 13 points, but was 0 for 5 from behind the 3-point line for Temple. Josh Brown had 10 points for the Owls.
TIP INS:
UConn: The Huskies lost in the conference tournament final each of the past two years. ... Entered Saturday shooting a nation-best 78.4 percent from the foul line. Went 12 for 15 against Temple after making 22 of 24 in Friday's win over Cincinnati. ... Huskies improved to 7-7 against Temple, beating the Owls for the first time since Feb. 20, 2014 - a stretch of four games.
Temple: The Owls took both regular-season meetings, winning 55-53 on the road on Jan. 5 and 63-58 at home on Feb. 11. ... The regular-season conference title is Temple's first since 2012 in the Atlantic 10. ... The loss stopped a four-game winning streak.
UP NEXT:
UConn: Sunday's tournament final. A win gives the Huskies the American's automatic berth in the NCAA tournament.
Temple: Owls await an at-large berth in the NCAAs.
---