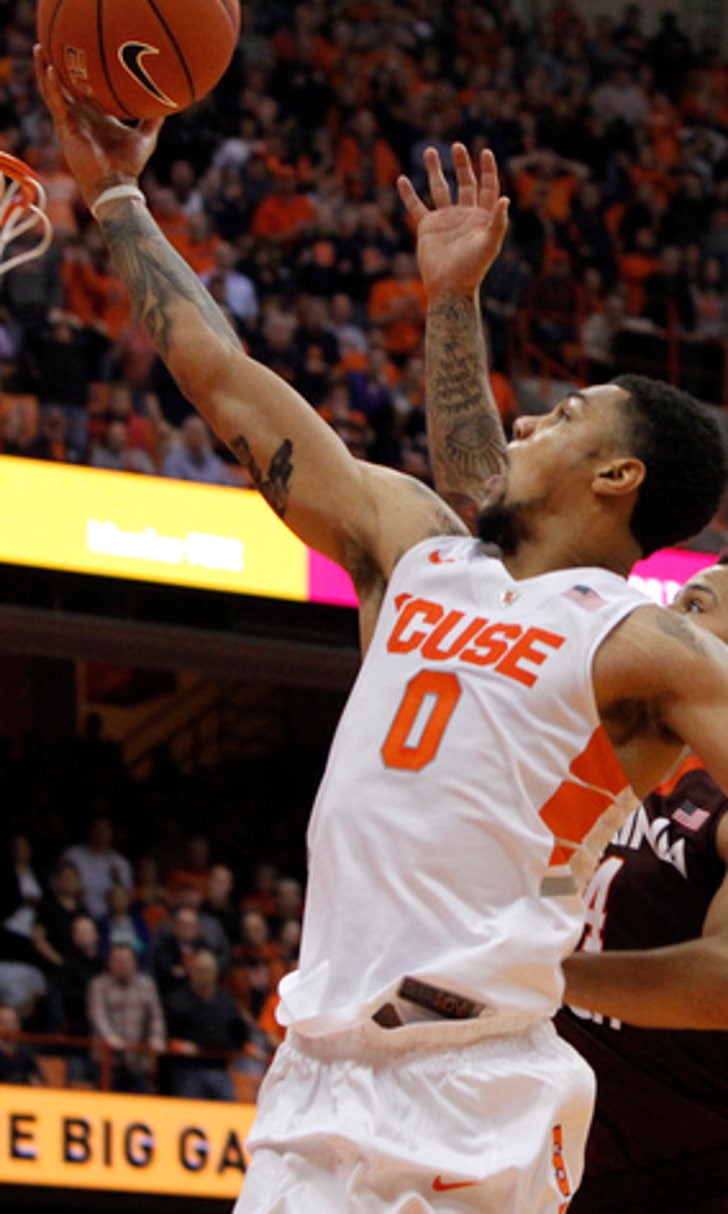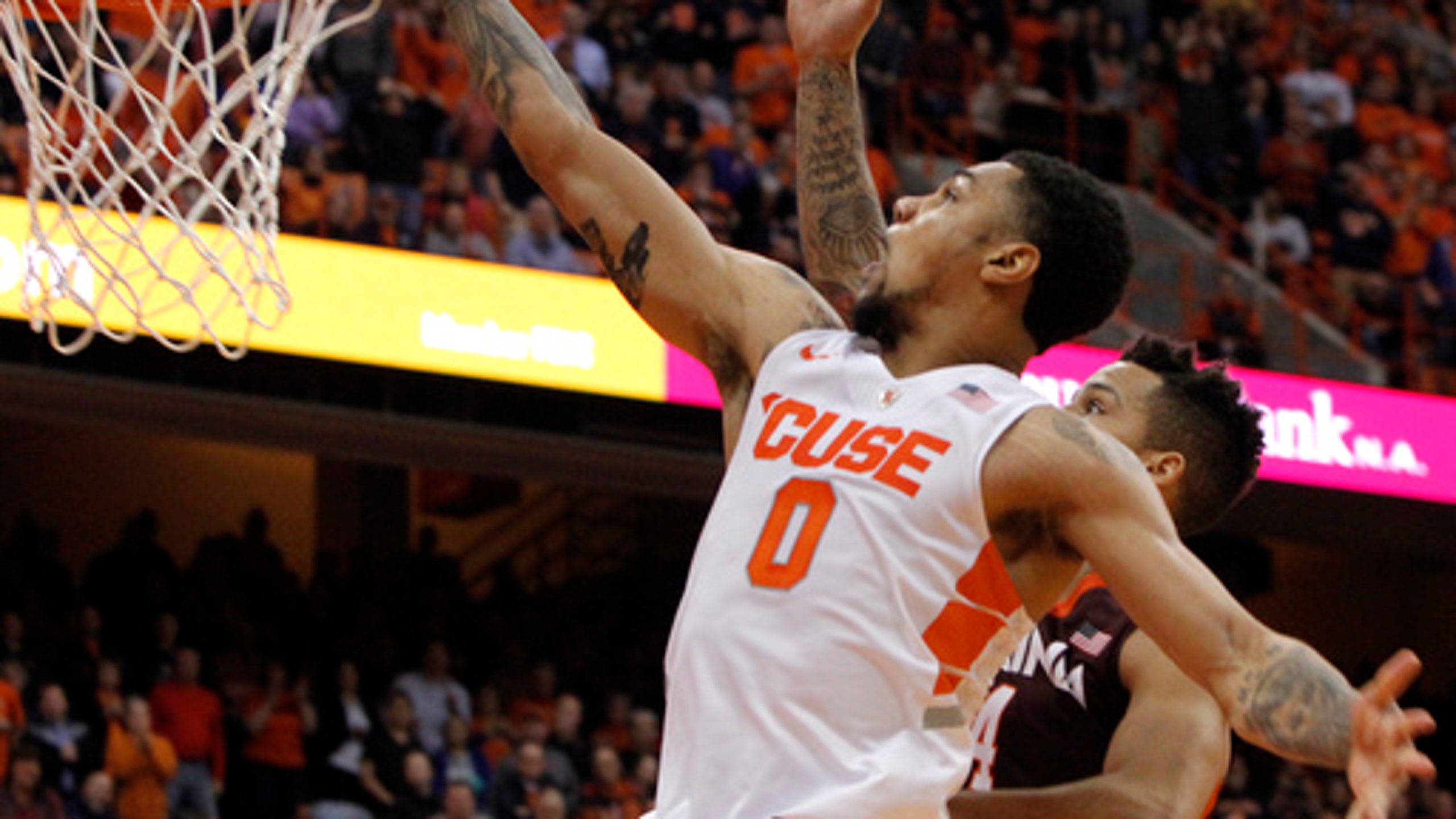 Gbinije's 17 leads Syracuse past Virginia Tech 68-60 OT
BY foxsports • February 3, 2016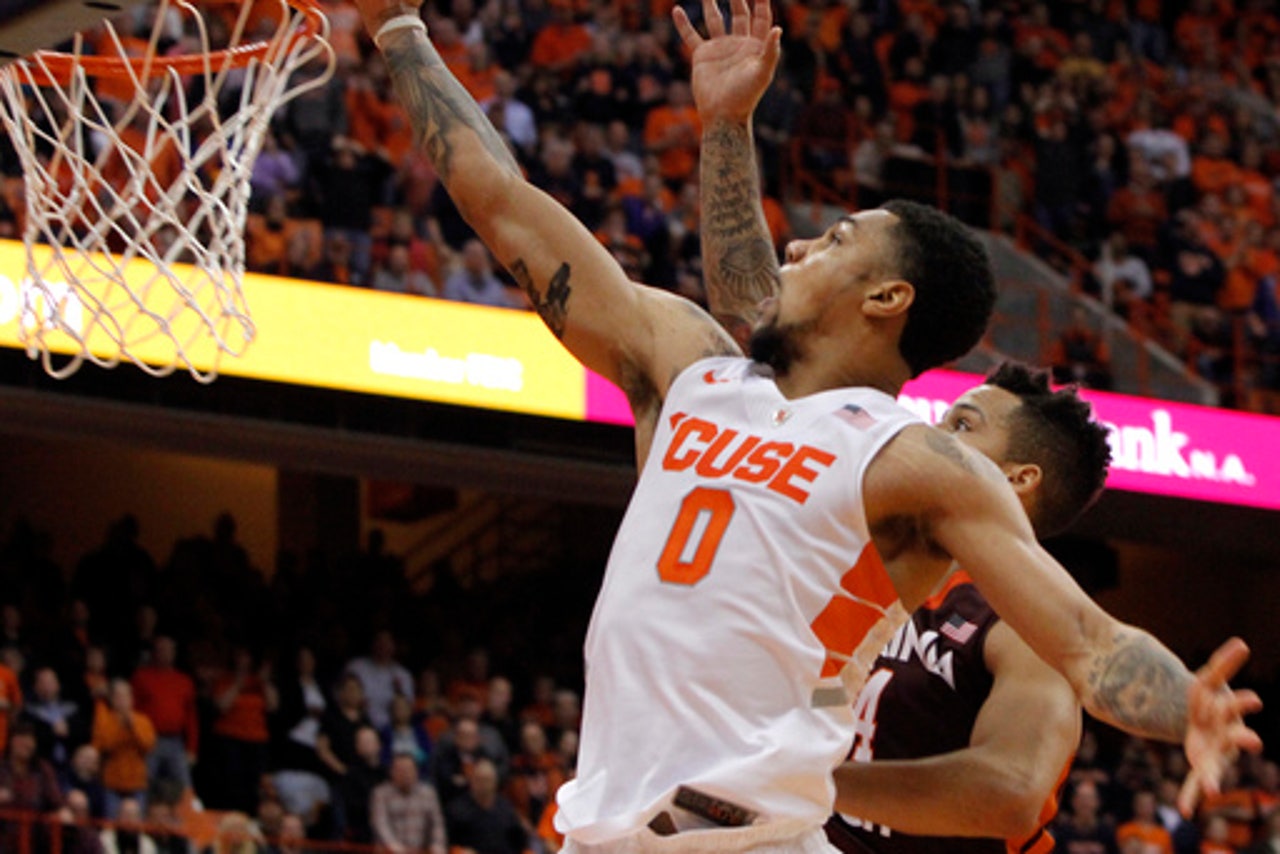 SYRACUSE, N.Y. (AP) Down seven points with just over two minutes left in regulation, Michael Gbinije pulled out his best Yogi-ism and helped lead the Orange to a thrilling 68-60 overtime win over Virginia Tech Tuesday night.
''It was a tough game, but you just have to remind yourself it's not over `til it's over,'' Gbinije said.
His 3-pointer from NBA range with 27 seconds left tied the game at 56 and capped Syracuse's comeback to force overtime. Gbinije then hit a short jumper for the first two points of the extra session, and the Orange (16-8, 6-5 Atlantic Coast Conference) were on their way to their sixth win in seven games.
''I just pulled up for a 3 and tried to tie it,'' said Gbinije, who scored 17 points to lead the Orange and estimated his shot at four steps behind the 3-point stripe. ''I took it and I'm glad I made it. It was a decent look. At that point I was just trying to get the best available shot. I saw the opportunity and took it. In the heat of the moment I wasn't thinking how far it was. I just threw it up and it just went in.
''We had a lot of character tonight. I was proud of my teammates. Even for me stuff wasn't going well. Stuff wasn't going the way we wanted it to go, but we stayed with it and fortunately came out with a good outcome.''
Syracuse shot 38 percent from the field, 33 percent from 3-point range, hit 20 of 32 from the line and turned the ball over 14 times.
''You can always tell when you have it going or not, when your shot isn't falling, when your free throws aren't falling, and you're turning the ball over,'' Gbinije said, ''but we competed.''
The Hokies led 55-48 with 2:27 left in regulation, but Malachi Richardson hit a 3 and Tyler Lydon's dunk off a Richardson pass brought the Orange to within three at 56-53, setting up Gbinije's heroics. Richardson missed a wide-open jump at the buzzer that would have given the Orange the win in regulation
After Kerry Blackshear's spinner tied the game at 58 in overtime, Trevor Cooney's 3-pointer started an 8-2 run for Syracuse with a Tyler Lydon slam and Richardson 3-pointer. Foul shots by Tyler Roberson, who had a double-double with 12 points and 15 rebounds, and DaJuan Coleman gave the Orange their margin of victory.
Lydon scored 13 off the bench and Richardson, who had just two points at the half, also had 13 for the Orange.
Justin Bibbs led the Hokies (12-11, 4-6 Atlantic Coast Conference) with 16 points and 11 rebounds. Zach LeDay, who was 5-of-5 in the first half, chipped in with 13.
The loss was the fifth straight for Virginia Tech.
Syracuse coach Jim Boeheim acknowledged his team ''just didn't have it for the first 36, 37, 38 minutes'' but was proud of his team's rally.
''It was a great comeback,'' Boeheim said. ''I saw people going home early. They (the Orange) didn't give up at all. They just kept going and made some unbelievable plays... This is as good a comeback as you're going to see. That last spurt in regulation was incredible.''
Syracuse was ice cold at the start, missing its first five shots before a put-back by Roberson. The Hokies were red-hot, connecting on their first three 3-point attempts en route to a quick 9-2 lead. The Orange's frigid shooting continued throughout the half. Syracuse hit just 8-of-27 from the field and 2-of-14 from beyond the arc.
Roberson, who led the Orange with eight first-half points, and Gbinije, who had seven, were the only Orange players with a field goal until Richardson's short jumper with under two minutes to go in the half.
The Hokies hit 50 percent from the field and 5-of-11 from 3 and took a 30-24 lead at the intermission. Syracuse never led.
TIP-INS
Virginia Tech: The Hokies have lost five straight. . Seth Allen, with 11 points, averaged 27 points in his previous two games, including a Virginia Tech career-high 28 in Sunday's loss at Pitt. . Jalen Hudson has averaged 18 points over his last three games but went 0-for-7 for two points. .Virginia Tech, third in the country in free throw attempts per game, was just 7-of-13 at the line.
Syracuse: Freshman Malachi Richardson has scored in double figures in nine of his last 10 games. Syracuse is 6-2 since head coach Jim Boeheim's return to the bench after serving a nine-game suspension...Tyler Roberson has six double-doubles this season. Michael Gbinije has scored in double figures in every game.
UP NEXT:
Virginia Tech hosts Clemson Saturday.
Syracuse is home against Florida State a week from Thursday.
---