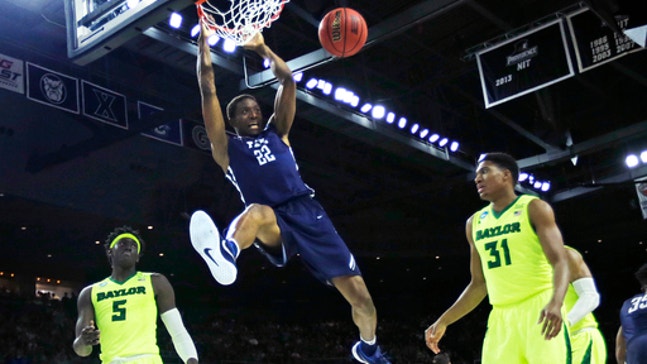 From controversy to NCAA upset artist, Yale eyeing more
Published
Mar. 18, 2016 3:50 a.m. ET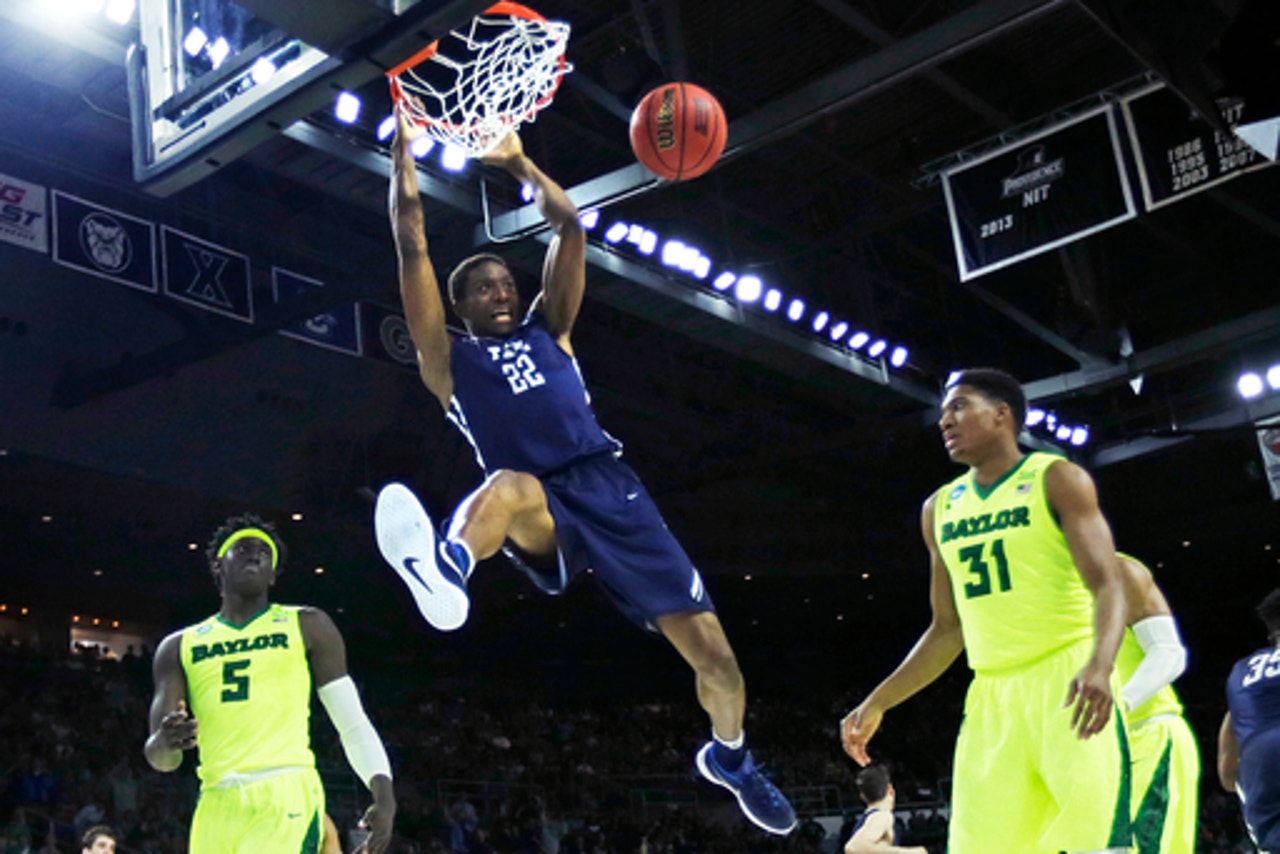 PROVIDENCE, R.I. (AP) The Yale basketball team was still rumbling in the locker room about its bracket-busting victory over Baylor, and in the doorway, Herman Jones wanted to take the volume up one more notch to celebrate his son's win.
''Come on Duke!'' the father of Bulldogs coach James Jones yelled. It was a direct summons to West Region No. 4 seed Duke, who Yale will face in the second round of the NCAA Tournament after notching the first upset of the March Madness season with a 79-75 win over fifth seed Baylor on Thursday.
Among those who watched the win in person: expelled captain Jack Montague, who was dismissed last month because of a sexual assault allegation. Wearing a pink hat and sitting among a cluster of Yale fans across from the Bulldogs bench, he said he was there as a fan to cheer for his teammates but declined further comment.
The team previously showed support for him by wearing warm-up T-shirts during a nationally televised Feb. 26 game against Harvard that featured Montague's number, nickname and the word ''Yale'' spelled backward. The team later apologized after the gesture drew backlash.
It's unclear whether the team knew he was in the Dunkin' Donuts Center, as players declined to comment on him following Thursday's win.
It's the underdog tag, and not controversy, that the team is trying to embrace now.
''History will tell you that the Ivy League has done pretty well as of late in the NCAA Tournament,'' James Jones said. ''A few years back, Cornell won a couple games and got to the Sweet 16. Harvard has won a couple games a couple years in a row, and this year we've been able to win one so far.''
The win over Baylor was not only the first upset of the tournament - it was the first-ever tourney win for the Bulldogs. It came in their first appearance in the big dance since 1962.
But after one of Yale's most successful and taxing seasons under Jones, the Bulldogs (23-6) are hardly satisfied. With a shot at the defending champion Blue Devils up next, Yale is aiming to be the latest Ivy League school to trade its sneakers for Cinderella slippers.
''We've had everyone and their mother come out to say kind words to us, from the governor of Rhode Island to people from the team in `62 to speak to us,'' senior forward Justin Sears said. ''We're going to take it in and get back to work tomorrow.''
Sophomore guard Makai Mason had a career-high 31 points against Baylor. Even with talent like Mason and Sears, who claimed back-to-back Ivy League player of the year honors after averaging 15.8 points and 7.5 rebounds during the regular season, Jones said the Ivy League still isn't getting the respect it deserves.
''I looked at the RPI, and I was really curious why Princeton wasn't mentioned as anybody's bubble team. They had an RPI in the 30s, and they're one of three teams in the 30s that didn't make the tournament,'' said Jones, who has been at Yale since 1999. ''But no one ever mentioned them, and probably because they're an Ivy League. They didn't have a great nonconference in terms of a signature win. But what people don't understand and how this works is that we never get a high major team in our building. Very rarely does that ever happen.''
They will get that chance against Duke, a team it lost to on the road by 19 back in late November.
Asked if he had any thoughts on how to subdue the Blue Devils in the rematch, Jones gave a quick grin.
''No thoughts at all. I'm too happy,'' he said.
---
The AP's college basketball page: www.collegebasketball.ap.org
---
Follow Kyle Hightower on Twitter at http://www.twitter.com/khightower
---