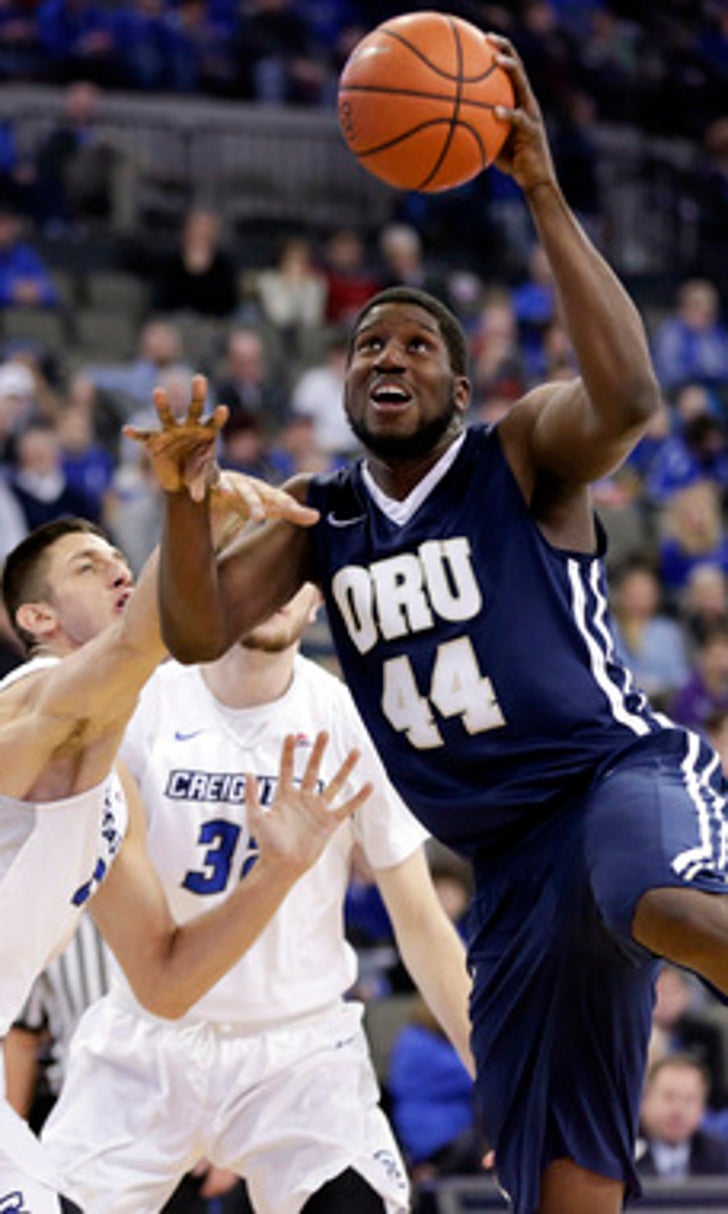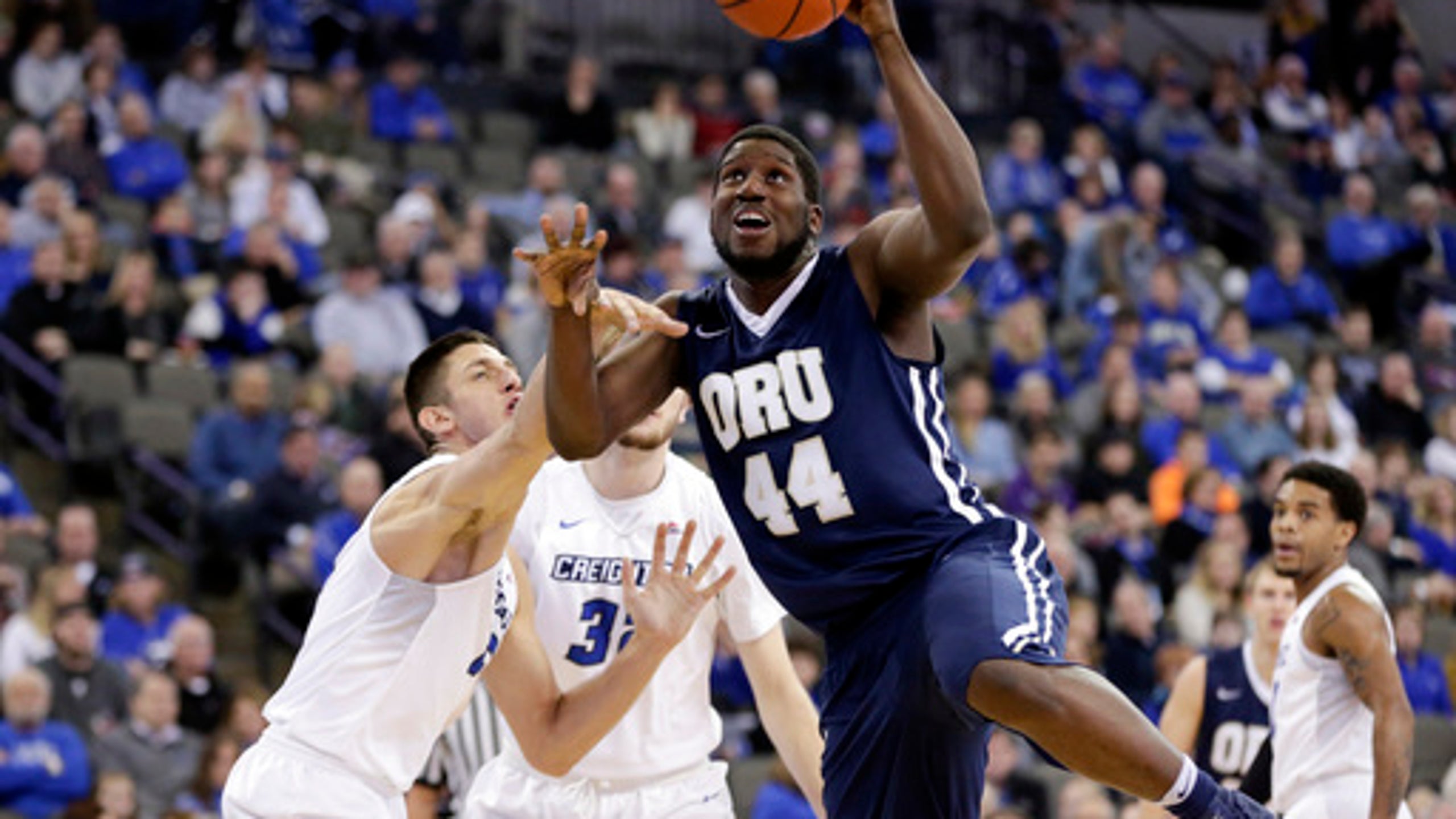 Foster has 22 points, Creighton rallies to beat Oral Roberts (Dec 17, 2016)
BY AP • December 17, 2016
OMAHA, Neb. (AP) Creighton coach Greg McDermott knew the No. 10 Bluejays got away with one after they lost a 13-point second-half lead, didn't score in the final 3:28 and still managed to beat Oral Roberts 66-65 on Saturday night.
''We scored on six of our last 29 possessions and won,'' McDermott said. `I'm disappointed we weren't able to throw the knockout punch like we've done so often this year. Also pleased that we found a way with our backs against the wall. It's not like we scored nine possessions in a row to win the game. We had to get some stops. To their credit they were able to do that.''
The Bluejays (11-0) led by as many as 13 early in the second half, but saw the Golden Eagles (2-10) claw back to take a five-point lead with 6:08 left Creighton held Oral Roberts the rest of the way, taking the lead on Marcus Foster's short jumper in the lane with 3:28 left.
The Bluejays used a zone press to trigger a 9-0 early second half run that made it 54-41. Then Creighton went cold, hitting just two of its next 14 shots while Oral Roberts scored steadily, taking the lead at 60-58 on Albert Owens' short jumper with 8:45 left. Oral Roberts went up 65-60 on Owens' banked-in 3-pointer.
''When he hit that three, we just kind of felt they were taking a lead than we wanted them to have,'' said Foster, who led Creighton with 22 points. ''So we just kind of refocused in the huddle and stepped up and played the best defense we played all night.''
The Golden Eagles didn't score again while Creighton managed just three field goals, a layup and a dunk from Justin Patton and Foster's short jumper. Neither team scored again as Creighton missed the front end of two 1-and-1 free-throw opportunities in the final minute.
Oral Roberts coach Scott Sutton attributed the game-closing scoring drought to missed opportunities.
''To beat a team like Creighton on the road, you have to step up and make plays down the stretch, you've got to make winning plays,'' he said. ''The last 5-6 minutes, offensively, we had some really good looks. You've just got to make them if you're going to beat a team ranked in the top 10 on the road.''
Creighton, which shot 58 percent and had 21 fast break points in the first half, hit just 37 percent of its shots in the second half and didn't have a fast break point. The high-scoring Bluejays, who have averaged 91.6 points per game, scored just 21 points in the first half
Foster had 10 points in the first three minutes as Creighton raced out to a 12-5 lead and went up by 10 on Maurice Watson Jr.'s layup with 14:27 left in the half. But Oral Roberts stayed within striking distance with strong inside play and trailed by seven at half.
Watson, like his coach, acknowledged that Saturday's game wasn't a strong outing, giving the Bluejays a grade of ''C- or C' for the game.
''You're not going be perfect,'' Watson said. ''You want to see things out of your players during adversity. We got challenged tonight and, regardless of the grade, we stepped up and we passed this test. We've got to forget it. We can't let it linger and turn into another game like this.''
A LONG BUS RIDE
Oral Roberts flew into Kansas City Friday and took a bus to Omaha, at the peak of a winter storm that coated Interstate 29 with ice.
''Yesterday was a nine-hour bus trip from Kansas City to Omaha, which should have taken us 2 hours, 45 minutes,'' Sutton said. ''We weren't able to practice yesterday. Our guys, they showed me something today.''
BIG PICTURE
Oral Roberts: Oral Roberts coach Scott Sutton was born in Omaha, the son of former Creighton coach Eddie Sutton, who led the Bluejays from 1969 to 1974 in his first Division I coaching post. The Sutton family was recognized by Creighton before Saturday's game with a jersey presentation to Scott and his brother and assistant coach Sean Sutton.
Creighton: With Saturday's victory, the Bluejays have won 97 straight home games against teams that enter the contest with a record of .500 or worse, a streak that dates to 2002. The Bluejays who led 45-38 at halftime have now won 67 straight games when scoring 42 or more in the first half.
UP NEXT
Oral Roberts: Hosts Little Rock on Monday night.
Creighton: At Arizona State on Tuesday night.
---
---